On Monday 9 November, in a crucial joint vote, the European Parliament's economic affairs committee and the budgets committees will decide how to allocate €672.5 billion in emergency coronavirus recovery funds. The European Parliament has a last chance to ensure polluters don't sink the chance for a green and just recovery.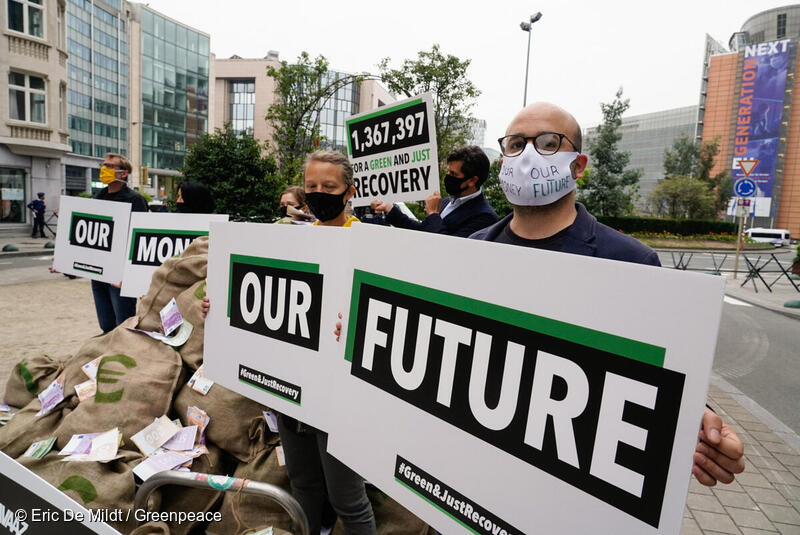 As Europe braces for a second wave of coronavirus, the European Union (EU) is quickly moving ahead to agree an unprecedented recovery fund of €750 billion, in addition to the EU's seven-year budget, worth around €1.1 trillion.
The biggest chunk of the recovery fund is the so-called Recovery and Resilience Facility (RRF), which will mainly go to EU national governments and is worth €672.5 billion, approximately twice the amount earmarked in the EU's budget for the Common Agricultural Policy (CAP).
Despite its European Green Deal commitments, the European Commission has failed to put forward any measures to ensure EU governments cannot spend RRF funds to prop up economic activities that damage the climate and nature, falling short on its promise to not go "back to the status quo before the crisis" but "bouncing forward" with investments "in our long-term future".
Ariadna Rodrigo, Greenpeace EU spokesperson on the green recovery, said: "The cost of the much-needed recovery package will be borne by the boys and girls who today strike to end fossil fuels funding and call on governments to take climate action in line with science. Asking them to pay for fossil fuel subsidies while having to endure the devastating impacts of the climate and environmental crisis is unforgivable."
Only the European Parliament can now step in to secure environmental conditions, since national ministers sided with the Commission in their conclusions on the RRF. A vote by all MEPs in a plenary session may not happen until after negotiations are concluded between Parliament, government and Commission representatives .
Even though the Parliament recently voted to support deeper EU emission cuts, and despite the environment committee voting to exclude all fossil fuels from the fund, several Renew and S&D MEPs are siding with the EPP and the far-right in favour of measures that allow polluting industries, like fossil fuels companies, to access EU recovery funds.
So far, the Parliament has supported EU investments in fossil fuels on two occasions this year. In February 2020, it greenlighted 32 major gas infrastructure projects as priority projects, granting them access to EU funds worth €29 billion. These projects could be in operation for decades to come.
In September, the European Parliament narrowly backed measures to allow gas to also access funding under the Just Transition Fund (JTF), which the EU Commission and governments had specifically excluded. The JTF, worth around €17.5 billion, is part of the EU's overall recovery fund and is meant to support regions highly dependent on fossil fuels to transition to green alternatives. The Parliament and national governments are expected to conclude negotiations on the JTF by the end of the year.
Each time, the decisive votes allowing gas to benefit from EU funds were those of the Renew Europe group, which sided with the conservative EPP group and far-right MEPs, while the S&D, Greens and left-wing MEPs mostly voted against the inclusion of fossil fuels. S&D MEPs are this time likely to join the EPP and far right in supporting fossil fuels.
The voting orientation of the main political groups in the EU Parliament does not match their commitment to the European Green Deal, and go against the demands of over 90% of EU citizens who believe that more needs to be done to protect the environment and the climate.
Gas has a more significant impact on the climate than the industry would like us to believe. Throughout its supply chain, not just its combustion point, gas generates more emissions than oil, according to the International Energy Agency's methane tracker. About 80% of gas is in fact made up of methane, a powerful greenhouse gas which is 84 times more damaging to the climate than CO2. Last year, emissions from gas in the EU overtook emissions from coal for the first time and are on track to overtake emissions caused by oil. More investments in fossil fuels, including gas, will only make Europe's response to the climate crisis slower, more expensive and more difficult at a time when it's crucial to accelerate the energy transition.
S&D and Renew Europe's inconsistent positions
Although European governments agreed conclusions on the RRF in October, many controversial aspects of the fund were glossed over in order to start negotiations with the EU Parliament as soon as possible. As a result, some areas have not been completely settled, and a number of governments are in favour of strict environmental conditions, including France, Germany, the Netherlands, Belgium, Austria, Sweden and Denmark.
Greenpeace calls for the specific exclusion of polluting industries from the RRF to ensure EU funds, and particularly money loaned today that will have to be paid back by our children's generation, is not used to subsidise fossil fuels and false climate solutions like gas and nuclear energy. In addition, at least 50% of the funds should be reserved for climate spending, including decentralised renewable energy, in addition to nature conservation and restoration.
Contacts:
Ariadna Rodrigo – Greenpeace EU spokesperson on the green recovery: +32 (0)479 99 69 22, [email protected]
Greenpeace EU press desk: +32 (0)2 274 1911, [email protected]
For breaking news and comment on EU affairs: www.twitter.com/GreenpeaceEU
Greenpeace is an independent global campaigning organisation that acts to change attitudes and behaviour, to protect and conserve the environment and to promote peace. We do not accept donations from governments, the EU, businesses or political parties. We have over three million supporters, and offices in more than 55 countries.
EU Transparency Register: 9832909575-41