Our dynamic team is made up of talented individuals who are passionate about preserving our planet. We offer a positive working environment and good benefits.
You can consult our privacy statement for applicants here. (Aussi en français, ook in het Nederlands.)
All job openings at Greenpeace European Unit will be posted here and advertised on our Twitter. You can also check out job offers with Greenpeace offices around the world.
Greenpeace is recruiting:
EU COMMUNICATIONS OFFICER
based at our European unit in Brussels
We are looking for a brilliant new colleague to help us tell the stories that can trigger political change in Europe.
You are experienced, creative and committed to help build a better and fairer future on a healthy planet. You understand the power of communications and campaigning, and are at home with media and social media tools. You are positive, fun, reliable, and pay attention to detail.
If this sounds like you, then read on!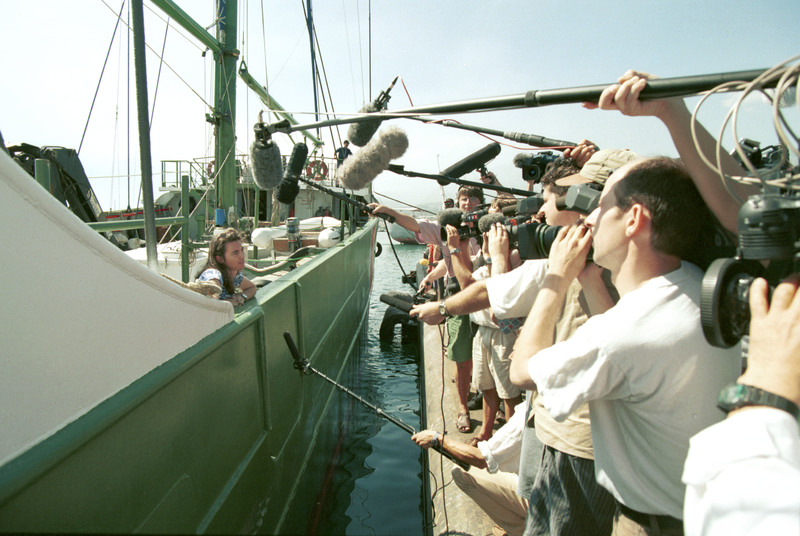 Main purpose of the job:
To develop and tell compelling and innovative stories for a media and EU political audience to support Greenpeace's EU campaigns, in line with Greenpeace programme objectives.
What we offer: 
Work within a dynamic and successful international political campaigning organisation committed to transformational change. 

Experience a stimulating political, news and campaigning environment and expand your skills and knowledge.

Join the friendly and supportive team in our Brussels office, and work with a network of colleagues and offices across the world.

Actively contribute to the protection of nature and to political change in Europe.

While ideally this is a full-time position, we can consider limited adjustments, such as a four-day week. 

€3,829.39 – €4,237.51 monthly gross salary (depending on skills and experience), plus benefits (pension scheme, health insurance, meal vouchers, transport allowance, etc.).
Profile:
You have at least four years of solid experience in journalism, media relations and/or communications.

You have a sharp news sense, a decent grasp of environmental issues, and are at home working with journalists. Brussels/EU experience is an advantage.

Your writing and editing is engaging, clear and precise, and your English is native-level. A good knowledge of German, French and other EU languages is a distinct advantage.

You can develop and implement media/communication strategies within a challenging political context.

You are committed to social change and environmental protection, and have a positive and open attitude.
Main skills:
You can adapt your writing to any online or offline channel to produce lively and persuasive content – from hard-hitting press releases, to snappy tweets and soundbites, comprehensive Q&As, creative online visuals, and engaging video scripts.

You can translate technical language into accessible information rapidly and in an appealing style.

You are used to working the phones and are a good networker, who is able to establish relationships within the EU press corps, with partner NGOs, and inside the global Greenpeace organisation.

You have a high level of initiative and are able to seize media/communication opportunities.

You are an effective team player and can help develop the media/communication skills of colleagues.

You are stress-resilient, and able to prioritise competing demands to deliver high quality work on time. 

You are willing to carry out day-to-day administrative tasks.
Application information: 
Please email your application in English to [email protected] and address it to Mark Breddy. Please write communications officer 2021 in the subject line, as well as your name and surname. Please include:
A CV of maximum two pages (no photos, please); 

A cover letter of no more than one page outlining why you are interested in the job, why you are qualified for it, and when you would be able to start; 

A blog post of no more than 600 words for the Greenpeace EU website, answering the following question:

Europe's response to the coronavirus pandemic: opportunity or threat for the environment?

Please provide an alternative title.

Optional: please also feel free to send in any writing samples and other communications work (up to six pages).
This post is ordinarily located at our office in Brussels. Due to the pandemic and related restrictions, the successful applicant could work from another location in the short to medium term. When the situation improves and restrictions are lifted, the successful candidate would be expected to join the rest of the team in Brussels.
Deadline for applications: 23:59 CET, 31 January 2021. 
The first round of interviews will take place in the first or second week of February. We expect to hold a second round in the last week of that month.
Please read the requirements for the job carefully and follow the application instructions. We will automatically exclude incomplete applications. 
Greenpeace is committed to equal opportunities and diversity. We encourage applications from anyone who believes they fit the essential requirements for the job, irrespective of: race/ethnicity; religion/belief; disability; sex, gender identity or sexual orientation; pregnancy, marital or parental status; and age.
We value gender equality and gender balance in our team, and particularly encourage applications from women.
Please note that due to the considerable number of applications we receive, we will only be able to contact candidates we have short-listed for interviews. If you have not heard from us by 10 February at the latest, please assume that your application has not been successful. We thank you for your understanding. 
Greenpeace is an independent global campaigning organisation that acts to change attitudes and behaviour, to defend nature and to promote peace. We do not accept donations from governments, the EU, businesses or political parties.
***
Internships
Sorry, there are no internship vacancies in the Greenpeace European Unit at the moment. Any future internship vacancies will be posted on this page and advertised on our Twitter.
The Greenpeace European Unit is committed to equal opportunities and diversity. We encourage applications from anyone who believes they fit the essential requirements of a job, irrespective of age; disability; sex, gender identity or sexual orientation; pregnancy, marital or parental status; ethnicity; or religion/belief.