The 12th round of EU-US trade talks ends in Brussels today with negotiators pressing ahead to deliver new privileges for big business, said Greenpeace. The start of the talks was delayed on Monday after a blockade by Greenpeace activists, who warned against a "dead end trade deal" and called for an end to the negotiations.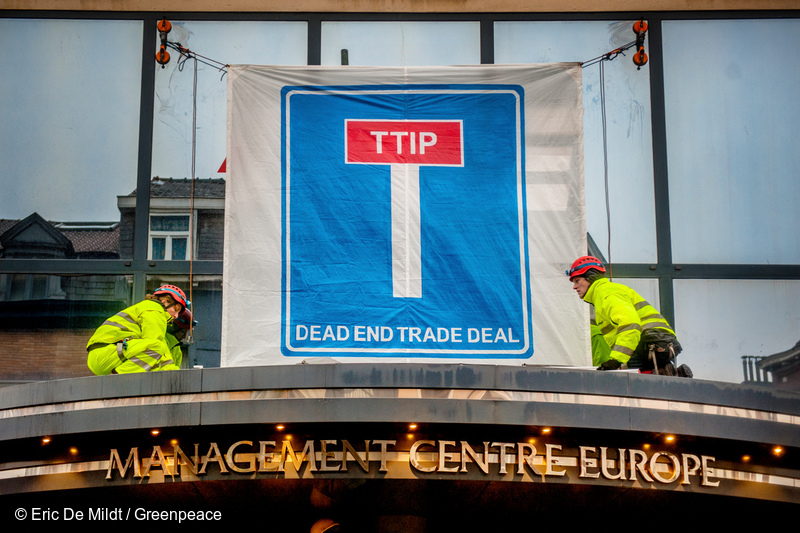 Negotiators discussed plans to establish a quasi-court under a future Transatlantic Trade and Investment Partnership (TTIP) agreement. The court would allow corporations to sue governments over any environmental, health or labour safeguards that stand in the way of their investments, warned Greenpeace. Under a similar system, a Canadian energy company recently demanded $15 billion in compensation after US President Barack Obama rejected the Keystone oil pipeline.
Commenting on the conclusion of this week's talks, Greenpeace TTIP campaigner Susan Cohen Jehoram said: "Once again negotiators worked hard to deliver new privileges for big business, at the expense of people and the environment. They say they want to protect environmental, health and labour standards, but instead they are giving foreign corporations exclusive rights to challenge these same standards in a special court. This is a blatant disregard for democracy and the public interest. Opposition to this trade agreement is growing. The more people hear about it, the more concerned they are. And the harder it will be to ignore them."
Note:
[1] For more information on EU-US trade talks, read our 23 burning questions on TTIP.
[2] Photos and video of the Greenpeace blockade are available here.
Contacts: Greenpeace EU press desk – +32 (0)2 274 1911, pressdesk.eu@greenpeace.org
For breaking news and comment on EU affairs: www.twitter.com/GreenpeaceEU
Greenpeace is an independent global campaigning organisation that acts to change attitudes and behaviour, to protect and conserve the environment and to promote peace. Greenpeace does not accept donations from governments, the EU, businesses or political parties.