On 7 September, Greenpeace and others announced an open source detection test for the first gene-edited crop on the market, SU Canola, developed by US company Cibus. The test was published in the peer-reviewed scientific journal, Foods.
SU Canola is a rapeseed engineered with oligonucleotide-directed mutagenesis (ODM), a gene editing technique, to withstand spraying with certain herbicides. Products of gene editing fall within the scope of EU GMO law, according to a European Court of Justice ruling of 2018.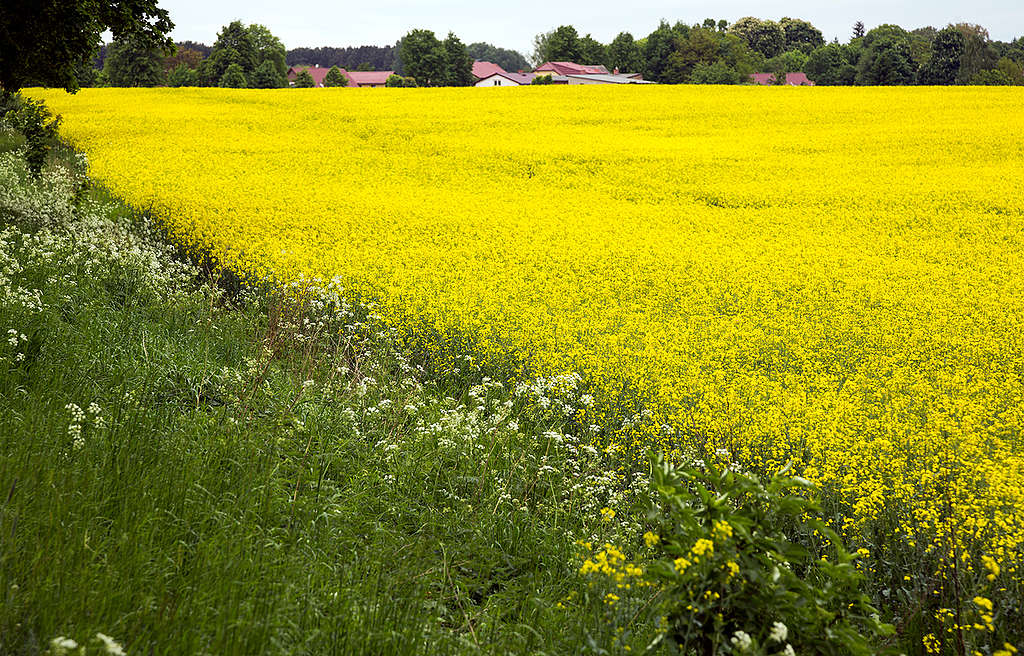 When we presented the test, we knew we made an important contribution to the EU regulatory debate as GM developers and some regulators had said gene-edited crops could not be detected in the marketplace, and therefore couldn't be regulated under existing EU GMO law.
We knew this was also relevant for EU national authorities tasked with the enforcement of EU GMO law. Until now, they have not been able to test for this GM rapeseed, which is grown in the US and Canada and has no EU GMO authorisation. When EU officials discussed the ECJ ruling with the Commission, a number of government officials said they were "not able to fulfil all their obligations to carry out controls" and that they couldn't "in all cases be held responsible for deficiencies in enforcement".
What we didn't know was that the publication of the detection test would see Cibus, a self-proclaimed pioneer in "precision" gene editing technology, state that its flagship, first commercial product is in fact the result of a random mutation triggered by a standard laboratory procedure.
"Precision gene editing" turns into accident in the petri dish
In response to the publication of the detection test, a Cibus official claimed that the varieties currently sold in the U.S. or Canada were "not gene-edited." Instead, the intended mutation had "occurred spontaneously in cell culture and that's not unusual."
The seed industry also ran with that message. They said Cibus had confirmed to them that "the varieties were in fact developed from spontaneous somaclonal variation", and that it was not possible to determine whether SU Canola is a GMO under EU law.
This is a spectacular u-turn from the developer company.
When Cibus registered SU Canola in Canada it said it used the ODM technique to create the rapeseed it was planning to put on the market there. Two regulatory agencies, Health Canada and the Canadian Food Inspection Agency put that on record. The agencies noted that Cibus thought the intended genetic change could be the result of "spontaneous somaclonal variation" but wouldn't make any firm determination that it was.
When the company launched SU Canola on the North American market, it touted it as its "first commercial seed product developed using its rapid trait development system (RTDS), a patented gene-editing tool".
And when it went to investors in 2019, it said in a preliminary prospectus filed with the US Securities Exchange Commission that SU Canola was gene edited.
Consequently, the rapeseed was listed as a GMO in the EU GMO database run by German regulator BVL and Wageningen University, and in the Clearinghouse of the UN Convention on Biological Diversity.
But now that Cibus knows that SU Canola can be detected, the company says the product is not a result of gene editing.
And German regulator BVL is taking up Cibus' cause.
It declared that the specific mutation that the new test detects was "not caused by gene editing". To support this assertion, the BVL used just two recent sources – Cibus' SU Canola marketing website and the Canadian Food Inspection Agency's registration document, which was changed a short time ago and no longer mentions Cibus' gene editing technology. But the public record on this matter is much more substantial. In fact, the BVL itself investigated Cibus' rapeseed in 2014/15, and obtained additional information from the company about the nature of the mutation (pages 51-53 of the linked document, released under access to documents rules). It states in its GMO database that the genetic change was "introduced through genome editing" – duly noting the developer's "hypothesis" that it may not be.
Cibus, meanwhile, cannot have it both ways – tell regulators, farmers and potential investors that its products are made using gene editing, and then turn around and claim they are not.
Consumers have a right to know how their food is produced
What the company's surprising move reveals is that the GM industry has learnt little – if anything – from more than twenty years of clear demands from consumers around the world that they want transparency about GMOs. Instead, the first commercial product of gene editing – hailed by the industry as a new dawn for genetic engineering – has gone underground to avoid the light of day.
Cibus' SU Canola is classified as GMO in the EU and cannot be placed on the market or released here without a GMO authorisation.
The detection method presented in Foods is a standard GMO test that hones in on the genetic changes not on the techniques used to make the GMO. This – and nothing else – is required of such tests.
European governments should make sure that GMO control laboratories use the new detection method in their routine GMO testing so this GM rapeseed does not enter food and feed supply chains illegally.
Our governments are obliged to apply and enforce EU GMO law – including safety testing, traceability and labelling – for all GMOs including those produced through gene editing. Given the industry's confusion game, they must provide the transparency that – as Cibus' case shows – GM developers are still unwilling to deliver.