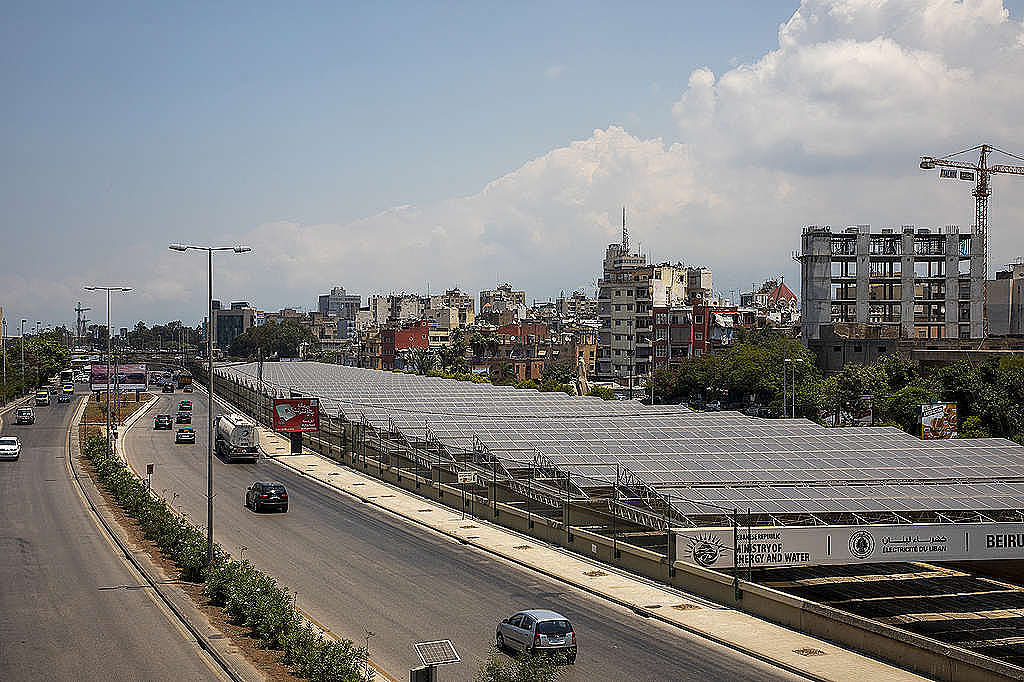 Greenpeace Report: Favoring renewable energy over natural gas will save the Lebanese government money
"We urge the ministry of energy to take the right and brave decision of replacing some planned thermal power capacity with renewable energy"
Greenpeace Middle East and North Africa released today a report entitled "No More Excuses: Time to go Renewable" which provides a technical and economical analysis of the latest electricity plan submitted by the Lebanese Ministry of Energy and Water in April 2019, and develops an alternative scenario favoring a more significant deployment of renewable energy and energy efficiency ambitions. The findings of this report show that by investing more on renewable energy and by scaling down planned natural gas thermal power plants capacity the government will save money in addition to saving lives and tackling pollution problems. 
Julien Jreissati, Campaigner at Greenpeace MENA, declared "our analysis clearly shows that by favoring renewable energy over natural gas the Ministry of Energy will not only be able to provide 24h of cleaner and safer electricity, but cheaper as well!". 
The Greenpeace MENA analysis demonstrates that by reaching a 31.2% share of renewable energy in electricity consumption by 2026, profit for the public utility, 'Electricité du Liban', will increase by at least 14% compared to the ministry plan.
Although the report focuses solely on technical and economical perspectives, the environmental and public health benefits of switching to renewables are undeniable and will also lead to indirect economic benefits.
"It would be suicidal for a country like Lebanon, suffering from rampant air pollution and economic difficulties but also with great solar potential, to turn its back to renewable energy" continued Jreissati.
The report includes a number of recommendations that focuses on a faster and more significant deployment of renewable energy across the country. The report also recommends to reduce the overall projected thermal plant capacities by 740 MW which would be equivalent to scraping off the new Zouk power plant and downsizing the new Jieh power plant by 35% thus reducing the air pollution that they would generate. A previous report released by Greenpeace in 2018 ranked jounieh as the 5th most polluted city in the Arab World  in terms of NOx pollution notably due to the emission generated by the Zouk power plant among other sources.  
The Ministry of Energy will release a renewable energy roadmap in September to achieve Lebanon's commitment of reaching 30% renewable energy by 2030. 
"We urge the ministry of energy to take the right and brave decision of replacing some planned thermal power capacity with renewable energy in order to achieve the ambitious goal of 30% renewable energy by 2030" concluded Jreissati.
Note to editor:
The full report can be found here.
The photos can be found here.
For more information about this press release you can contact: