Jakarta – By 2020, at least fifty million hectares of forest – an area the size of Spain –  is set to be destroyed  for commodities despite ten years of corporate commitments to end deforestation, according to a new Greenpeace International report.
The palm oil sector is a leading driver of deforestation in Southeast Asia, where 14.5m hectares of forest was destroyed for commodities between 2010 and 2015 [1]. Yet the vast majority of palm oil traders are carrying on with business as usual and continue to supply some of the world's largest consumer brands, gathering today in Vancouver for the Consumer Goods Forum (CGF) summit.
In 2010, CGF – the world's largest consumer brands– , including Nestle, Mondelez, and Unilever, promised to end deforestation by 2020 through "responsible sourcing" of cattle, palm oil, soya and other commodities. With just 200 days to go and despite their imminent failure, forest protection and the climate crisis is not even on their agenda. Last year, investigations by Greenpeace International exposed how palm oil suppliers to the world's biggest brands had destroyed an area of forest almost twice the size of Singapore in less than three years.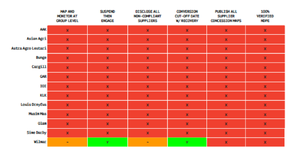 Transparency has become a key battleground in the fight to clean up Indonesia's palm oil industry. Following Greenpeace pressure on the industry last year, Wilmar International, the world's largest palm oil trader, committed to map and satellite monitor all of its suppliers. But this move has been ignored by other leading traders like Cargill, GAR and Musim Mas. Last month, the Indonesian government made matters even worse by ordering that no palm oil company publish data regarding its concessions.
"Six months have passed since Wilmar committed to reform. Yet the rest of the industry still hasn't taken any meaningful action. Meanwhile, ministers in the government of President Joko Widodo have recently taken pride in announcing they blocked palm oil companies from sharing information regarding the palm concessions they own", said Kiki Taufik, Head of the Indonesian forests campaign at Greenpeace Indonesia.
"The impression this gives is that the vast majority of the palm oil sector is unwilling to reform. This leaves brands that use palm oil in a very difficult position. With just over 200 days to go before 2020, time is running out to eliminate forest destroyers from the palm oil supply chain. So brands have a stark choice: force GAR, Musim Mas and other palm oil traders to stop prevaricating and reform, or stop doing business with them altogether", said Kiki.
Since 2010, production and consumption of agricultural commodities linked to deforestation including cattle, soya, palm oil, rubber and cocoa – has increased dramatically and is still rising.[2] 80 per cent of global deforestation is a direct result of agricultural production,[3] releasing climate emissions equivalent to those of Japan, Germany and the UK combined.[4]
The latest IPCC and IPBES reports contain the most urgent warnings yet from the world's top scientists on the need for radical reform of the agricultural industry and food system to prevent climate and ecological breakdown.
ENDS
Notes to editors:
50 million hectares is a conservative estimate based on a combination of actual data on deforestation from 2010-15, tree cover loss from 2010-18 and forecasting until the end of 2019. From 2010-15 deforestation and tree cover loss combined was approximately 5 million hectares per year – according to scientific analysis of satellite mapping from NASA. If this rate continued, forest loss would reach 50 million hectares by the end of 2019. However, because tree cover loss has increased in the years 2016-18, it's likely deforestation will also have increased, so the actual figure could be much higher.
[1]  Analysis by Greenpeace, based on data from Curtis PG et al (2018) 'Classifying drivers of global forest loss' Science 361: 1108–1111 http://science.sciencemag.org/content/361/6407/1108
[2] Since 2010, the area planted with soya in Brazil has increased by 45%, Indonesian palm oil production is up 75% and Côte d'Ivoire's cocoa footprint has grown by 80%. Worse is to come: by 2050, global meat consumption (and hence production) is also forecast to rise by 76%, soya production by nearly 45% and palm oil production by nearly 60%.
[3] Kissinger G, Herold M & De Sy V (2012) 'Drivers of deforestation and forest degradation: A synthesis report for REDD+ policymakers' p11
[4] Annual net emissions from deforestation for agriculture and tree plantations in tropical countries alone averaged 2.6GtCO2. Pendrill F et al (2019) 'Agricultural and forestry trade drives large share of tropical deforestation emissions' Global Environmental Change 56: 1–10.
This is equivalent to the combined total emissions of Japan, Germany and the UK. CAIT Climate Data Explorer.
Contacts:
Sol Gosetti, International Communications Coordinator, Indonesia Forest campaign, [email protected], +44 (0) 7380845754
Reykia Fick, Global Communications Lead – Greenpeace Forest campaign, Ottawa, Canada +1-819-918-0470 (EDT), [email protected]
Follow @greenpeacepress on twitter for our latest international press releases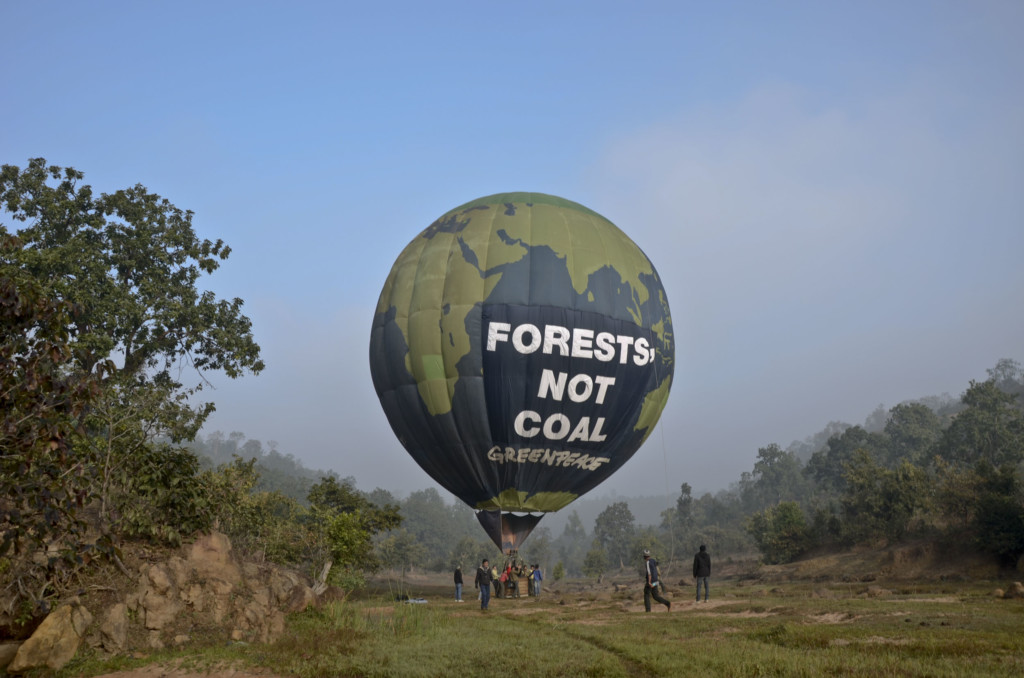 Save Forests
Indonesia's irreplaceable rainforests and carbon-rich peatlands are now being destroyed, join the fight to protect our forests!
Get Involved