Regardless of all the doom and gloom in the world, there always seem to be people that push through it. People who are unfailingly optimistic and kind. Some call them dreamers, and I love it when those dreamers are my friends.

Zeta-Zara Wanamaker, who is such a friend, was born on the 18th of November 2007. 15 years later, she would stand surrounded by the six instruments she plays to tell her community what those years have taught her about freedom. Freedom for nature. Freedom from violence. Freedom for women to walk safely in the streets at night and bask in the sunlight of a gender-equal society. Zeta played her six instruments against a backdrop of three canvases our school had painted for three women's shelters across South Africa. The bold words at her feet read: "OUR OCEANS ARE NOT FOR SALE".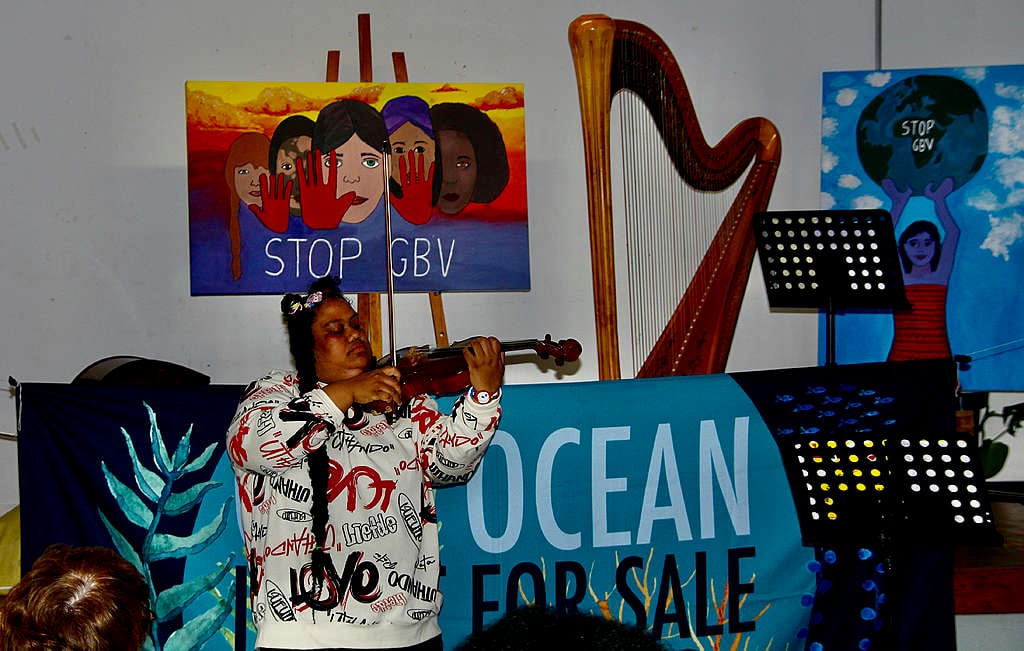 A few weeks ago, we released a survey among our students to gauge how art and music could encourage students to fight gender-based violence. 90% of female respondents indicated feeling highly unsafe when walking alone. Bernadine Bachar, Director of the Saartjie Baartman Centre for Women and Children, outlines how load shedding has further impacted that safety.

"Load shedding has undoubtedly impacted violence perpetrated against women. The lack of adequate street lights during load shedding has contributed to the vulnerability of already vulnerable women in our communities. Load shedding has also had an adverse impact on the South African economy, leading to rising unemployment, a significant driver of gender-based violence in the country," Bachar writes.

On this Freedom Day, nervous, red-faced Zeta stood up against that backdrop of student-painted canvases to help protect what her lived experiences have taught her about freedom. With her double bass resting on her shoulder and the harp towering above her head, Zeta spoke to a still audience:

"When ignorance proclaims the stereotype
And creates civil hype,
That what occurs behind domestic doors,
Must never come to the fore,
We must in absent darkness from the light,
Hide from the truth in plain sight…..cannot you see how we all continue to bleed, behind the bars of a history and a past,
We need a new narrative and cast,
To weave a tapestry of equality,
This will signify the intellect of humanity and end this gender violence insanity."
This performance will be part of a series of events to use art and music to speak out on the issues highlighted in Zeta's Freedom Day debut. Watch this space to follow our next performances at the Sentinel Ocean School and Hout Bay Library.
Written by Milan Burnett,
Cape Town Volunteer
More images can be found here.