Fisheries stakeholders and civil society organizations demand immediate response to Government of Senegal
Dakar, 24 March 2016 – A coalition of fisheries stakeholders and civil society organizations, consisting of associations of artisanal fishermen, women processors, fishmongers, marine officers, and marine and environmental associations, is calling on the Minister of fisheries and maritime Economy of Senegal to give an immediate response concerning the measures taken by the government against tonnage fraud by industrial fishing vessels. This ask takes place in a context of license renewal process, and four months after the Minister Oumar GUEYE publicly stated that ministerial investigation on tonnage fraud was over.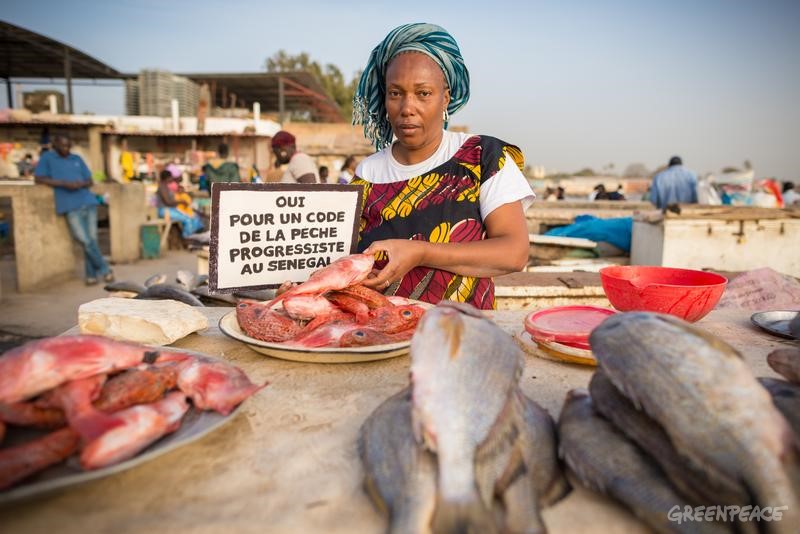 Fraud on vessel tonnage is an illegal practice with enormous economic, social, financial and ecological consequences. Under-reporting of gross tonnage allows vessels to pay lower license fees to countries in which they operate and to fish in in prohibited areas. Despite all evidence provided on this fraud and the various calls by many stakeholders, the Senegalese government's silence is very worrying.
"The lack of response from the Ministry to our numerous queries on this issue leads us to think that the Minister does not seriously consider the alarming state of marine resources and the crucial need for transparency in the fisheries sector. Given the over-exploitation of resources and the lack of regional management of these resources, we urge the Minister to react and take a responsible and proactive approach to solve this issue" said Ahmed DIAMÉ, Oceans Campaigner for Greenpeace Africa.
Gross tonnage fraud by industrial vessels has existed in Senegal for a long time. In 2006, the Audit report of the coastal demersal fishing fleet (1), commissioned by the Planning Studies Unit (CEP in French) of the Ministry of Fisheries and Maritime Economy suspected fraud on the reported tonnage for a number fishing vessels. Such suspicion was reinforced by a recent Greenpeace published in May 2015 (2).
The situation of the Senegalese industrial fleet is extremely worrying. By cheating on their gross tonnage, some operators allow their industrial vessels to access the same fishing grounds as artisanal fishermen, creating an unfair competition with small pirogues, and putting an additional pressure on steadily declining stocks. In addition, this fraud causes non-compliance of safety standards in ships, as bigger vessels are under stricter safety constraints than smaller ones. In the current context of industrial fishing licenses renewal, it is urgent that the fisheries Minister, takes necessary measures to correct this injustice. Keeping quiet on this matter, would mean legitimizing a fraud that that has been ongoing for too long.
"Given the dependence of Senegalese and West African populations on fish stocks and the commitments made by our country at regional and international level (3), it is critical to strengthen sub regional cooperation and transparency in the fishing sector to definitively settle this fraud and avoid an irreversible collapse of fish stocks, stressed Alassane Ba, Secretary General of the Defenders of the Sea, also a member of the Coalition.
We urge President Macky Sall to take the lead and advocate for the creation of a regional fisheries management body that is able and capable to meet the challenges faced by our region for sustainable management of marine resources.
We also  urge European, Russian and Asian governments including fishing fleets or companies operating in the region, to better control fishing practices that harm the image of the  friendly and fraternal  countries' that they convey to the people of Africa.
Editor's Note:
(1)   Note on the audit of the coastal demersal fishing fleet and the implementation status of its recommendations http://www.aprapam.org/2015/10/27/fraude-sur-le-tonnage-des -navires / # more- 1798 
(2)   Greenpeace Africa Report: Scam on the African coast: the hidden face the Chinese fishing vessels and joint ventures in Senegal, Guinea Bissau and Guinea, May 2015. http://bit.ly/1Aqneoj
(3)   Senegal has ratified the 1969 International Convention on Tonnage Measurement of Ships since 16 January 1997. It entered into force on 16 April 1997.
Contacts:
Bakary Coulibaly, Communication Officer, Greenpeace Africa, email: [email protected]; Tel: +221773336265
The organizations which sign this Press Release
–        Union Nationale des GIE Mareyeurs du Sénégal (UNAGIEMS)
–        Plateforme des Acteurs de la Pêche Artisanale (PAPAS)
–        Association des Pêcheurs Actifs de Cayar (APAC)
–        Conseil des ONG et des OSP de Pêche et Environnement Marin
–        Association de Pêcheurs et Mareyeurs de Yoff (APMY)
–        Coalition des Marins Port Autonome de Dakar (
–        Plateforme des Organisations Professionnelles et Syndicales de Pêche (POPS/ANE)
–        Défenseurs de la Mer
–        Plateforme Green Marines-Africa
–        Collectif National des Pêcheurs Artisans du Sénégal (CNPS)
–        Greenpeace Africa