Our new report finds nuclear energy loses on all accounts
Our new report highlights once again that nuclear power is a dead-end: it would lock the country into an out-dated, expensive and deadly energy future.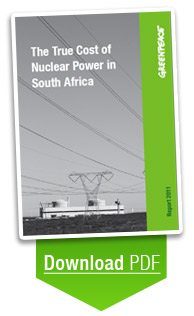 In our new report "True Cost of Nuclear Power in South Africa", presented to the Department of Energy today, we expose the significant social and economic impacts of the country's nuclear program in the past, and highlight the benefits of a nuclear-free future.
At the same time we also made a submission to the Environmental Impact Assessment on the proposed Nuclear-1 power station to the DoE.
Greenpeace urges the Minister of Energy to reconsider the role of nuclear energy in South Africa and put a moratorium on any new nuclear reactors at least until the safety implications of the Fukushima nuclear disaster in Japan have been fully evaluated. Rather than investing in dangerous energy technologies, our country should opt for clean energy options.
The True Cost of Nuclear report outlines South Africa's costly nuclear history, its failure to learn from past mistakes, and how the country could leave dirty and dangerous energy behind by investing in renewables. To achieve a nuclear-free South Africa, whilst still reducing the country's dependency on coal, the electricity sector needs to be the pioneer of renewable energy utilisation. According to our Advanced Energy [R]evolution, 49% of electricity can be produced from renewable sources by 2030, increasing to 94% by 2050.
"Nuclear energy is a dangerous distraction from the clean energy development needed to prevent catastrophic climate change. Nuclear power simply delivers too little, too late, and at too high a price for the environment," said Kumi Naidoo, Executive Director of Greenpeace International.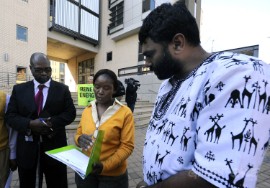 Kumi Naidoo, Executive Director of Greenpeace International (right) hands over a report to Thandiwe Maimane, Chief Director of Communications (center) and Ndivhuwo Khangale, Director of Communications of the Department of Energy in Pretoria. Photo Credit: © Shayne Robinson / Greenpeace
As host of the international climate negotiations COP17 in Durban this year, South Africa should play a leading role both in terms of its domestic energy choices, and by debunking false energy solutions to catastrophic climate change, such as nuclear.
Greenpeace Africa is calling for decisive action and the political leadership required to secure the brighter future South Africans deserve. A future that is free of the threats posed by nuclear energy.
"We need an Energy [R]evolution driven by the creation of green jobs. With the political will and South Africa's abundance of renewable energy resources, the country could and should become a renewable energy leader in Africa," said Ferrial Adam, Greenpeace Africa campaigner.