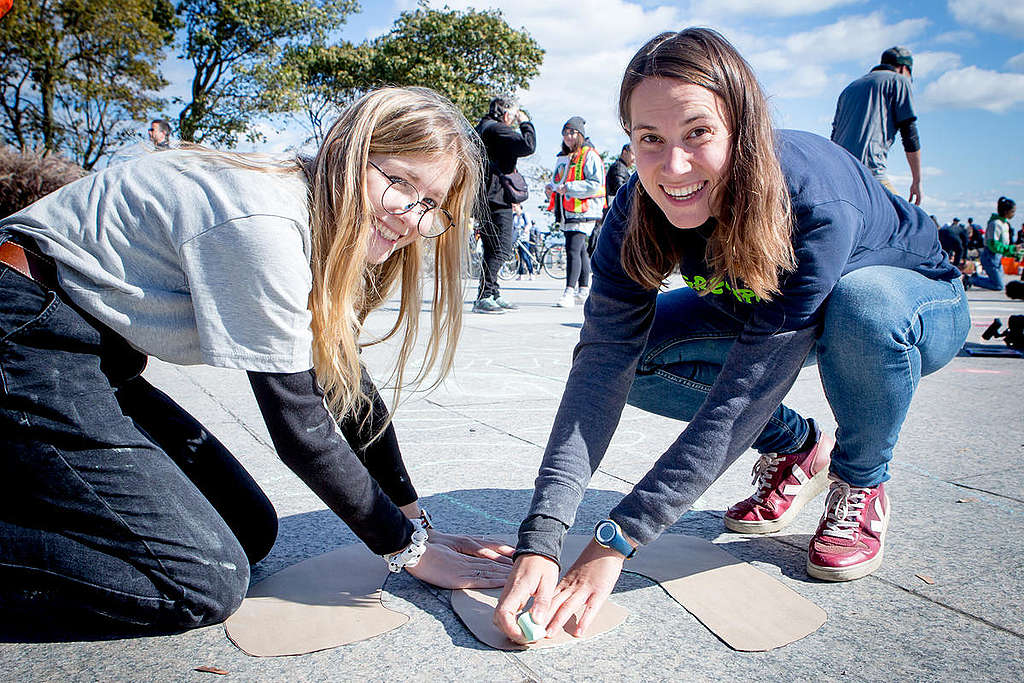 FOR IMMEDIATE RELEASE
November 12, 2019

OTTAWA — Greenpeace Canada lawyers are at the Supreme Court of Canada today to protect the rights of environmental defenders and vulnerable groups to speak out against the wrongdoing of powerful players. Greenpeace Canada will be intervening on two cases related to strategic lawsuits against public participation (SLAPPs), which could have far reaching implications for all people speaking out about important matters of public interest.

"We are facing a climate emergency. Now more than ever, as we witness corporate and government crackdowns on environmentalists in Canada and around the world, it is important that people who stand up to polluting industries and their powerful allies are afforded fair legal protection," said Greenpeace Canada staff lawyer Priyanka Vittal. [1]

Greenpeace Canada is not taking a position in favour or against any of the litigants, [2] but is rather asking the courts to adopt a "purposive approach" in applying anti-SLAPP laws, such as those enacted in Ontario and British Columbia. This means asking the Court to endorse a test that best represents the spirit and intent of the laws, including:

A balanced approach to determining merit and public interest early in a legal process in order to either dismiss meritless SLAPP suits or protect people bringing justified claims in the public interest against powerful groups; and
A thoughtful examination of the value of the speech, power inequities, the litigants' past conduct (including legal history), and whether the plaintiff's actions could create a chilling effect to determine whether a case bears the classic hallmarks of a SLAPP.
"People who speak truth to power must be able to do so without fear of reprisals masquerading as defamation lawsuits. Strong anti-SLAPP legislation is essential for any society that cares about protecting the right to express dissenting viewpoints," said Greenpeace Canada's external counsel, Nader Hasan, a constitutional law expert with Stockwoods Barristers. [3]

Intervenors in the cases include environmental and civil liberties groups, advocates for women and survivors of sexual and gender-based violence, as well as media outlets and associations.

Greenpeace has a 40-plus year history of standing up to industry bullies and exposing corporate wrongdoing. Greenpeace Canada previously made submissions to the Ontario Anti-SLAPP Advisory Panel and is currently fighting a $7-million SLAPP suit by logging giant Resolute Forest Products.

-30-

Notes:

[1] Canadian politicians like Alberta Premier Jason Kenney have supported suing critics of the tar sands, while Conservative leader Andrew Scheer has attended secret strategy sessions on the topic. Amnesty International (February 2019) reported on the global trend of legal crackdowns on civil society and environmentalists in more than 50 countries. In the last two years alone almost 40 such laws have been drafted or enacted. The Business and Human Rights Centre (September 2019) found that 12 of the largest carbon majors have brought at least 24 lawsuits against 71 environmental and human rights defenders between 2015 and 2018.

[2] Greenpeace Canada's legal factum is available here for its intervention in the cases of Maia Bent, et al. v. Howard Platnick (38374) and 1704604 Ontario Limited v. Pointes Protection Association, et al. (38376). The latter case refers to an alleged contractual agreement between a real estate developer and a community group, and the former is a defamation claim brought by a doctor against a personal injury lawyer. Both cases deal with Ontario's anti-SLAPP law, Protection of Public Participation Act, which entered into force in 2015.

[3] Hasan also represented the Arctic Hamlet of Clyde River in their landmark Supreme Court victory against oil exploration in their traditional waters back in 2017.

To watch the proceedings:

The hearings for both cases are scheduled to begin at 9:30 AM and can be watched in court or online (webcast on the Supreme Court website). Legal counsel for Greenpeace Canada will also be available for interviews.

For more information, please contact:

Jesse Firempong, Communications Officer, Greenpeace Canada
[email protected]; +1 778 996-6549