The Ontario government directed Ontario Power Generation (OPG) to start rebuilding reactors at the Darlington nuclear station beginning in 2016. But OPG hadn't even completed a final cost estimate for the work. Many suspected that they hadn't fully calculated the cost of all the risks to both our electricity supply and our environment.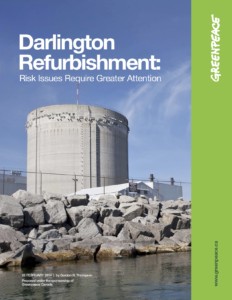 Greenpeace commissioned Dr. Gordon Thompson – an expert in risk assessment of reactors – to examine and document the gaps and omissions in OPG's current business case and risk assessment.
He recommends an independent review of the Darlington life-extension citing some significant gaps and omissions in OPG's business case that are detailed in this report.