#Climate
#Indigenous
#Oil
Join the wave of resistance against oil pipelines
Pipelines are expensive to build and require billions of dollars in funding from banks. Some banks are already backing away from tar sands pipelines because…
Take action
Some leopards never change their spots.Our colleagues at Greenpeace USA just dug up some hard-hitting evidence showing that Energy Transfer Partners (the company infamous for building the Dakota Access pipeline and quashing resistance at Standing Rock) continues to be up to no good. And there are some good reasons why Canada should care.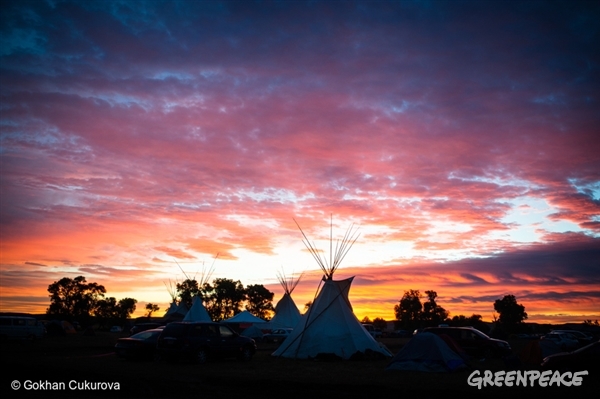 From the use of notorious private military and security services to backing legislation that criminalizes protest — and even launching a $900 million lawsuit against Greenpeace entities that could force them to close their doors — Energy Transfer Partners (ETP) is making it clear that we need to continue to stand together to resist threats to our rights and our environment.
All of this and more is detailed in a new report by Greenpeace USA entitled, Too Far, Too Often: Energy Transfer Partners' Corporate Behavior On Human Rights, Free Speech, and the Environment. While ETP is operating south of the colonial border, people in Canada should be deeply concerned by these tactics as efforts to stop the controversial Trans Mountain Expansion pipeline and tanker project heats up.
Think tactics like ETP's wouldn't fly in Canada? Guess again. In fact, indications of some of them are already happening.
Here's an in-depth look at both how and why this is happening.
ETP will stop at nothing to get its pipelines built
In the fall of 2016, the resistance against the Dakota Access pipeline (DAPL) at Standing Rock in North Dakota, captured international attention when ETP used private security firm TigerSwan to infiltrate and use violent tactics against peaceful Indigenous Water Protectors.
"If one thing is abundantly clear, it's that ETP will stop at nothing to get its pipelines built. Think about it, if as a corporation, your overarching approach to profit protection is to hire TigerSwan — a U.S. military contractor tasked with clearing munitions during the Iraq war — and allow them free-reign to use military-style counterterrorism tactics against Water Protectors and allies at Standing Rock, it's obvious that respecting human rights is, how shall I say it, not in your wheelhouse," said Annie Leonard, Executive Director of Greenpeace U.S.A., whose team stood in solidarity with the courageous Indigenous Water Protectors who led the protests.
In building DAPL, ETP violated Indigenous sovereignty and rights. DAPL was approved without meeting the international standards of free, prior, and informed consent of the Standing Rock Sioux Tribe, a right enshrined in the United Nations Declaration on the Rights of Indigenous Peoples. A Sioux Elder and cultural leader reported damage to at least 380 cultural and sacred sites along the pipeline routes.
Today, displaying the kind of poor corporate behaviour that directly contributed to the DAPL controversy in the first place, ETP continues to apply dirty methods. In fact, it has doubled down on its unethical practices in numerous other locations in the U.S.A. where it has pipeline projects, including the Rover pipeline in Ohio, the Bayou Bridge pipeline in Louisiana, and the Mariner East 2 project in Pennsylvania.
Here's a snapshot of what ETP has been up to since building DAPL, as detailed in the report, Too Far, Too Often:
Filing a $900 million SLAPP suit against Greenpeace entities, Banktrack, and EarthFirst!, accusing the groups of inciting and directing acts of "eco-terrorism." ETP also sued the Standing Rock Sioux Tribal Chairman and Tribal Councilman and several others "seeking restraining orders and unspecified monetary damages." ETP's extreme use of litigation, including misuse of laws designed to prosecute organized crime to intimidate Greenpeace and others, could set a chilling new precedent that silences much-needed protest.
Directly supporting at least one of 60 bills introduced across the U.S.A. post-DAPL that restricts the right to protest and criminalize protest. ETP has likely influenced/supported more of these efforts through measures like financial contributions to politicians' campaigns and working with front groups like the American Legislative Exchange Council.
Continuing to use private security companies, including TigerSwan, which provides services on the Mariner East 2 pipeline project in Pennsylvania.
Aggressively seizing private property through eminent domain proceedings in all of their current major pipeline projects, including the Bayou Bridge pipeline.
So, how far will Justin Trudeau go to build the Trans Mountain Expansion?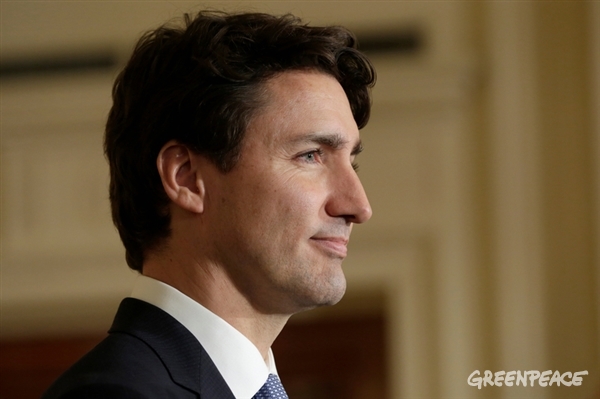 Greenpeace U.S.A.'s report raises a number of flags for us here in Canada.
In May, Prime Minister Justin Trudeau's federal government announced that it was prepared to spend $4.5 billion in Canadian taxpayers' money to buy the existing Trans Mountain tar sands oil pipeline and infrastructure related to the planned expansion from Texas oil company Kinder Morgan, which abandoned the project in the wake of "untenable" opposition.
The Indigenous-led, people-powered movement that led Kinder Morgan to ditch the project is stronger than ever and has no plans to back down. So, how far will Justin Trudeau go to build the pipeline, especially since signing on to make the Government of Canada the country's newest pipeline construction company?
Indications of the type of behaviour used by ETP to intimidate pipeline protesters have already been seen in Canada.
Last week, in comments that sparked the disgust of many, former Bank of Canada Governor David Dodge implied that "people are going to die" protesting this pipeline but that's the price of doing business. The remark was deeply concerning given that not too long ago, Canadian Minister of Natural Resources Jim Carr seemed to threaten to use the military against pipeline protesters.
Kinder Morgan has also used SLAPP-style tactics and private investigators to enforce injunctions against protesters (SLAPP stands for strategic lawsuit against public participation, the same kind of lawsuit ETP has launched against Greenpeace).
Energy companies, the federal government, and national security forces have a history of attempting to criminalize and intimidate the peaceful, Indigenous-led pipeline resistance movement.  Not long ago, Greenpeace exposed that Canada's spies have given high-level security briefings to energy companies and the RCMP have long been investigating Indigenous and allied peaceful protesters in the environmental movement.
Meanwhile, government insiders say the federal approval process for the Trans Mountain Expansion project was rigged. The government has a duty to respect Indigenous communities' right to consent (or not consent) to project like this. Yet, more than half of Indigenous communities along the pipeline and tanker routes have not consented to this risky project, which crosses or potentially impacts their lands an/or waters.
That's why we've called on Prime Minister Trudeau to go on the record condemning ETP's behaviour and promising to not use any ETP-style tactics against the public, including Indigenous Water Protectors resisting the Trans Mountain Expansion.
But to stop companies like ETP for good, and to stop projects like the Trans Mountain Expansion, we need to take even bigger action. That's why courageous people everywhere are joining hands to do extraordinary things to stop new pipelines from being built.
From leading on-the-ground resistance to convincing some of the world's most important banks to stop giving pipeline companies the money they need to keep doing business, our unstoppable wave of resistance is growing stronger every day.
Sign this petition asking banks not to fund ETP or dirty tar sands oil pipelines like the Trans Mountain Expansion.
Already signed? Consider making a donation to Greenpeace to help us continue to stand up to bullies like ETP and its $900 million lawsuit designed to silence our movement.
Together, we are stronger. Together, we win.
With files from a blog by Greenpeace U.S.A. Executive Director, Annie Leonard.