As political parties take stock post-election, it is worth remembering exactly what happened during the recent federal campaign.
Swimming against the tide of history, Canada's oil industry backed the Conservative Party in a take-no-prisoners assault on climate action in the lead-up to the federal election. It was a gamble that didn't pay off, as 63 percent of voters backed parties that promised to phase out fossil fuels by mid-century.
Some see the rejection of the oil lobby's wish list as an attack on the West, as if Alberta and Saskatchewan would somehow be immune to the devastating effects of climate change. Rather than looking for new ways to prop up a sunset industry, however, we should be asking how the rest of the country can help workers and communities currently dependent on oil with the transition to a low-carbon future.
This is not a question the oil patch wanted to debate.
Canada's oil lobby has traditionally avoided overtly partisan politics in favour of backroom deal-making. Yet as pressure grew in recent years for a 'net-zero', fossil fuel-free economy by mid-century – the recommendation of the Intergovernmental Panel on Climate now embedded in the electoral platforms of the Liberals, NDP and Greens – the industry took a much more aggressively partisan line.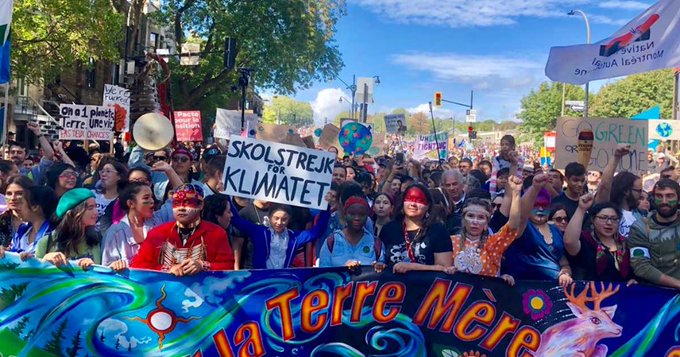 It started with a secret meeting in April, where oil CEOs and lobbyists met with Conservative leader Andrew Scheer and his campaign team to strategize on how to beat the Liberals. The leaked agenda included a session on using "strategic litigation" to silence environmental groups. It also featured a panel where Scheer's campaign manager Hamish Marshall, best known for helping far-right firebrand Ezra Levant establish the Ethical Oil and Rebel News websites, talked about how to use friendly interest groups that operate independently of the party to "rally the base."
The Canadian Association of Petroleum Producers (CAPP) and the Conservative Party both subsequently hired Marshall's company to produce their election ads, leading to calls for an investigation by Elections Canada as to whether this violated the law against political parties colluding with third parties.
CAPP ran their election ads through a front group with a friendly name (Energy Citizens) which is "owned and operated" by the oil lobby group. This ad campaign included spending over $10,000 on Facebook ads to boost a video warning that opposition to oil industry demands was due to "foreign activists who don't care what's good for Canada." Ironically, the ad was released the day before hundreds of thousands of Canadians took to the streets as part of the student-led climate strike to demand great action on climate change.
Another online group with strong links to the oil industry, Canada Strong and Proud, ran an anti-carbon tax and anti-Liberal campaign. Their funding, however, was run through the (Preston) Manning Centre for Building Democracy, which has refused to disclose the original donors. Canada Strong and Proud was also linked to robocalls misleading voters on election day.
CAPP has also followed the lead of the American oil lobby, with whom they share a largely-overlapping membership, in collecting online data on individuals. In the U.S., this kind of data has been used to micro-target industry messaging opposing climate action.
But it isn't all on-line antics. In an unprecedented move, CAPP published its own federal election platform that called for tax cuts, deregulation and support for pipelines in order to double the rate of growth of oil production. Independent research found that full implementation of CAPP's platform would increase the sector's emissions by 116 MT by 2030, which is roughly the equivalent of all carbon pollution currently emitted by Quebec and the Maritimeprovinces (upstream oil and gas production is already the largest and fastest-rising source of greenhouse gases in Canada).
Nevertheless, the Conservative Party platform mirrored CAPP's demands by promising to eliminate the federal carbon pricing system, the Clean Fuel Standard and the new environmental assessment regime, while offering additional tax breaks for oil and gas companies.
This package was soundly rejected by voters in this election. Given the sky-rocketing levels of concern about the climate emergency amongst millenials and Gen-Z, who will make up an increasing share of future voters, this new political reality isn't going to get any better for climate deniers or delayers.
This isn't just an issue for the Conservative party. Over the last four years, the Liberal government watered down their carbon tax, methane regulations and clean fuel standard in response to pressure from CAPP and its allies.
You don't ask an arsonist for advice on fighting fires. It is time for all parties to stop letting oil companies edit our climate emergency response plan.