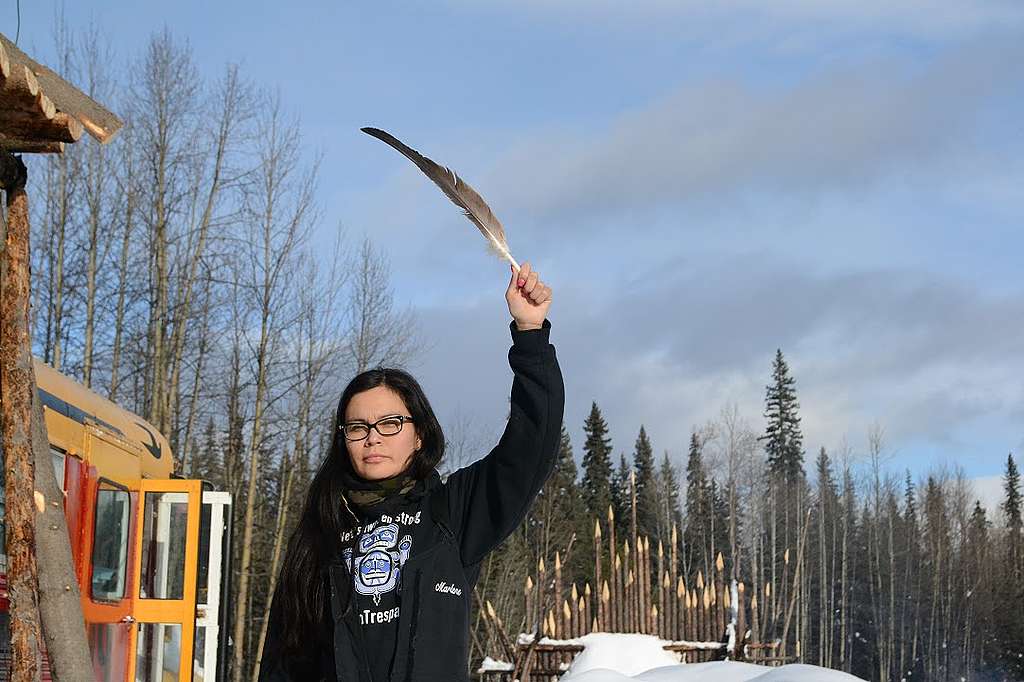 Since February 6th, when the RCMP began raiding Indigenous Wet'suwet'en lands, solidarity protests, marches, blockades and occupations have sprung up from coast-to-coast-to-coast.
They show no signs of letting up — even in the face of escalating police action. The federal and B.C. governments' apparent refusal to act in a way that would peacefully resolve this situation is distressing, since it is well within their reach.
Escalating solidarity events and police action
Yesterday, Ontario Provincial Police carried out arrests at the Mohawk -led Tyendinaga solidarity blockade. Indigenous leaders have condemned the use of force by police.
"We cannot state strongly enough our extreme disappointment in the absolute lack of good faith shown by a prime minister who continually expresses his government's priority is improving its relationship with Indigenous peoples," said the Mohawk Council of Kahnawake in a statement.
Members of Greenpeace Canada's staff were on the ground, acting as legal observers and providing support. We're also encouraging our supporters to take action in solidarity, on the ground or online. All of us who are settlers on this land need to raise our voices to speak up for Indigenous rights. Take action against injustice by calling Prime Minister Trudeau right now.
Police action against the Tyendinaga blockade escalated after Prime Minister Trudeau ordered the barricades down and implied that the Wet'suwet'en refused to come to the table. This is quite a concerning omission of a number of important facts in the public interest, considering the Wet'suwet'en have made their very reasonable demands public and clear.
Here's what they are asking for:
RCMP detachment to leave their territory and to cease patrols into their lands.
All Coastal GasLink activities cease within Wet'suwet'en territory so political talks can proceed.
Late last night at a new blockade in B.C., witnesses say that police arrested Gitxsan hereditary chiefs Norman Stevens (Spookw) and Yvonne Lattie (Gwinitxw) on their unceded land. Independent media also reported restricted access to the site.
Arresting the leaders of another Nation (on their unceded territory, no less) is certainly no road to peace or reconciliation. This is especially so in this case, since the Gitxan people are part of a landmark Supreme Court ruling which recognized the land title rights of hereditary chiefs.
The harder Prime Minister Justin Trudeau tries to strong-arm an end to the protests, the more determined people become to bear witness to injustice against the Wet'suwet'en people. Reports estimate 11 new solidarity protests, including in Hamilton, Vancouver and Victoria and more have sprung up since the actions in Tyendinaga.
Prime Minister Trudeau and B.C. Premier Horgan can resolve this crisis (phone the Prime Minister today)…
The Wet'suwet'en hereditary chiefs are the rightful title holders of the land through which the Coastal Gaslink pipeline intends to be constructed (more on this here).
Given that the builders of Coastal Gaslink have been ordered to go back to consultations with Indigenous communities and were issued a 30-day stop work order, there is no clear reason for the RCMP to enforce the injunction granted to the company by B.C. courts.
This should have been a graceful way out for Prime Minister Trudeau and Premier Horgan to meet the Wet'suwet'en hereditary chiefs' reasonable demands for RCMP to be off their territory so that peaceful talks could resume without duress.
So, why aren't Canadian leaders taking this very straightforward path to pursuing peace?
… instead, Canada has reacted with colonial violence.
Prime Minister Trudeau promised a nation-to-nation relationship with Indigenous Peoples. Instead, when the situation got tough, he issued orders, ignored reconciliation and refused to pursue the diplomatic tenacity warranted to maintain a true nation-to-nation relationship.
As settlers on Indigenous land, we have a responsibility to talk about and push for an end of colonial violence. The collection of relationships, systems and processes that do violence to the land and Indigenous Peoples is not a thing of the past.
VICE has reported that Indigenous Peoples have experienced a surge of racism since the Wet'suwet'en crisis began. The United Nations Special Rapporteur on Violence Against Women, for instance, has highlighted the ongoing effects of "gendered colonization" on Indigenous women.
We certainly see colonial violence continue in police tactics. The RCMP were reportedly prepared to use lethal force against peaceful Wet'suwet'en Land Defenders, with officers being instructed to "use as much violence toward the gate as you want", referring to the gate of the camps Land Defenders erected. As it turned out, the raids against the Wet'suwet'en earlier this month were carried out by heavily armed RCMP tactical teams, complete with assault rifles, helicopters, heavy equipment and K-9 units.
"In our experience, since first contact, RCMP have been created by the federal government to dispossess Indigenous peoples of their lands … They have proven [that] through their harassment of my people to support Coastal GasLink in invading our territories," said Unist'ot'en spokesperson Freda Huson on the long history of colonial violence in Canada.
Plus, the UN Committee on the Elimination of Racial Discrimination called on Canadian officials to immediately suspend work on the Coastal GasLink pipeline due to the lack of free, prior and informed consent, as required by the UN Declaration on the Rights of Indigenous Peoples (to which Canada is a signatory).
As The Narwhal reports, "in a two-page decision statement, the committee said it is alarmed by the escalating threat of violence against Indigenous peoples in B.C. and disturbed by the 'forced removal, disproportionate use of force, harassment and intimidation by law enforcement officials against Indigenous peoples who peacefully oppose large-scale development projects' on their traditional territories."
Outright acts of hate and violence are connected to institutions that continue to show Canadians that there are limited consequences for devaluing the lives and rights of Indigenous Peoples. This has to stop. These systems have to be dismantled and they won't change themselves. We have to do it together.
Read up, speak up, act out
Donate to the Wet'suwet'en Legal fund here, learn more about how to support and organize a solidarity action here.
Since the Wet'suwet'en struggle began, numerous Indigenous, racialized and allied folks have written poignant words about this political impasse, colonization and peaceful resistance. Here's a list of some of the recent pieces we've found informative.
Know of a really important piece by an Indigenous author that's missing from this list? Please send it our way!