Canada's Natural Resources Minister Jim Carr released the Generation Energy report yesterday that is supposed to "inform the Government as it develops an energy policy and helps define Canada's energy future".
As reported by the Canadian Press, it has two tracks: one that involves transitioning to renewable sources of energy (where there are many excellent recommendations, made by some excellent people) and one that is focused on making traditional fossil fuels "cleaner" to produce and burn.
The latter may come as a surprise in a report that is supposed to be presenting a long-term vision for moving to a low-carbon economy. Achieving the goals of the Paris climate agreement (keeping warming well below 2 degrees Celsius, with an of 1.5 degrees C) requires a rapid transition off of fossil fuels, not minor reductions in GHGs per barrel of oil while increasing the number of barrels extracted and burned.
It is less surprising, however, once you look at who proposed, designed and shaped the Generation Energy process: oil industry insiders.
The following timeline is drawn from government documents, obtained by Greenpeace under Access to Information (ATI) legislation:
August 30, 2016: Minister Carr meets with Dave Collyer (former head of the Canadian Association of Petroleum Producers, the principal lobby group for oil companies), Lorraine Mitchelmore (former head of Shell Canada) and Brenda Kenny (former head of the Canadian Energy Pipelines Association) in Calgary "to discuss a federal energy vision". Carr's officials continue to work with this group to design an agenda for next meeting, including a briefing prepared by Collyer, Mitchelmore and Roger Gibbins (who is affiliated with the Canada West Foundation, an oil-funded think tank).
September 28, 2016: Natural Resource Canada receives recommendations from Gibbins, who they had contracted "to provide research, analysis and advice to support departmental efforts in defining a longer-term energy policy for Canada" (Gibbin's report is in the ATI document).
December 7, 2016: Carr and senior officials meet with Collyer, Mitchelmore and Gibbins "to seek their advice on developing a federal energy vision… The meeting provides an opportunity to seek the views of a small group of energy experts on current plans to launch a national energy dialogue and symposium in 2017. The group has prepared a background note that describes their collective views on several key considerations, including: Primary purpose and expected outcomes; Overarching narrative; Process and stakeholder engagement; and Strategic considerations (e.g. issues management)." The "Next steps" part of the memo states "The group wishes to discuss the sequencing of actions towards the national dialogue and symposium… The group has expressed a desire to continue the conversation with you and to support you in rolling out the national energy dialogue and symposium. The Department could explore possible ways to engage these experts in the process."
April 21, 2017: NRCan launches the Generation Energy consultations. Collyer is appointed to the Generation Energy Council.
April – October 2017: Workshops across the country and online submissions.
June 28, 2018: Generation Energy report released.
The remarkable thing about the federal government letting Collyer, Mitchelmore and Kenny have this kind of influence over the national low-carbon energy 'vision' is that – contrary to the NRCan memos – they are not energy experts: they are experts in, and lobbyists for, the oil industry.
Moreover, this is an industry whose front group is currently attacking carbon pricing and climate policy in Canada. Adding insult to injury, oil insiders were able to shape the Generation Energy process to give political cover to the expansion of oil and gas production (and not incidentally, the pipelines that enable this expansion).
Canadians deserve better.
As the Trudeau government considers this report and the purchase of the Trans Mountain pipeline, the questions that ministers should be asking is: Does Canada really want to invest in prolonging the oil economy at the expense of a stable climate? Or do we want to invest those resources in accelerating a transition to a renewable energy-based economy that includes protections for workers and communities currently dependent on oil?
---
Update (July 11, 2018)
When I posted this blog, I was focused on presenting the new information uncovered via the Access to Information documents regarding the role of oil industry insiders in the genesis of the Generation Energy report. This had not previously been in the public realm and I believe the fact that the oil industry had an early influence in structuring the process is relevant to climate debates in Canada. You may see that role as entirely reasonable, or not, but it is worth knowing.
Though I linked to the NRCan pages on the report and the process that went into it, I have been (fairly) criticized for underplaying involvement from outside the oil and gas sector in that process.
So I would reiterate that there are many excellent recommendations in the report, made by excellent people. You can find the bios of the 14-member Generation Energy Council here and a description of the process here.
Chris Turner, who was contracted to work on the report, has argued that I was unfair, saying "the "vision" part of the report came from a synthesis of consultations with 300K+ Canadians, followed by the council's collaborative work over nearly a year" and "In some ways the council was a microcosm of Canadian climate and energy policy disputes. There were very deep divisions and heated disagreements. Until very close to the end of the process, whole sections of the report were in flux, some in danger of even being abandoned."
Fair points.
He also claims that my timeline – though it includes the public consultation period – misrepresents the process by not saying that the report was written after that point (i.e. between October 2017 and January 2018 (he started working on it in January 2018). I thought that was implicit, but didn't have any info in my documents or in the public record on when exactly it was written, so I am happy to put that on the record now.
There is a lot of excellent work in the Generation Energy report, but I would still argue that a long-term climate vision has to be about accelerating a transition off of fossil fuels, not expanding markets for them. That may seem unreasonable given the balance of power within Canadian politics, but it is necessary if we are going to meet the Paris climate agreement targets of keeping warming well below 2 degrees Celsius.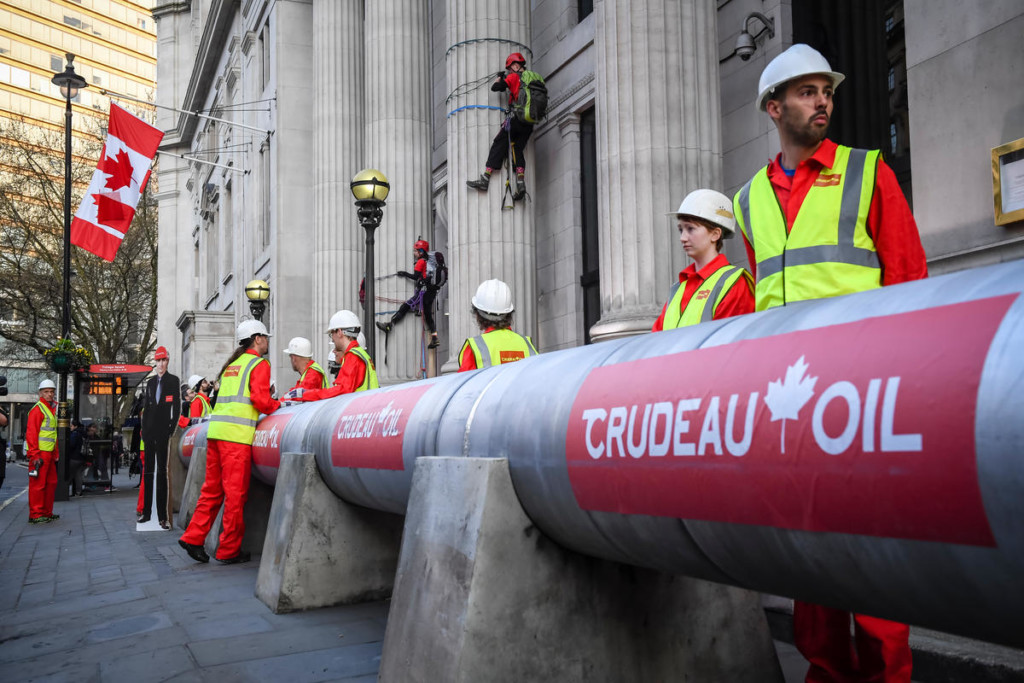 Say No to the Pipeline Bailout
The Trans Mountain pipeline expansion is a proposal to build a new 1,150 km pipeline between Alberta and the BC coast, alongside an existing 60-year-old pipeline. The new pipeline would almost triple the amount of tar sands oil carried through the existing pipeline, and increase oil tanker traffic on the BC coast sevenfold.
Take action