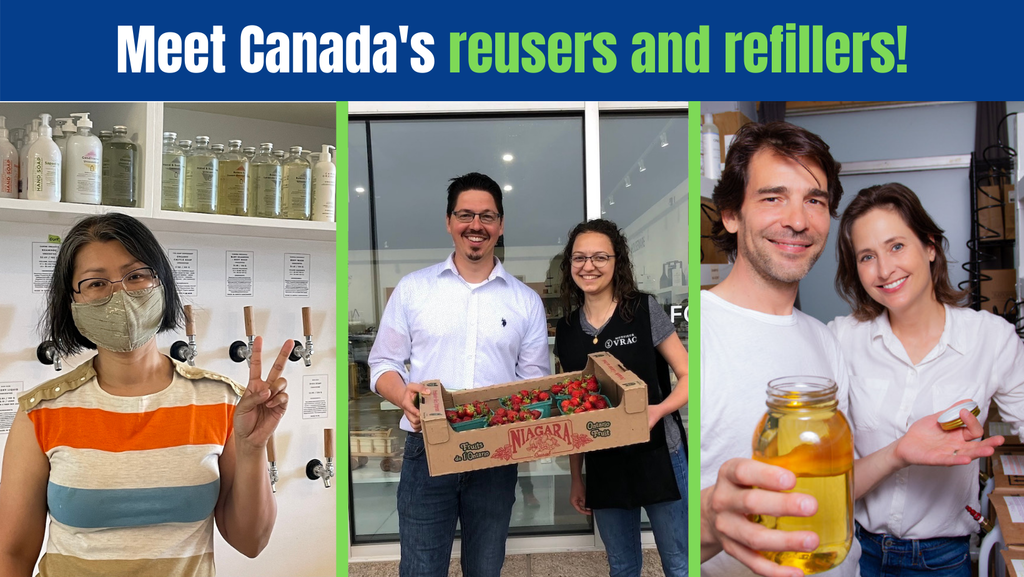 PART 2 in this blog series – 'Cups and Cleaners' – is now available! Find it here.
It's a hectic but exciting time for the plastic-free, zero-waste movement. The federal government just released new single-use plastic regulations  — which drastically fail to meet the moment — the OECD projects Canada's annual plastic waste to double by 2060, and we're officially in summer: a season when plastic waste can spike by up to 40% in some locations. 
We're also at the end of Plastic Free July, a global movement to break our society free from the plastic polluting our world and lives. We need to cut plastic waste production at the source with solutions that actually work.
To wrap up the month, we spoke to a few small business owners across the country that are doing just that: centring reuse and refill models in their practices. We wanted to see how it's going for them, if there are any challenges, and what supports they feel are needed to further their plastic-free ways of working.
In this first part of a two-part series, we spotlight locally-owned reuse and refill shops.
Read on to learn about the profiles of three shops from coast to coast in Canada.
Inspired by their stories? Tell Minister Guilbeault to support reuse and refill infrastructure to spur a transition to our zero waste, plastic-free future!
Linh Truong, The Soap Dispensary, Vancouver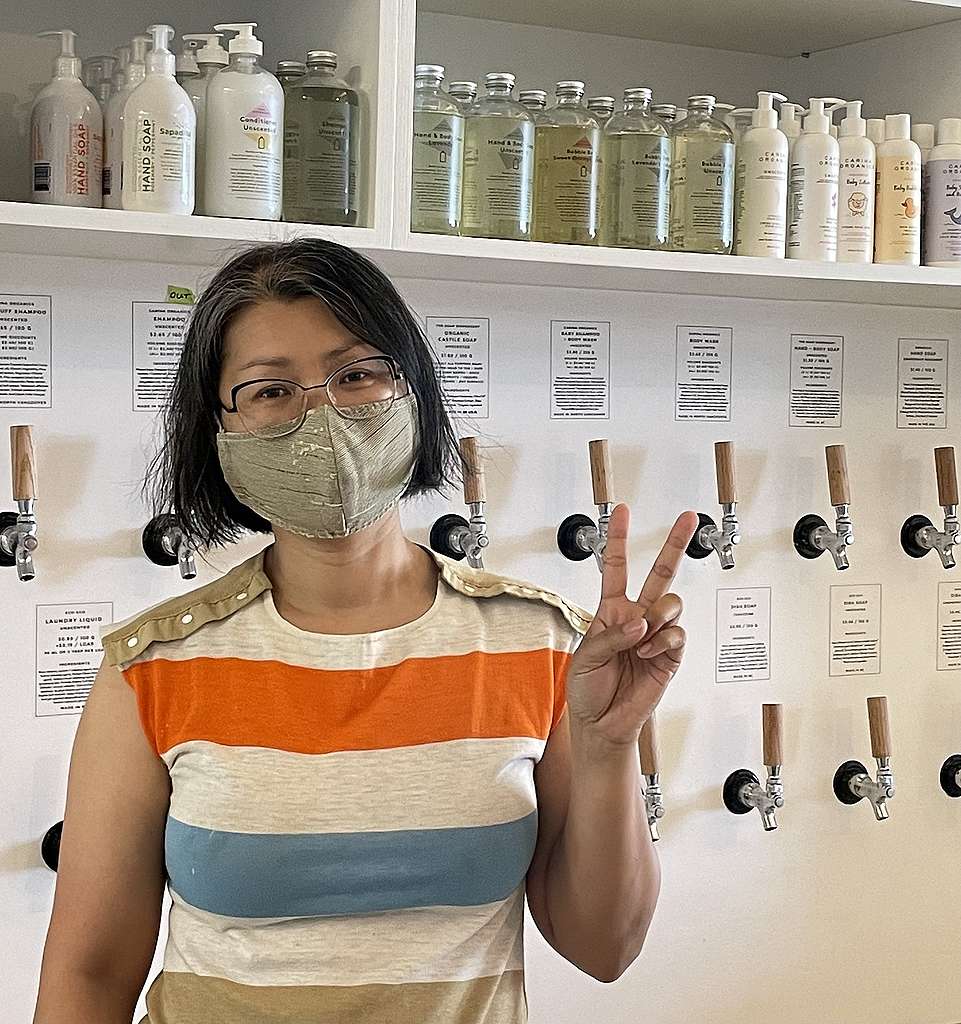 The Soap Dispensary is a self-service refill shop carrying bulk soaps, cleaners, hygiene and beauty products and DIY ingredients to make these essentials at home. Kitchen Staples, their sibling shop next door, is a packaging-free grocery store carrying locally-made, organic ingredients in bulk such as spices, grains, tofu, chips, proteins and cheese. We spoke to the founder of both shops, Linh Truong, to learn why she launched both businesses, and how they're doing today.
When and why did you start The Soap Dispensary?
The Soap Dispensary launched in 2011 in Vancouver. Before then, I lived in Victoria for about five, six years, and was refilling at a store over there called The Soap Exchange. It's been around since the 90s. And that was the first place that I discovered, whoa, I could just reuse my packaging because I knew that was the right thing to do. Being able to reuse was mind-blowing and life-changing. And when I moved to Vancouver, I was really surprised that, being such a big, green city, didn't have any dedicated refill store. And so in 2011, I opened up The Soap Dispensary kind of inspired by the story in Victoria — but bringing my own interests and background in fine arts. I was really interested in design and aesthetics and wanted to bring eco retail beyond hippie green walls and pallet furniture, though there's nothing wrong with that! But I really felt like being in an urban city, we wanted to have an urban design that appealed to our community.
Then we expanded to a bigger space. In 2017, we opened Kitchen Staples right next door, a specialty grocery store with everything in bulk or package-free or low packaging. Our motivation was to source things that you find that's hard to find without packaging like tofu, chips and refilling lots of liquids like soy sauce, cooking oil, and so on. We were operating as a full service store, which meant that unlike a lot of zero waste stores that you find today, which is self service, we would take people's containers, people would place their orders at the front counter, and then we would take their orders and we would fill them. We had a pretty big team. And this freed people to run other errands, browse, have a coffee. But we were really challenged by labour shortages during the pandemic. And so we closed in March of this year, and renovated our store to become predominantly self service. We just relaunched a soft opening with this new model. And this is where we are today almost 11 years later.
Has the buzz around reuse and refill changed over the past decade?
Absolutely. There's more demand. It's kind of the coupling of everything: more conversations in the media about plastic pollution and waste; more customers looking for waste-free options; more zero waste stores popping up and going to suppliers saying, can you do this as well? And if they hear it enough? They're gonna follow the money. It's definitely much easier than in 2011-2012. We got a lot of No's back then.
What challenges have you faced since launching?
We are so small, we can't influence the manufacturer that much. Soaps and food, we can get closer to home. But brushes and tools and lifestyle products do come from a global market, and we don't have access to the manufacturer to have a conversation about their packaging.
We also really need all levels of government and industry to support. I saw Trudeau made some pledges recently. Obviously, we all agree it's not enough. I remember when Vancouver said they were banning straws, the amount of people who came to my store to buy reusable straws rose astronomically. That shows you the power of how government policies can drive consumer behaviour.
What impact has The Soap Dispensary had on the reuse-refill community?
One customer moved to Vietnam with her husband when he got a job there. And with a lot of time on her hands, she opened a zero waste store that's now expanded to two. I had another former staff member who went home to her country and opened up her zero waste store. So it keeps perpetuating. We've inspired some of our customers to go out and open their own zero waste stores around the world.
Israël Poulin, Monsieur Vrac, Charlottetown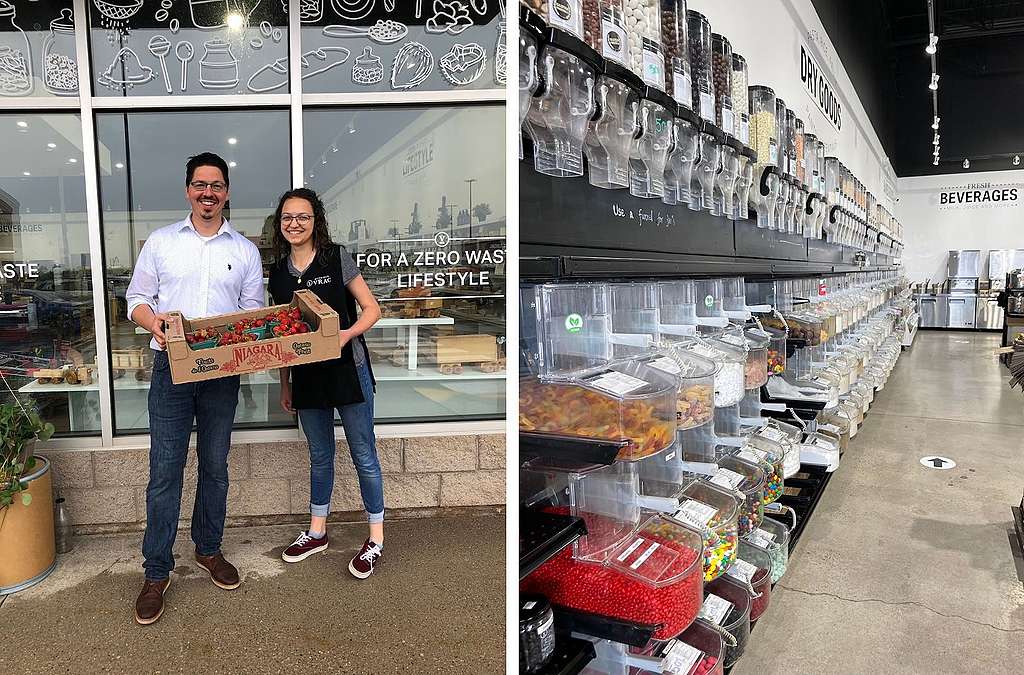 True to its name, Monsieur Vrac, or Mr. Bulk in English, is a store centring zero waste, package-free products from food to cleaning agents in bulk. Founder Israël Poulin operates the store out of Charlottetown, Prince Edward Island, after relocating to the town. He also works with different businesses, schools and government on sustainable, zero waste projects. We spoke to Israël about how he started Monsieur Vrac by opening two stores in Quebec, the challenges keeping them open that eventually led to their closure, and his current store in Charlottetown.
When did Monsieur Vrac start, and what inspired it?
When I first opened it, I was living in Drummondville, Quebec. The first store I opened over there was around 2015-2016. We didn't open it with a set date; we just opened it very slowly to the public starting with cleaning products and then customers were asking for more, so we opened up a food section. And then after that we added a bunch of local products and zero waste products as well.
And people supported us very much. We had a high quantity of customers. Some people were almost exclusively buying in our store. And because of that, there was a desire to open more stores. But then the pandemic hit and we had some challenges there. I had to close both stores in Quebec.
What sorts of barriers have you faced towards centring reuse and refill in your business?
One challenge is education, making people understand what we're doing is important.
That being said, what needs to happen is we need to be able to compete at a whole different level if we are to succeed. So we need to be able to offer meat and cheese and yogurt and what's in any other grocery store. But that requires a lot of investing, and a lot of marketing, and bigger teams. It requires a lot of money.
As entrepreneurs, we are doing everything we can right now, and I think about other zero waste business owners who are giving their time and money and energy, and doing this to successfully achieve goals we hear the government is setting. Goals that are near and dear to our hearts, but we all need support in financing, grants, competent people in different fields… I see that as what's needed to bring the market to a tipping point where people can buy products without the plastic waste that comes with them.
Have you explored other ways of Monsieur Vrac re-entering Quebec?
When we closed in Drummondville, a lot of customers wrote to me and said, you know, we can't believe it's closing. We really loved it.
So I suggested, if we want to organize, we could look into the co-operative model. … So a bunch of people teamed up and are working together on that model right now. I would love for it to work. I think it makes a lot of sense. If we don't get support financially, the more people get involved into that business, the easier it will be to bring it to its full potential.
Nikki Self, Saponetti, Toronto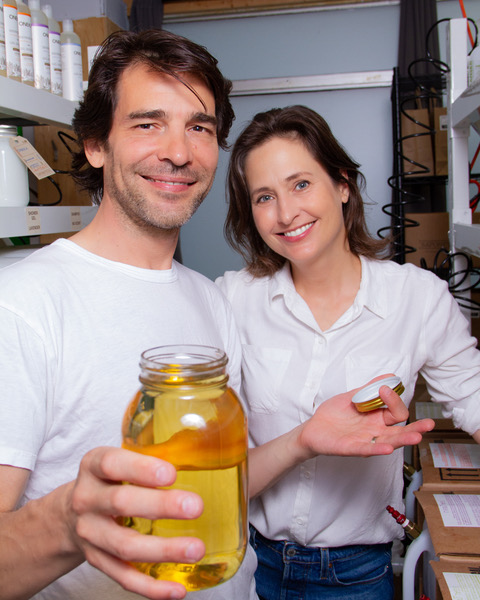 Saponetti is a soap refillery in Toronto's Bloor & Dufferin neighbourhood. Founded by Nikki Self and her partner Christian von Seydlitz, they operate both a refill delivery service and a brick and mortar store — a venue Nikki says fosters inspiring connections within the local refill community. We spoke to Nikki to find out more about their mission. P.S.: Greenpeace Canada's own head of digital Aswini Sivaraman volunteers with the store's social media!
How did Saponetti start?
We saw an opportunity. In 2015, I was looking at all these empty containers I had. I was hoarding plastic — they're brand new and they're empty and I was like observing that and I was sick. It didn't make sense to me that I was tossing this perfectly good container that could last 10, 20 years on my shelf. So that was the catalyst. I started looking around for places that had refillable soap and there weren't any forefront things in Toronto. There were refill-friendly stores that sold eco-friendly products and bulk food stores, but there wasn't anything exciting around liquids. So we saw a void in the market and there were probably other people thinking the same way in a city the size of Toronto.
We opened our delivery service in 2016 with a website and were just fishing for people looking for refill soap. There really were no buzzwords to zero in on back then. And then in 2018, we opened a bricks and mortar store. And we're still here, through a pandemic, through all these different changes. There's momentum for a zero-waste base.
As a business, what we do: we create a place where people can refill their own packaging, or they can order online household essentials: dish soap, laundry soap, personal care products, shampoo, conditioner — things people use everyday and use quite a bit. We are offering refillable options or package-free options so people can skip single-use plastic containers. So that's the goal: make it convenient for people, make it attractive, make it something they want to participate in.
What barriers or challenges have you encountered?
Initially, in terms of owning a business that's offering refills as a service, it was hard to find supply in the volumes we were looking for. If you want to buy soap from a company, they'll want to sell you many, many litres above what we were looking at. We wanted an option to have a variety of soap. One of the barriers was finding access to those types of volumes. It was very hard to find 2015, 2016.
And obviously, we don't want to just deliver package-free on the consumer end. We want to make sure it's about the whole supply chain. So definitely there have been suppliers that don't take back packaging. But now, one of our key suppliers and the manufacturer of our house brand, they take back their bulk packaging. So from consumer to manufacturer, we have a closed-loop packaging system. So that's really exciting for us.
How do you see your business impacting the community?
With the early adopters, they trust us. And everything we're doing and selling. We form these bonds with people, especially in-store.
It's really interesting to see old customers and new people come into the store at the same time and start to converse. Recently, a new person came in and said, it's my first time here. And we said, let's tell you about Saponetti… and one customer said, "let ME tell you." And I was thinking this is success in the community. This is us fulfilling our goals. This is us meeting our customers where they want and really addressing a need. And just watching that flourish in front of us… it's thrilling.
Want to help these small businesses and more help us secure a reuse, refill centred future? Tell Minister Guilbeault to support reuse and refill infrastructure!
If you loved learning about these three small businesses, you're going to LOVE part 2 in this blog series – Cups and Cleaners! Read it now!