The companies preventing you from having a zero waste Halloween are the same ones trashing the oceans. Here's how the federal government can change that.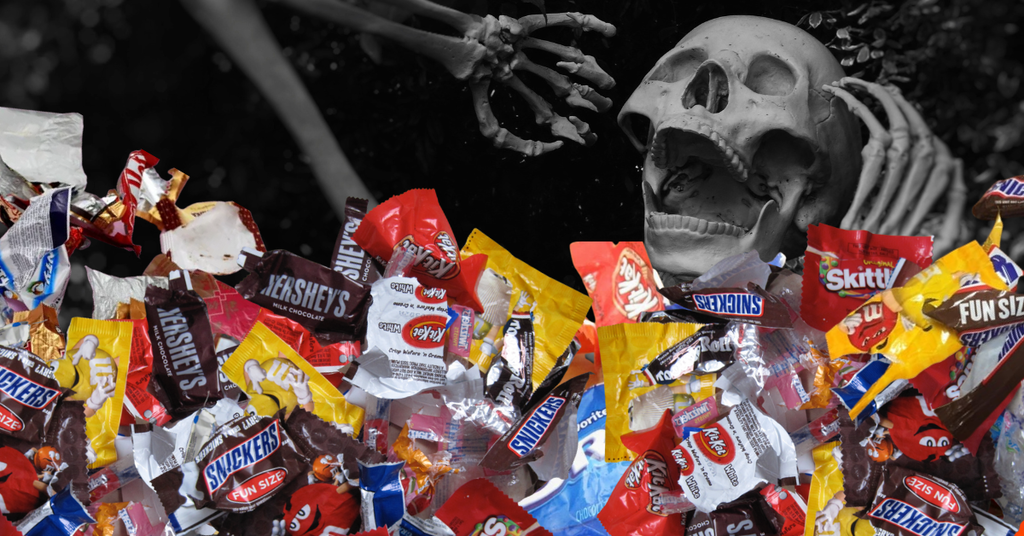 In recent years there have been lots of tips and tricks on how to reduce your plastic use and waste on Halloween. And while parents and 'all hallows' eve' enthusiasts scramble to get organized for the scariest day of the year, it's pretty terrifying to think of the lack of truly plastic-free, zero waste treats, costumes and decorations that are available across the country. Why is that? Who's created this plastic-dependent holiday?
When it comes to the sugary loot, it's the same companies that are fuelling the wider plastic waste and pollution crisis. After all, Halloween treats are just the miniature versions of the chip bags, chocolate bar and candy wrappers, pop bottles and other snacks that end up in landfills, burned or polluting beaches and greenspaces around the world. Brightly designed bags and boxes of PepsiCo (Pepsi, Lays chips, etc), Mondelez (Cadbury, Sour Patch Kids, Maynards,Trident, etc), The Coca-Cola Company, Nestle, Hershey, among various other companies' treat products appear on supermarket shelves every October, and, because the contents all come in single-use packaging, are basically garbage once they are produced.
In other words, the parent companies behind your favourite Halloween candies are the very same ones that haunt the world's beaches in waste audits year after year, making a graveyard of our oceans.
So what are these companies doing about their waste-generating treats and growing pollution nightmare? Nothing of note. We've seen flashy commitments from companies like Coca-Cola that claim it will offer reusable packaging alternatives for a portion of its business, but the progress is slow and only in specific locations. We've seen other companies pilot reuse models or reusable packaging, but the candy aisles of our grocery stores have remained virtually unchanged.
And we know that the treats are just one piece of the Halloween plastic waste and pollution puzzle. It's such a plastic-filled occasion that it's overwhelming to think about. We want to be able to have fun holidays but not at the expense of the health of communities, wildlife, habitats, the climate, and future trick or treaters!
Halloween needs a new look and feel. More scary tricks, fewer plastic-wrapped treats. More DIY creations, fewer toxic dollar store decorations. And we need it to not be a tonne of extra effort and money to dodge toxic, polluting plastic. That's why governments must hold polluting companies accountable and force them to turn our wasteful consumption machine around. We need government action to accelerate the shift to a system that allows all of us to enjoy the fun times, be toxin-free in our day to day, and operate in a way that respects nature without the constant dread of need
In 2030, the federal government claims it will have reached zero plastic waste. What will Halloween look like then? At this rate, not much different.
It's time that Environment and Climate Change Minister Steven Guilbeault commit to:
creating a nation-wide reuse and refill strategy so more of the things we eat and use in our daily lives come package-free, plastic-free and zero waste, and
expanding the single-use plastic ban list to include highly polluting and waste generating items like multilayered packaging like wrappers, chip bags and sachets, bottles and caps, and a long list of problematic and unnecessary single-use plastics.
Urge Minister Guilbeault to accelerate our shift to a reuse and refill future, now!