As three tar sands pipelines (Kinder Morgan Trans Mountain, Enbridge Line 3, and TransCanada Keystone XL) try to press forward the resistance to them is rising up, growing and taking action by land and by sea.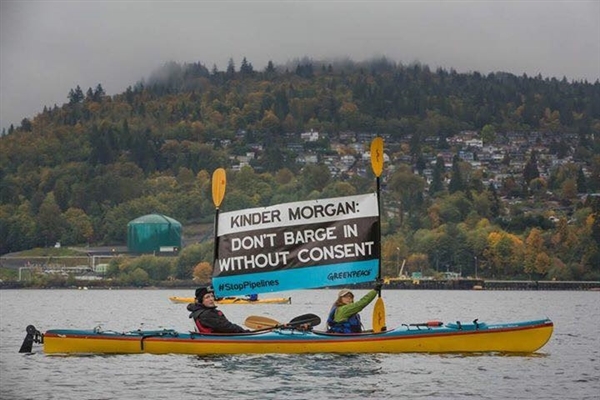 This week as Kinder Morgan tried to begin construction on expanding its marine terminal as part of its Trans Mountain tar sands pipeline expansion plans (a proposed 1,150 km pipeline that would transport 890,000 barrels of day of tar sands crude from Edmonton, Alberta to Burnaby, B.C.) activists were there to greet them.
Members of Greenpeace and the SeaWolves took to kayaks to send Kinder Morgan and its investors like TD Canada, JP Morgan Chase, Barclays and Desjardins that the pipeline isn't welcome in the Salish Sea, doesn't have the consent of the Indigenous Nations it would affect, and isn't worth the on going risks it would pose to the environment, endangered orca whales, or the communities it would pass through.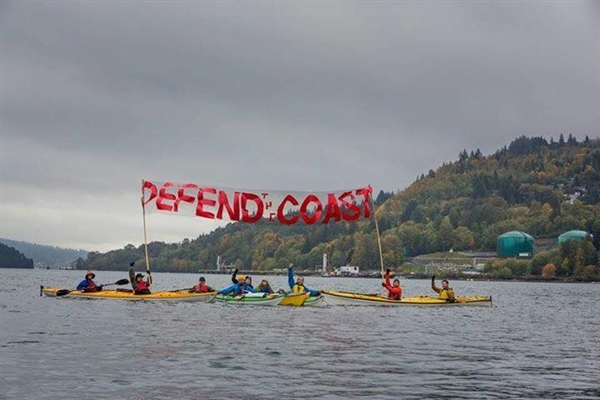 "Justin Trudeau may love a kayak photo-op, but this ocean is not a prop. We won't sit quietly on the shore and watch while Kinder Morgan builds a massive new terminal for a pipeline that has no consent. In solidarity for Indigenous rights and with the thousands of people who have pledged stop this pipeline the Sea Wolves are bringing the fight to the water. We hope that more people will pick up a paddle and join us," said Cara Bauck, co-leader of the Sea Wolves.
Despite all the risks and uncertainty this pipeline faces, Kinder Morgan is still barging into Indigenous waters without consent to build a marine terminal for a pipeline that will never be built. These activists' courageous actions should send a clear sign to Kinder Morgan and its funders — including leading lenders like TD Canada Trust — that the only thing that's coming down the pipeline is a people's' resistance to a toxic energy project like this one.
Yesterday's action was only the latest iteration of resistance to the ill-fated project. Last month members of the Secwepemc Nation started building the first of ten tiny houses that they aim to put directly in the pipelines past. They've already completed two houses and the third is being built in Victoria this weekend.
The resistance on the water is also just beginning. On the 28th dozens of kayakers and boaters will be on the water to confront Kinder Morgan once again. They will be joined by hundreds of others who will swarm the Kinder Morgan's facilities by land.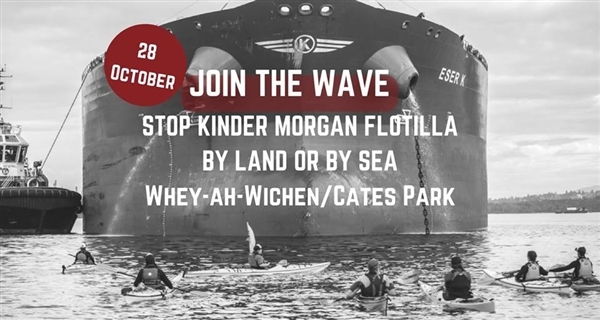 Add to this the 18 outstanding lawsuits this pipeline has against it, the fact it doesn't have Indigenous consent, and a global day of action targeting pipeline financiers and it's hard to see how this pipeline will ever be built.
There is no room for another tar sands pipeline in a carbon-constrained world. More and more people are realizing that every single day it's time pipeline financiers got the message as well.
Tar sands are a bad investment for people and the planet. Banks best get on the right side of history now.
With love and solidarity,
Mike