What do ten thousand people gathering to stand with Indigenous Peoples to protect land, rivers, streams and the Pacific Ocean from a dirty oil pipeline look like?
Incredible.
 
Photos by Zack Embree, Alex Harris and Will Rogue Collective
Last Saturday, on Coast Salish territories (Vancouver, Canada), as many as 10,000 people came together to support an Indigenous-led day of protest against Kinder Morgan's new tar sands pipeline proposal.
It was an incredible (and incredibly inspiring) show of resistance that brought Indigenous leaders from across Canada and the U.S. together in solidarity, including those who had been at Standing Rock.
The march, rally, and ongoing resistance that began this weekend is led by Coast Salish Indigenous leaders, who have called this land home since time immemorial. They are the ones that are standing up to protect the numerous streams and rivers, and the Pacific Ocean itself from the damages Kinder Morgan's pipeline would bring. It is because of those threats and the importance of protecting the land and water that they have not given their consent to this pipeline.
Kwekwecnewtxw means "a place to watch from." Indigenous Peoples on what is now Canada's west coast would build "watch houses,"  or lookouts, to spot dangers that threatened their communities. This weekend, a watch house for a new age was built — a place from which Coast Salish communities can keep guard against the dangers Kinder Morgan's pipeline poses.
Today, Will George, a Tsleil Waututh member, will be occupying the watch house, keeping an eye out for any danger and standing strong against the corporate oil bully.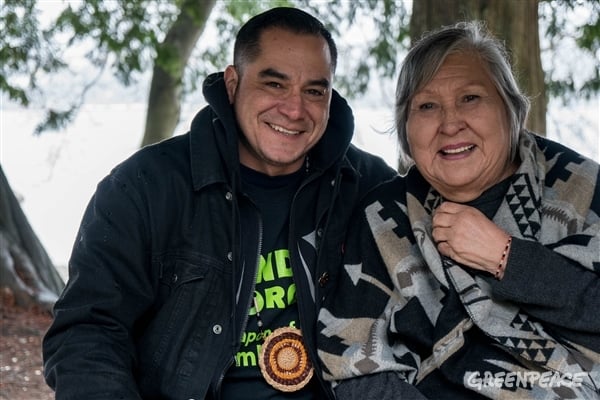 Tsleil Waututh members, Will George and Ta'ah (Amy George)
Texas-based Kinder Morgan, which already operates enough oil and gas pipelines to circle the planet three times over, wants to put another pipeline under its belt. The new pipeline it wants to build from Alberta, across Indigenous lands, to the British Columbia coast would carry some of the world's dirtiest oil and facilitate the expansion of the tar sands.
In other words, it's a fuse to what has been called the world's biggest carbon bomb. Pipelines like Kinder Morgan's, like Keystone XL and Line 3, will all contribute to worsening climate change, which fuels extreme weather, superstorms, and water scarcity.
And, according to Greenpeace research, the pipeline is expected to spill 36 times in a 50-year lifetime. This means that all along its route, it threatens drinking water, aquifers, rivers, lakes, streams with spills — not to mention the waters of the Pacific Ocean. From the Port of Vancouver, tar sands oil would be loaded onto tanker ships bound for California, or even to countries across the Pacific Ocean. Creating a supertanker highway along the Pacific Coast means extinction for endangered southern resident killer whales, who make their home in the waters off Washington and B.C.
Together, our resistance is more powerful than a Texas oil company that wants to sacrifice this coast to make a quick buck. One way or another, Kinder Morgan would impact us all — and this planet — irreparably. This weekend was about our united resistance to protect what matters most.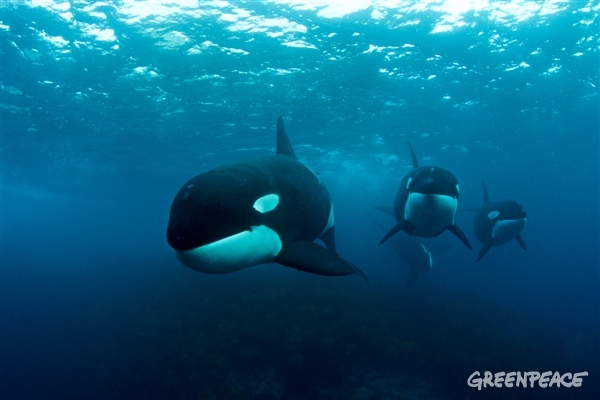 This weekend, we drew strength from the Indigenous leaders spoke words of resistance, resilience and unity:
Powerful words from Grand Chief Stewart Philip… president of @UBCIC.Today is just the beginning in the big fight ahead of us to #ProtecttheInlet and #StopKM! #cdnpoli pic.twitter.com/Lgai3WO2w8

— 350 Canada (@350Canada) March 10, 2018
We stood united with those who traveled from the frontline and the belly of the beast to speak for those who couldn't all attend the march.
People  like Albertan, Claire Edwards:
in literal tears at the number of people hugging us and thanking us and taking pictures of our banner. @RachelNotley represents industry, not working Albertans. Solidarity with BC! #ProtecttheInlet pic.twitter.com/OyVkhOt38B

— Claire Edwards (@Claire_YEG) March 10, 2018
And land defenders like Melina Laboucan-Massimo, from the Lubicon Cree Nation in the heart of the tar sands.
"We have a reciprocal relationship with Mother Earth. What we do to the land, we do to ourselves." Powerful speech by @Melina_MLM at yesterday´s rally against Trans Mountain pipeline expansion. #StopKM #ProtectTheInlet pic.twitter.com/s3RNdAk994

— Saulo Corona (@saulocorona) March 11, 2018
In the days and weeks ahead, the resistance to Kinder Morgan's pipeline is only going to grow. This is just the beginning. If you want to be part of this movement, add your name here.
Thousands and thousands marched behind Grand Chief Stewart Phillip and Indigenous leaders across Turtle Island to #stopKM this weekend.

Go home to Texas, #KinderMorgan. We don't want you here. #cdnpoli #bcpoli #ProtectTheInlet #waterislife pic.twitter.com/7bLhmkm7cG

— Mike Hudema (@MikeHudema) March 12, 2018
Whether you can keep marching with us, or whether you can lend your support in other ways, your voice is vital.
We're gathering allies from across Canada and the world to #ProtectThePacific from Kinder Morgan.