Greenpeace has been at the heart of the environmental movement on the Pacific coast, in Canada and around the world for more than 40 years.
Now, just 20-odd kilometres from where we launched our first ship from Vancouver in 1971, we're sharing our skills and knowledge of non-violent direct action with a whole new generation of change-makers!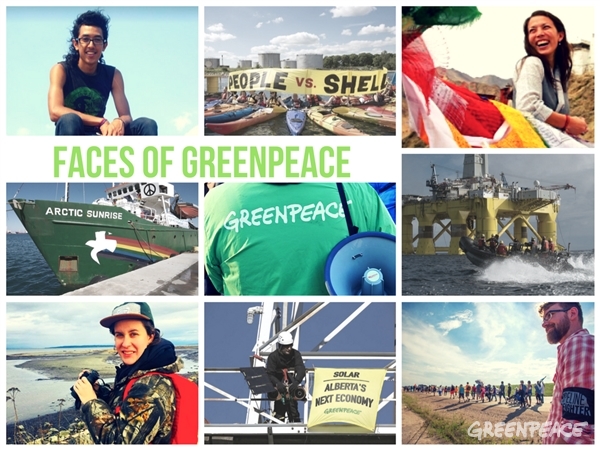 Last week, an incredible 10,000 people were in the streets to protest a dirty new oil project — Texas oil company, Kinder Morgan, is building a new pipeline from the Alberta tar sands in central Canada to the British Columbia coast. The pipeline would unleash climate destruction, threaten spills that would contaminate the Indigenous land it plans to cross. and bring hundreds of tankers to Vancouver to carry the oil from the pipeline down the coast to California (and even across the Pacific Ocean to Asia).
Greenpeace is giving everything we've got to stopping this toxic pipeline and tanker project, including providing legal rights training and support to people who want to take bold action to protect the water, protect the land and exercise their right to peaceful protest.
Meet the courageous Greenpeacers who, with the help of our supporters all around the world, are helping to build new generations of activists!
Katie Lin, Digital Campaigner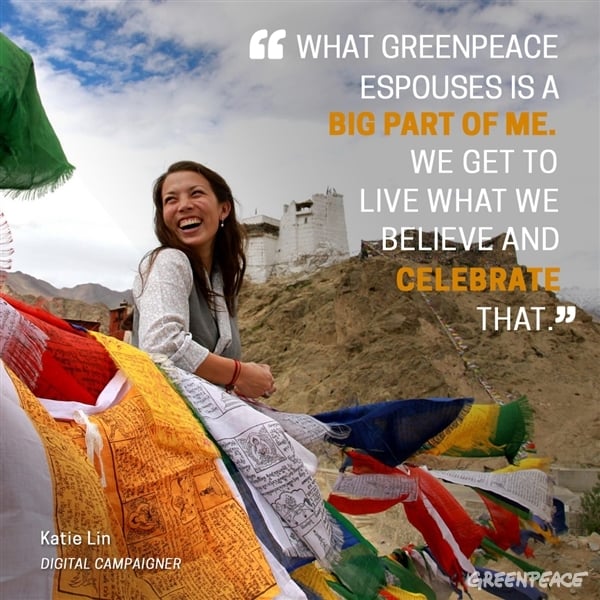 What's your job, in a nutshell?
I try to translate what's happening on the ground into digital stories. I split my time between managing our social media channels, creating content to spread the good word and creating meaningful opportunities for people to engage! I'm an e-activist but I'm also helping to build the movement.
What's your story? How did you become an activist?
I grew up on the cusp of the Great Bear Rainforest in British Columbia and eventually wound up working in the Amazon. I did my masters in international multimedia journalism and did an internship in Journalists for Human Rights in Malawi, reporting on human rights and economic injustice. From there, I went on to tell stories about Tibetan refugees in northern India, which included spending five nights embedded in the Tibetan Refugee Reception Centre in Dharamsala. I first worked on environmental and conservation issues as a Digital Content Creator for the Crees Foundation living in the heart of the Peruvian Amazon, helping to discover stories rooted in science and tell them in engaging, multimedia stories that brought to life the incredible array of wildlife in the Amazon. Not long ago, I came back to Canada to have my baby but sought to continue working in social and environmental justice. Enter Greenpeace.
Why do you believe in the power of non-violent direct action?
NVDA aligns with my values. I don't want a conflict-filled life and NVDA is a larger expression of how we can, and should, be living our lives. We can make our voices heard through peaceful and positive action.
What do you love about being part of Greenpeace?
You get to be part of potentially historic moments and work alongside some amazing people. There's also this wider community your part of: with our allies, our coalitions and the global organization. What Greenpeace espouses is a big part of me — we get to live what we believe and celebrate that! This is where my people are at!
Earyn Wheatley, Offline Mobilization Campaigner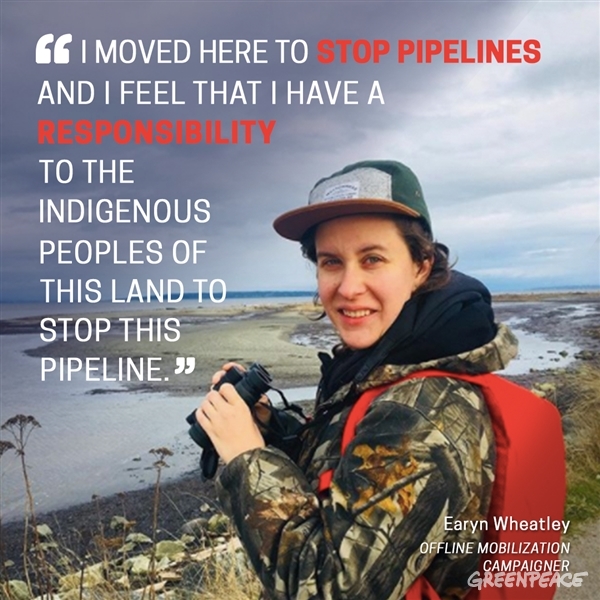 What's your job, in a nutshell?
I do a wide variety of things related to building relationships with people who want to take action with Greenpeace, as well as with frontline communities and coalition groups. I also organize logistics, trainings, and big mobilizations. It changes every day!
What's your story? How did you become an activist?
My grandfather was a community organizer — actually, both my grandparents were. Their activism took the shape of tireless work to protect a conservation area in the Rouge River Valley outside of Toronto, Ontario, as well as with service clubs (like the Lion's Club). I didn't really start organizing myself until I was in my early twenties and I started volunteering for Greenpeace. I did a non-violent direct action training and, within a few weeks, I found myself locked underneath a truck outside a nuclear facility! I very quickly went from not organizing a lot to organizing all the time. Organizers that I learned from really took time to make the connections between environmental justice and Indigenous solidarity. Through that, and living on this territory, I have learned and been taught that I have a responsibility as a settler to the people of this territory to stop projects like Kinder Morgan.
Why do you believe in the power of non-violent direct action?
There is a long and varied history of direct action being an important part of everyday rights that we take for granted now. Whether it's wins from the labour movement (like the eight-hour workday or weekends) or women, people of colour and Indigenous folks being allowed to vote in this country.  These are large-scale examples of social movements that have changed the social fabric of society. Direct action can be a really inspiring and creative way to do that and draw attention to a particular struggle.
What do you love about being part of Greenpeace?
I really appreciate the levity and silliness and creativity that people can bring, even to intense times in our campaigns, which deal with incredibly sensitive issues. We're still able to laugh with each other and take care of each other.
Gil Aguilar, Assistant Campaigner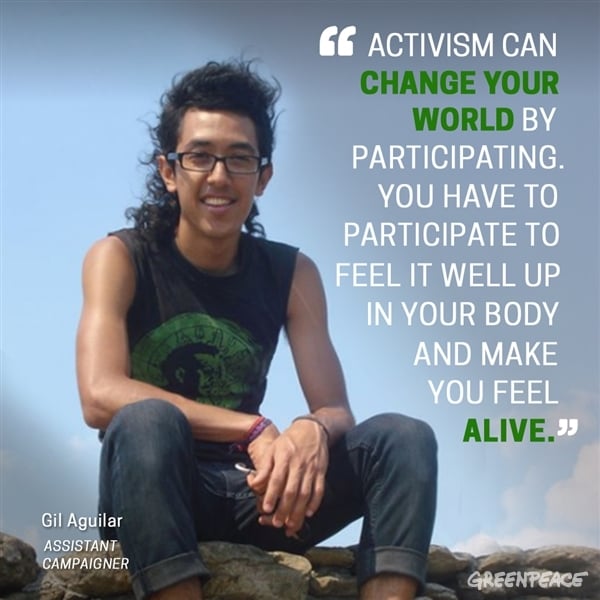 What's your job, in a nutshell?
I do a little bit of a lot, kind of like a multi-tool. Whatever the team needs to get our work out there. From a little bit of graphic design work to social media to campaign research to logistics, I do a wide range of activities.
What's your story? How did you become an activist?
When I came to Greenpeace, I was already involved in a lot of activism, but it was a natural fit because of our connection to NVDA. One moment that stands out for me as an activist is from 2006, when a United Nations youth forum was in Vancouver and I was supporting Indigenous delegates from southern Mexico who came up to attend. Indigenous Peoples from around the world came to attend the forum, and at the time, there was a lot of oppression in Oaxaca, Mexico, so we went to occupy the consulate here in town. It was pretty awesome to see a face from every corner of the world coming out to support each other. That sort of thing really inspires me and it showed me how activism can be powerful — how it can change your world by participating.
Why do you believe in the power of non-violent direct action?
There's a lot of emotion you can't get from a photo or video. You have to participate to feel it well up in your body and make you feel alive. The fear and hesitation about the consequences or the stakes are quickly swept away by the feeling of empowerment from being part of something big. Taking action is the only way that the world changes. Be a subject of your history. We can't rely on others to fix things.
What do you love about being part of Greenpeace?
There's a big sense of responsibility amongst us all to get it right. We recognize that people look up to Greenpeace, look to us for information and that we have influence. We all try to honour that. Ultimately, being part of Greenpeace is a reminder that things really can be changed by a small group of folks. You don't need to be flashy to be effective, you've just gotta get out there, do your best and do what's right.  
Mike Hudema, Climate & Energy Campaigner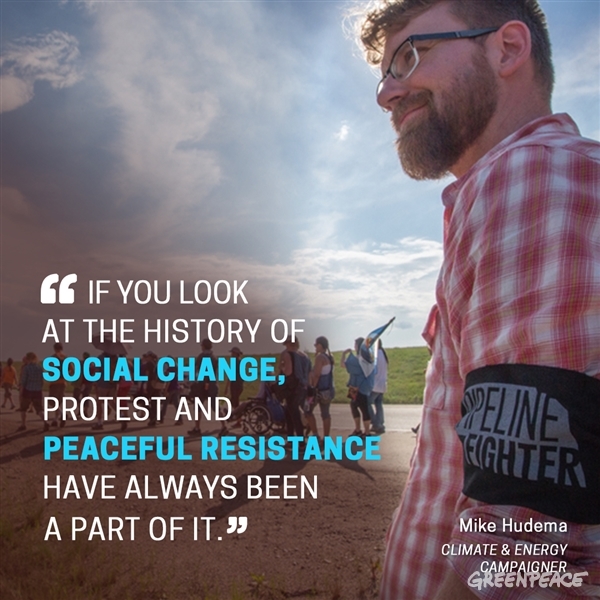 What's your job, in a nutshell?
I focus specifically on tar sands development and the pipelines that are sprawling from them, like Kinder Morgan, Keystone XL and Line 3. My job is to help protect the land and water by stopping these pipelines, keeping tar sands oil in the ground, and promoting clean energy solutions. My job includes everything from talking to government officials and media to working with Indigenous and settler allies, to organizing mass protests, like actions at banks funding climate destruction!
What's your story? How did you become an activist?
I was born in Alberta and it's a place to which I have strong connections. I've always approached my environmental work from a human rights angle. I had the opportunity early on, after getting hired by Greenpeace, to work with Indigenous leadership directly affected by tar sands operations, to hear what was happening to their community and lands. First and foremost, this has been the erosion of their traditional way of life. I've heard folks in the community share that they can no longer hunt or pick berries where they used to because of tar sands pollution. They also can't drink the local water and are experiencing negative health effects. I carry this with me to remain connected to the work we do and get governments to live up to their commitments. It's why we need to take action now.
Why do you believe in the power of non-violent direct action?
If you look at the history of social change, protest and peaceful resistance have always been a part of it. One of the most powerful NVDAs in recent memory was when Greenpeace occupied the Shell Albion tar sands mine. Activists went into the heart of the tar sands mine for a day, occupying one of the most massive industrial shovel machines in the world. There was nothing but barren moonscapes as far as the eye could see — land that used to be a forest ecosystem.When you're in the tar sands or flying over them, you see absolutely no life but humans and every breath hurts because of the toxic fumes in the air. When people resist right in the tar sands, it gives me hope.
What do you love about being part of Greenpeace?
One thing I love about Greenpeace is that it has a global reach. There are oil fights and Indigenous rights fights happening all over the planet. At Greenpeace, we're working to help link these together so we can keep the whole planet safe and build the type of future science is telling us we must build and justice is demanding we build for all of us.
Peaceful resistance has been a cornerstone of change across the world for decades, from civil rights to environmental justice. Together, our courage can win out over apathy, corporate greed and injustice.
Feeling inspired? Want to be the next Greenpeacer? Add your name here to stay tuned for exciting opportunities to get involved as they ramp up this spring and summer!