#Climate
#EnergySolutions
#Oil
Tell big polluters to pay up
Flash flooding, raging wildfires, deadly heat waves: weather disasters like this are hurting people across Canada and will only get worse with climate change. Faced…
Take action
On April 25th, I joined a dozen other Torontonians in delivering deputations to the Infrastructure and Environment Committee at City Hall in favor of pursuing compensation for costs of climate change to Toronto.
Watch the deputations here:



It's a Greenpeace Canada campaign I had been anticipating for months.
Our team had been preparing for it ever since our Greenpeace Toronto Local Group volunteer team met in January to plan our actions for the coming year.
Toronto has been suffering from extreme weather for many years now. We've experienced heat waves, storms, extreme winds, and lots of flooding that has caused massive damage to Toronto's homes, services and businesses. With six "100 year storms" hitting the Greater Toronto area since 2005, the costs of damage incurred by climate change-related extreme weather seems to be ever-rising. Taxpayers and insurers are likely to struggle to cover these costs in the years to come.
Following in the footsteps of other cities, such as San Francisco and New York City, we as citizens of Toronto believe that big polluters should pay their fair share of the costs for their contribution to climate change and extreme weather.
Oil companies have knowingly contributed to rising CO2 emissions fuelling climate change for decades but misled the public about it. Oil companies have broken the public's trust just like tobacco companies. Tobacco companies knew that their products could cause cancer, yet hid it from the public for decades and jeopardized our health. They have been held accountable for covering the health care costs of smoking. Similarly, oil companies should pay their share of the costs of protective and recovery efforts in Toronto.
It was late last month that Councilor Mike Layton of the Infrastructure and Environment committee brought a motion for "Pursuing Compensation for the Cost of Climate Change to the City of Toronto". The committee was then slated to vote on the motion on April 25th.
I was determined to go to City Hall and ask our councilors to uphold big polluters responsible in paying for the damages of climate change to Toronto.
A month before the deputations, I joined a workshop by Greenpeace Communications Officer Jesse Firempong who helped us figure out how to tell our stories. A workshop by Keith Stewart a week prior to the deputations reminded us of the stories we wanted to tell. As we went around the room and discussed our ideas, it was evident that all of us had our own personal stories about how climate change in Toronto had affected us.
The day finally came.
Walking briskly through Nathan Phillips square, past the big letters that read "TORONTO", I felt validated in what I was going to ask for today. I hurried past the heavy doors of City Hall, passed the security and found meeting room 1. The friendly faces of the Greenpeace Canada team waiting in the last row of the room and welcoming me into the meeting was all I needed to gather my courage.
My name was the third to be called. Feeling confident and shaking with excitement I told the council of what Toronto meant to the citizens of this city, especially to the immigrants, like my parents, who have chosen Toronto as their new home. Recent studies have shown that some oil companies have been releasing 64% more CO2, on average, than they report. As Canada's climate is warming twice as fast as the rest of the globe, we should expect more weather-related damage to our city and everything we have built.
Along with the other deputants, I urged the councilors to vote in favor of the motion to look into the long-term costs of climate change to Toronto and to hold big polluters accountable for their fair share of contributions to this damage.
When I sat back down in my chair, I realized how easy it was to exercise my democratic right, and that it is not something to be taken for granted.
A tip for first-timer deputants like me: it doesn't matter if public speaking is not your strong suit. There was nothing to be fearful of in that room. Show up and speak up! Show your support for your environment, your city, and for climate justice.
I heard scientific, legal, social, and personal accounts of what it meant to protect Toronto from climate damage and to seek compensation from big polluters. To me, every action that I choose to take part in as a Greenpeace volunteer has been a learning opportunity. Putting myself out there as an activist among others and voicing my opinion has shown me the power of our collective voices.
After hearing all the speakers and discussion, the committee came to their decision:
They've asked city staff to report back to the committee by the end of 2019 on the costs of climate change to Toronto and legal avenues for pursuing compensation.
Our job as responsible citizens, activists, and volunteers does not end here. These deputations and this motion were just the beginning. There's so much more to come, and we need to continuously keep our municipalities, governments and big polluters accountable.
We will be following the completion of the report closely and will continue to urge our municipal government to make oil companies pay their fair share of the damage they cause our city, our families, and our lives.

To learn more, click here.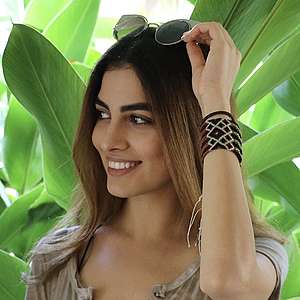 Helia Sehatpour is a volunteer with the Greenpeace Canada Toronto Local Group. She participates in non-violent direct action supporting different local, national and international environmental campaigns. Helia has a Bachelor's in Psychology, Gender Studies and Writing and she is now pursuing graduate studies in Environmental Psychology. She is currently exploring her own mindful and sustainable consumption.