Perseverance is not an easy task. If 2020 was a storm, 2021 felt like clammy and suffocating weather. Thanks for being with us. Greenpeace persists in voicing out and taking actions to safeguard the environment of Hong Kong. It was a difficult but still fruitful year. Three of our campaigners in Hong Kong, Leanne, Sion and Tom, looked back at the challenges they tackled last year on plastic-free, city development, and climate change projects. We want to thank you for your perseverance as that is what made changes possible.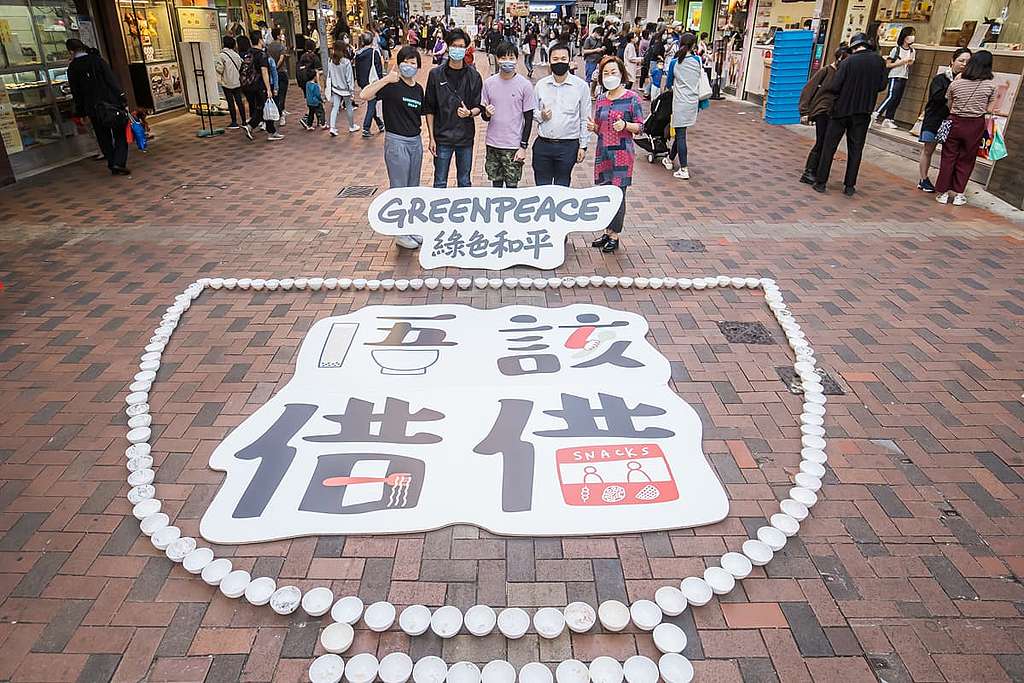 Plastic ban and waste reduction at source: do the right thing
"Overwhelming! Lots of work and they are all very challenging." Campaigner Leanne Tam describes her first 9 months with Greenpeace as 'hectic'. In 2021, there were 3, unprecedented amounts of public consultations and public engagement on policies related to single-use plastic. We engaged the most in the public consultation on the "scheme on the regulation of disposable plastic tableware" between July and August. Greenpeace and 9 other green groups urged the government to implement a complete ban on disposable plastic tableware by 2025 and called for measures to encourage the use of reusable utensils. Over 5,000 citizens responded to our calls and participated in the consultation.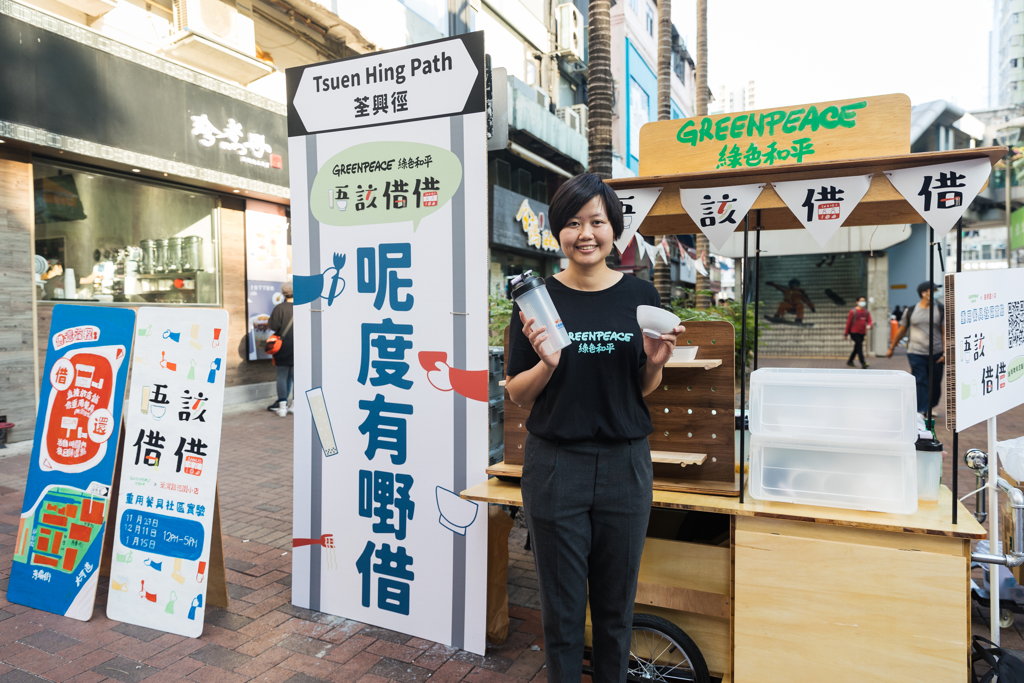 Before the end of 2021, Greenpeace released a report based on Nielsen's sales statistics, which revealed that plastic wraps used for 4 food products in Hong Kong in just a year can encircle the earth twice. The report challenged the effectiveness of the government's public engagement in regulating disposable plastic which did not include single-use plastic wraps.
Persistence led to success: supermarket committed to plastic-free policies
Having policies launched and seeing enterprises' response, the hard work on plastic ban over the past 6 years have finally come to fruition, as described by Leanne. In 2018, Greenpeace launched 'Plastic-free' campaigns targeting fast-food chains and received support from 33,000 citizens. Last year, we collected 24,000 signatures supporting the petition on 'going plastic-free for supermarkets'. In March, ParknShop committed to measures to reduce plastic waste by 2030, which included increasing the number of eco-toiletries refill stations and having more stores to carry packaging-free fruits and vegetables. We will continue to monitor whether these policies and measures are effective in encouraging enterprises and convenient for the public. "Our jobs sound repetitive but we need to hold our stance. Sometimes the government or enterprises have different 'concerns', and there are no clear goals and timetables for policies."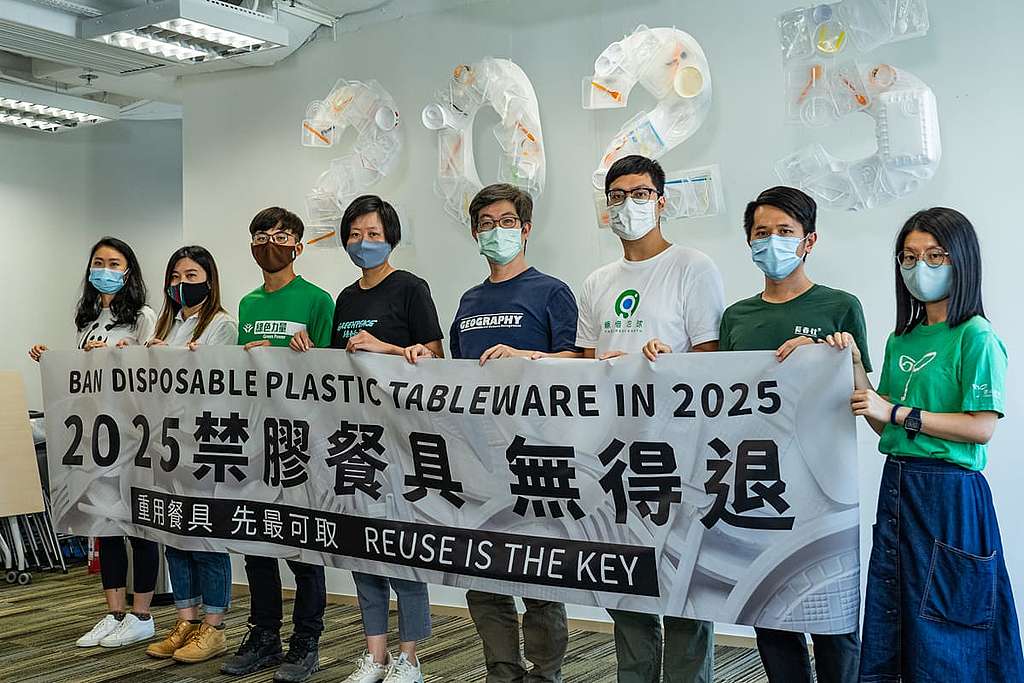 "We want to do the right thing. We do not want to solve the problem only partially. We want to achieve waste reduction at the source. Use reusable utensils and not just recycling," Leanne stresses.
Plastic-free is the trend: Social experiment to engage with the public
"We also want to make 'plastic-free' a fun and vibrant trend, and not something fossilized and stubborn." Apart from advocating new policies, this year, we conducted the first-ever microplastics quantity survey in Hong Kong countryside streams and made use of the influential power of local celebrities such as Cecilia So and Angel Lam to promote the plastic-free trend. We also put more focus on community engagement. We connected 35 supporters to join a 4-day plastic-free community workshop. We also organised 6 'plastic-free hunts' to engage with more plastic-free shops and learned some inspiring stories of how business owners went plastic-free. Our community project has reached the 1,100 'plastic-free' shops milestone at the end of 2021!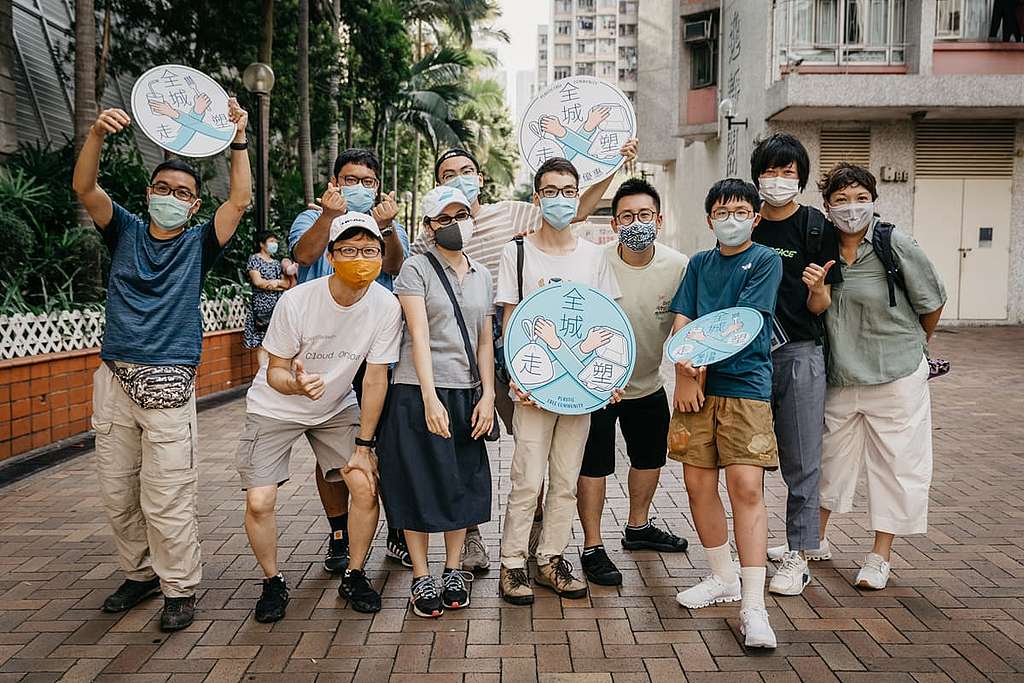 In September, our team wanted to study the feasibility of using reusable utensils in the community, the idea gave birth to the 'reusable utensil rental' social experiments at Lo Tak Court in Tsuen Wan starting in November. With a short lead time, we had to discuss with shops the details and requirements of utensils needed, and we also needed to manage cleaning, logistics, promotions and manpower. We are lucky enough to have devoted and supportive team members to make things happen. More than 1,470 reusable utensils were 'rented out' in the two experiments and we were able to reach the community. More importantly, we were able to collect opinions from the community directly.
In 2022, Leanne hopes that she can know better what Hongkongers want, launch more new campaigns in the community, and continue to monitor the implementation of plastic-free measures in enterprises. "We cannot keep walking on the same paths, our motivation to organise campaigns is to keep improving."
To our supporters: It is not easy to persevere, we thank you all wholeheartedly. It is our pleasure to have your care and attention on us and our campaigns especially during this difficult time.
Protect Lantau and seek the truth: There are still possibilities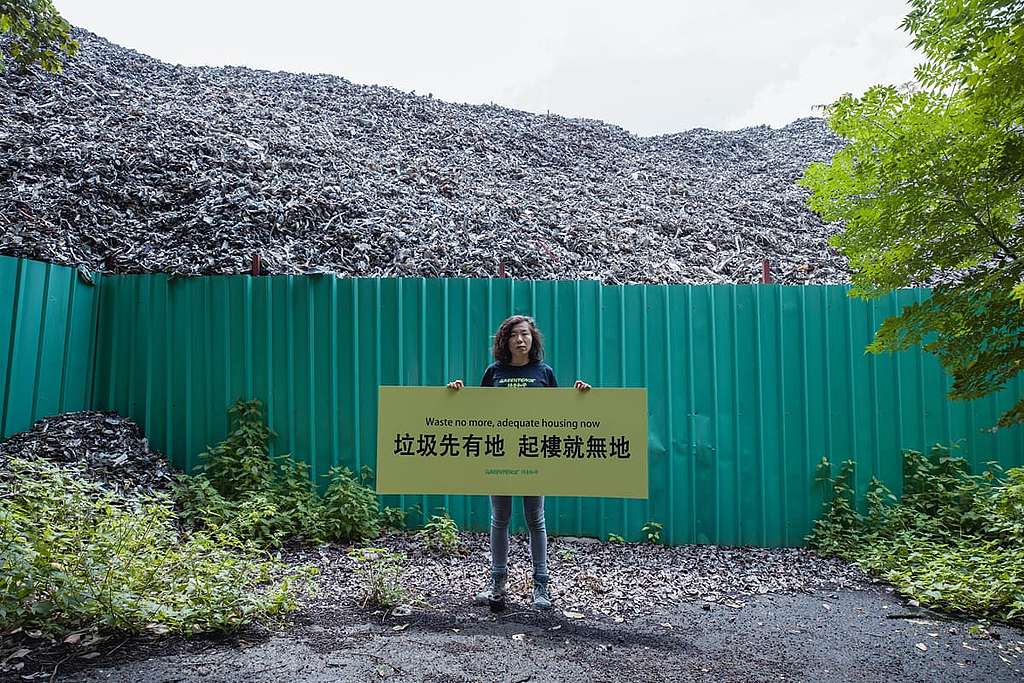 Is it a must to execute the 'Lantau Tomorrow Vision'? Is it really that difficult to have further development on brownfield sites? Campaigner Hall Sion Chan wanted to find a way out, while doing so, she noticed that sometimes the society was flooded with one-sided opinions on matters related to city development and environmental issues, and that is when fear appears. "Fear originated from uncertainty. If we break things down and stay practical, fear is not as fearful as we thought it is."
After joining Greenpeace for 4.5 years, Sion went from 'plastic-free' campaigns to taking up the new challenge of handling city development projects this year. In only one month's time, she had to release the "Missing Brownfields" report. She encountered obstructions from the villagers during her inspection. Sion said it reminded her of the nervousness she had when she first started being a campaigner.
At first, Sion was worried that brownfields related issues might not be of public interest. Surprisingly, the report sparked public concerns as it uncovered that 380 hectares of brownfield land were not identified in the government's official data. "It is like a reminder for everyone that it is important to investigate and seek the truth. And that there is still hope, space and possibilities."
4 reports hit the headlines, the government promised to follow up on brownfield issues
In September, Greenpeace's report "Massive Mess: Investigation on Unruly Brownfield Operations 2021" revealed that mountains of waste were piled up to 8 meters high in some brownfield sites. This massive mess became the headline of newspapers, some media even did follow up reporting on the issue. The high media coverage and exposure certainly brought pressure to the government.
"We need to keep the momentum, we have to continue to improve and work for greater response." After that, we released another report "The Mounting Debt- A Comprehensive Review of the Official Brownfield Policy" that reviewed the government policy on brownfields. What came after was the report "Environmental crisis of failed artificial islands in the world". The report referenced case studies of artificial islands around the world and found that reclamation could cause ecological disasters. The above mentioned 4 research reports reached coverage of around 200 articles in the media. The government later claimed that the brownfield data might be outdated and promised that they will handle the waste mountain mess. Just when we felt closer to the light at the end of the tunnel, there came another challenge.
In November, the Civil Engineering and Development Department launched the environmental impact assessment and public consultation of Lantau Tomorrow Vision.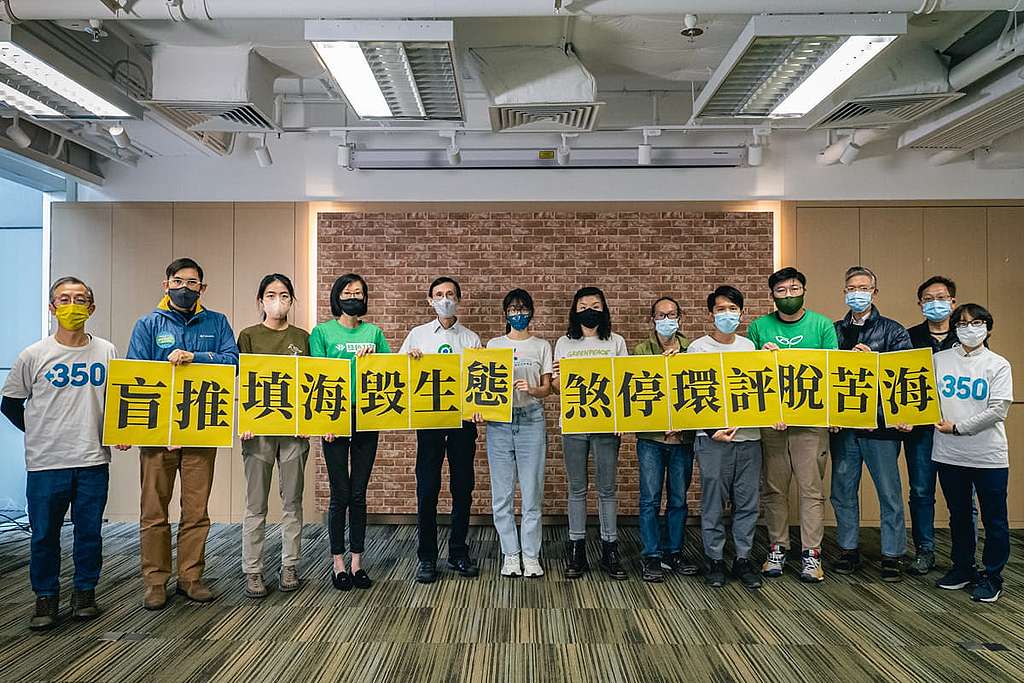 "There were only two working days before the press conference. We can't miss anything, we can only stay focused and work towards the goal." In the end, 15 green groups released a joint statement to urge the Environmental Protection Department to reject the Lantau projects that the government rushed through.
Strike a balance in city development, prioritize the development of Brownfield sites
This year, Sion learned aerial photo shooting and more map reading skills, equipped her computer with google earth shortcuts, and dressed more outdoor-ready. But her greatest transformation was probably that she stepped out of her comfort zone. "This year I have a sense of achievement." Sion is grateful for all supportive teammates who went through the journey with her, including the Greenpeace team, the Liber Research Community, other green group partners, and even in a broader sense, the public. "We have more power when we are united. We feel warm and supported when we meet like-minded people."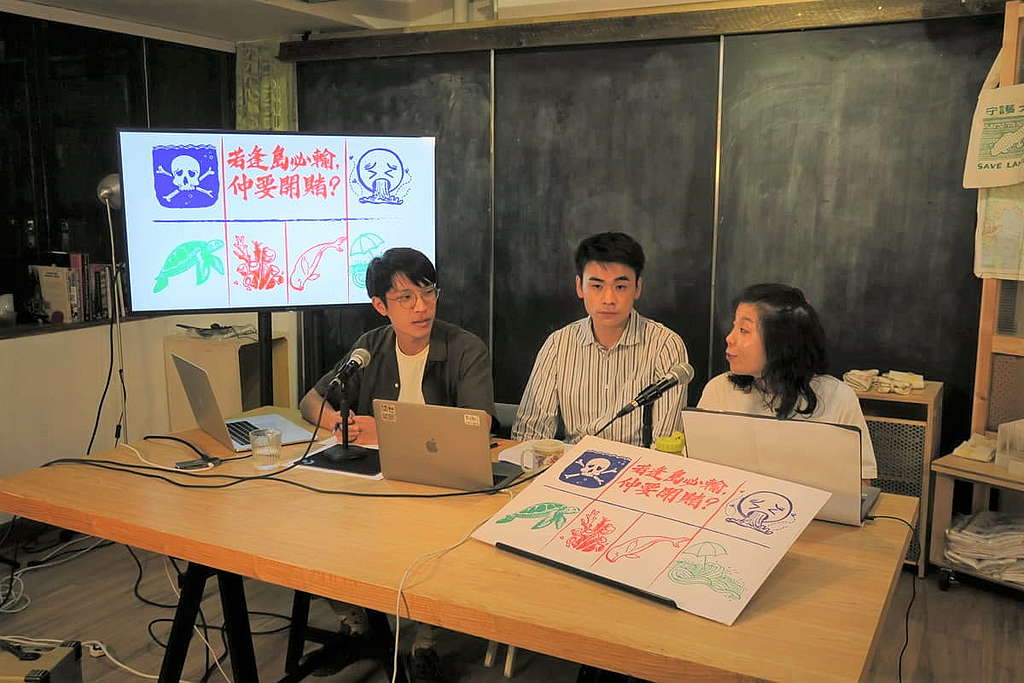 "Our campaign is called 'City Development', so it's not like we want to forgo 'development'. It is that we want to achieve a more balanced and people-oriented kind of development." Sion believes that in a livable city, everything should be well communicated, policies should fit citizens' needs and be sustainable for the future. "For example, we would be upset if the dolphins were gone. But what's more important is to know that the whole ecological system is interconnected, human development should not exploit the rights of other living things." Greenpeace continues to advocate to prioritize the development of brownfield sites, as a way to avoid ecological crisis and at the same time as a way to satisfy the housing needs of Hongkongers.
To our supporters: Thank you for your patience and anticipation. Changes take time and effort. Hold onto your faith and we can walk a long way.
We can save the climate! Work together on our 1.5°C promise
When we talked about climate issues in Hong Kong, it was always about saving electricity or caring for the polar bears living far away from us. Are there things that are closer to us that we can really act on for some real changes? This is what Greenpeace campaigner Tom Ng and his climate team worked on this year. The theme of the year was "climate emergency and your appetite". Tom is happy that he found a way to make climate change an issue less distant to Hongkongers. "Finally the climate change issue is something closer to our daily life.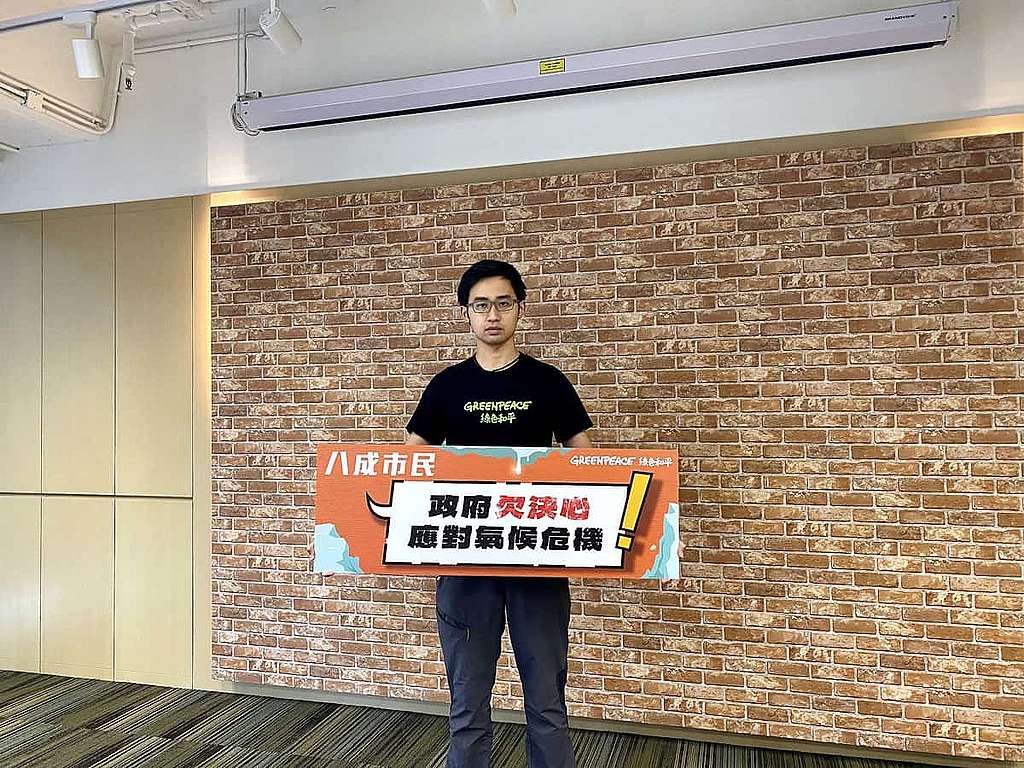 Bring big issues closer to the public: "Climate crisis and our appetite"
Can you imagine that the production yield or even the taste of coffee, honey and salmon can be impacted by extreme weather? This year, we collaborated with artist Joey Leung and produced a 'food museum' video that reached 100,000 views. We also displayed signboards in around 40 cafés in Hong Kong, explaining how climate can affect coffee. In October, we organised the 'low carbon living festival: coffee meets climate' and 300 people participated. "I knew that food and climate are interrelated and now I have a deeper understanding, for example how the types or flavors of coffee beans might change because of climate. I find it very interesting."
Tom also focused on doing talks and workshops this year: specialty coffee tasting workshop, sharing session with climatologist Amos Tai on how climate crisis affects Hongkongers, COP26 sharing session, Greenpeace x Hong Kong French Film Festival 'cinema for the climate' post-screening sharing session, and some policy-related lectures in universities. Tom was sometimes the host and sometimes the speaker in these events. He cherished these opportunities to have closer contact with the public. "The number of people we influenced might be limited but these events are effective."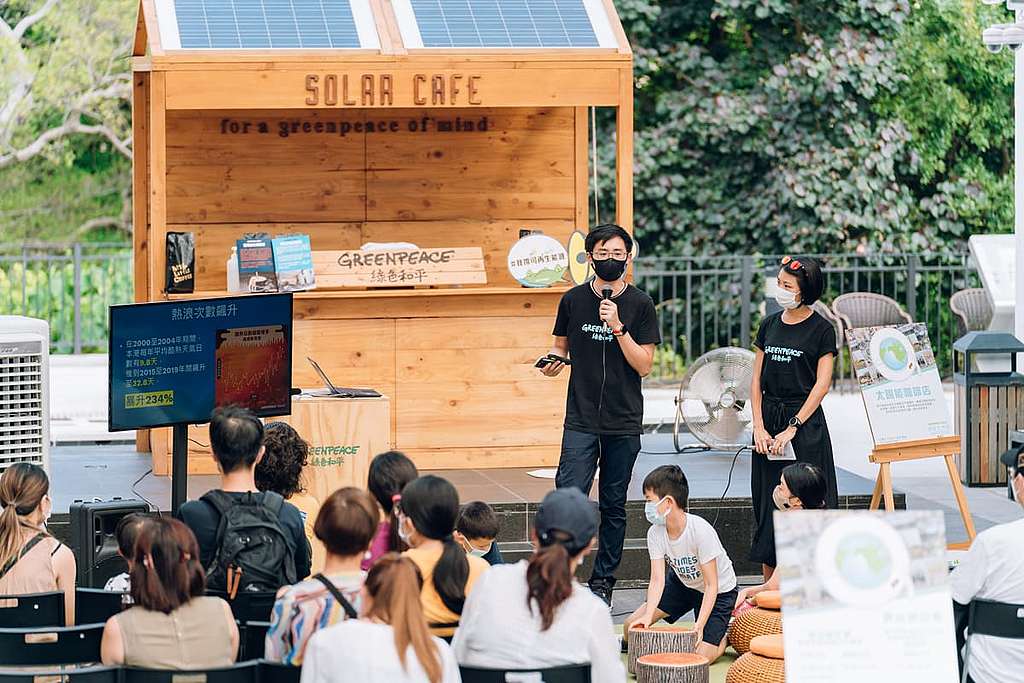 Ozone recovery gives us hope, next task is on carbon neutrality
Looking back at 2021, climate policy was certainly one of the biggest concerns of all mankind. On the international level, the United Nations Climate Change Conference (COP26) finally happened this year after being postponed for a year due to the pandemic; and on the local level, the government announced the "Hong Kong's Climate Action Plan 2050" in October. However, even though the COP26 came to an agreement to phase down coal, and the Hong Kong government also announced that Hong Kong will 'strive to achieve carbon neutrality before 2050', Tom is still worried that leaders might end up focusing only on greenwashing or carbon offsetting. Tom coordinated to have 20 green groups joining together to urge the Hong Kong government to include a more comprehensive roadmap for carbon neutrality. "Even if policies are properly executed, we can only control the temperature increase at around 1.8°C, or ranging from 1.5°C to 2.4°C, which doesn't meet the 'Paris Agreement' target of 1.5°C."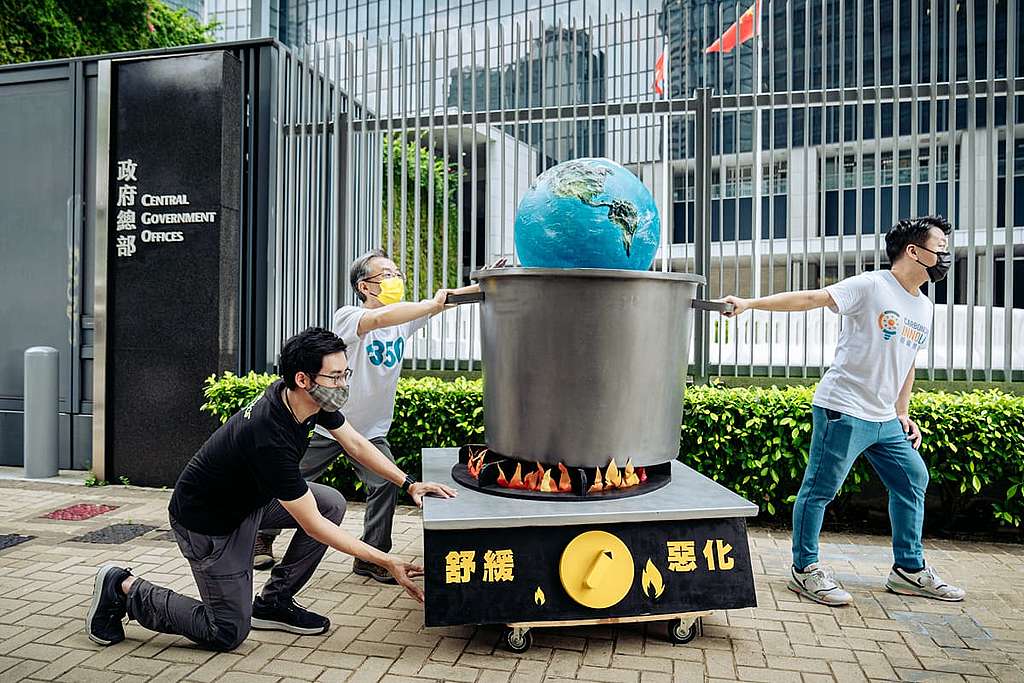 It can be discouraging to see authorities being indecisive and lacking commitment on climate issues, but the success in recovering the ozone hole reminds Tom that changes are always possible. "We all heard about the ozone hole when we were younger, and now not many people talk about it anymore. It is because countries joined together to tackle this crisis. In 1987, the 'Montreal Protocol' banned the use of ozone-destroying chemicals like CFCs. After 2 to 3 decades, now we can see that the ozone is recovering."
The climate crisis continues to escalate, at the same time voices from all over the world calling for actions to save the climate are even louder. "We have to work harder, hoping that it can push the authorities to take more actions. Although time is running short, if we put the effort in, there are still chances that we can control the temperature rise," said Tom.
To our supporters: We need to say thank you again. We will continue to launch different campaigns that fit different needs. Let's not stop influencing others.
Thank you again for joining us on our environmental protection journey in 2021, your participation gave us hope and energy. In 2022, Greenpeace will kickstart the year with 'plastic-free' campaigns. We will continue with our "plastic-free" community work to promote the importance of reuse and reduction. We will continue to advocate the complete ban of disposable plastic utensils by 2025. Our city development team and climate team will continue to conduct stringent and transparent research and investigation in response to the most updated status on different issues, to safeguard the natural environment, the sustainability and livability of Hong Kong.