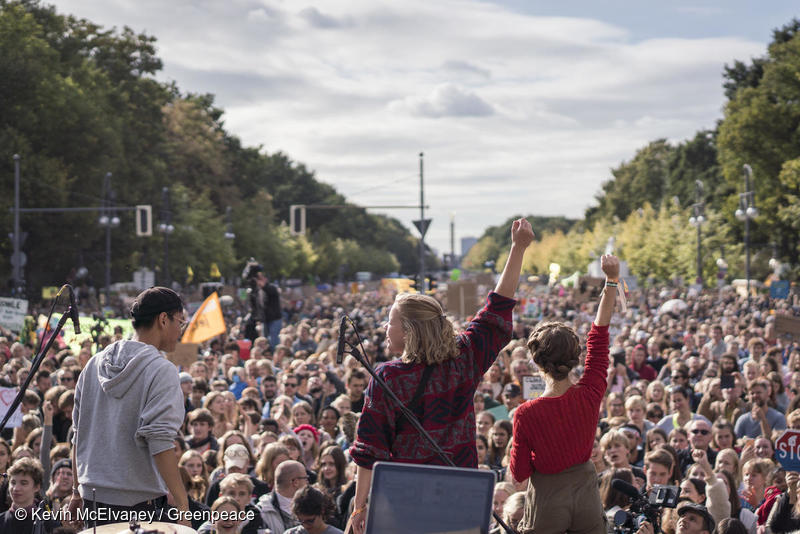 New York city/Brussels – A United Nations climate summit taking place today in New York city is expected to expose Europe's lack of progress to tackle the climate emergency, warned Greenpeace.
World leaders are meeting after millions took to the streets in unprecedented global protests last week demanding urgent political action. The aim of the summit is to bring political commitments to cut greenhouse gas emissions in line with the Paris climate agreement.
UN secretary-general Antonio Guterres has called on the EU to lead by example to help limit global heating to 1.5°C and avoid the worst impacts of climate breakdown. The world is currently on track for well over 3°C of warming, which would lead to devastating consequences for people and nature.
Greenpeace EU climate policy adviser Sebastian Mang said: "The world is looking to Europe for climate leadership, but the EU is dragging its feet. Millions have taken to the streets, scientists have issued increasingly dire warnings, and the impacts of a changing climate have intensified. Despite this escalating emergency, EU-wide commitments to cut emissions to net-zero are yet to materialise, while a far more urgent decision about ramping up short-term targets in line with science has been delayed. But the tide is beginning to turn – a growing number of governments and EU politicians are responding to calls for action. Those who don't seize the opportunity for a fair and climate-friendly Europe should expect to be challenged on the streets, in the courts and at the ballot box."
Guterres, the European Parliament, incoming European Commission President Ursula von der Leyen and several EU governments – including Germany, France, Spain, the Netherlands, Portugal, Slovenia, Sweden, Finland and Denmark – have said the EU should significantly increase its 2030 climate target. The EU currently says it will cut greenhouse gases by 40% in 2030 (compared to 1990 levels). 
Greenpeace is calling on the EU to cut greenhouse gas emissions by 65% by 2030 and to achieve net-zero emissions by 2040, in line with scientific advice to prevent a full-blown climate crisis. A net-zero target would require almost completely eliminating greenhouse gas emissions, with any remaining emissions compensated by measures like planting trees.
In June, European leaders failed to back an EU target to reduce greenhouse gas emissions to net-zero by 2050, after opposition from Poland, Hungary, the Czech Republic and Estonia. Discussions to raise the EU's 2030 climate target have been postponed until an EU summit in December.
Contacts:
Sebastian Mang (in Brussels) – Greenpeace EU climate policy adviser: +32 (0)479 601289, [email protected]
Juliet Perry (in New York City) – Greenpeace international communications: +31 614340380, [email protected]
Greenpeace EU press desk:  +32 (0)2 274 19 11, [email protected]
For breaking news and comment on EU affairs: www.twitter.com/GreenpeaceEU
Greenpeace is an independent global campaigning organisation that acts to change attitudes and behaviour, to protect and conserve the environment and to promote peace. Greenpeace does not accept donations from governments, the EU, businesses or political parties.