*** Action photos and videos will be uploaded here.
Committing future generations to climate neutrality isn't enough, Greenpeace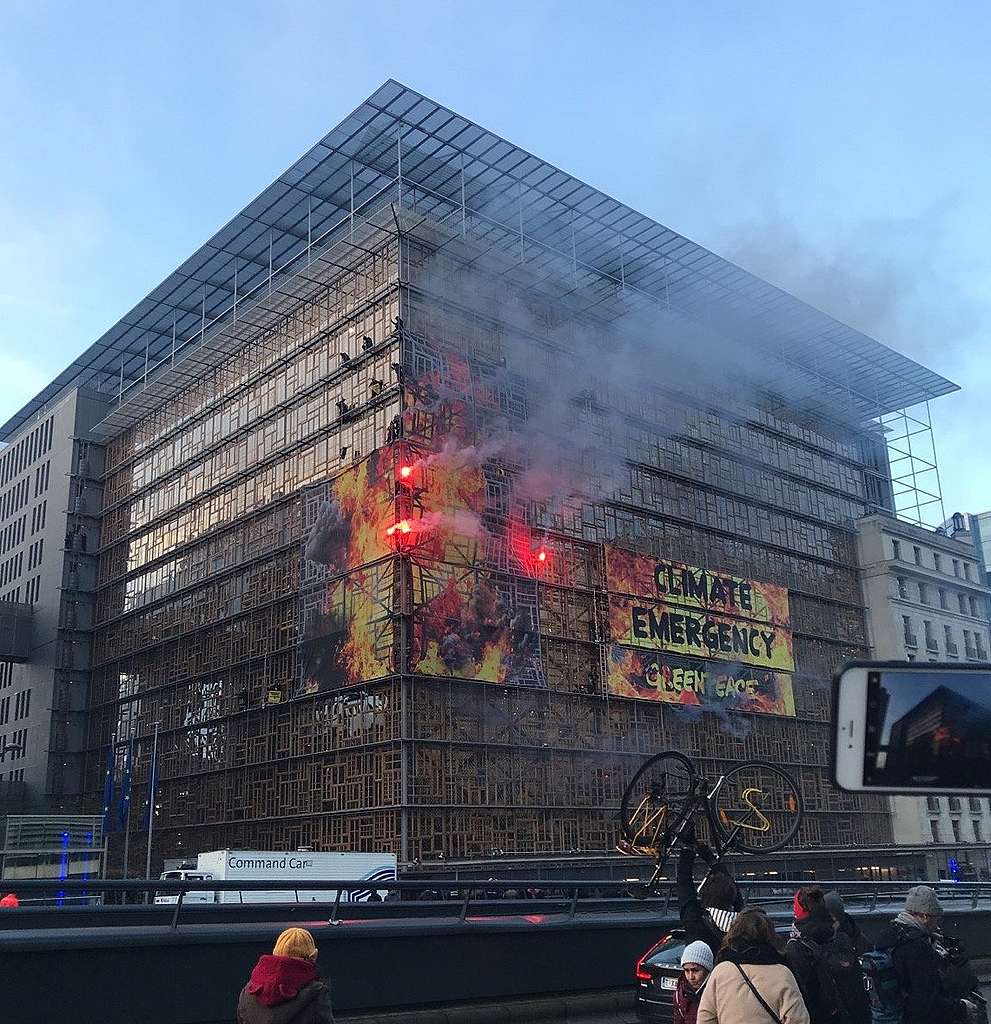 Brussels, 12 December 2019 – 61 activists representing seven European countries have taken the climate emergency to the heart of European political power, as government leaders arrive in Brussels for a summit on EU climate action. The protest follows the release of an aspirational but as yet incomplete European Green Deal by the European Commission on Wednesday, and coincides with the final stages of the COP25 global climate conference in Madrid.
After arriving in a vintage red fire engine, the 28 climbers, with 33 more activists from Greenpeace Belgium on the ground, scaled the summit venue and wrapped the building with images of giant lapping red and yellow flames, setting off billowing clouds of black and white smoke, red distress flares, and sounding a loud fire alarm.
The activists – from Germany, France, the United Kingdom, Belgium, Austria, the Czech Republic and Switzerland – displayed a large message in "burning" letters on the front of the building, reading: "Climate Emergency." Climbers also held smaller banners in several languages – English, German, French, Italian, Spanish, Polish and Dutch – including one reading: "Climate Delayers Inside."
UPDATE 1: 50 activists have been arrested, including all of the climbers. We are following the situation closely.
UPDATE 2: All activists were freed later the same day (Thursday).
Greenpeace EU director Jorgo Riss said: "The world is on fire and our governments are letting it burn. It's not enough for them to commit to a climate neutral EU in 2050. The presidents and prime ministers in Brussels today will be long gone by then. What counts even more is the urgent action they take now, while they are in power. The European Green Deal is a starting block and governments need to push forwards. This means agreeing to an EU 2030 emissions target that is in line with science, as well as ending subsidies for fossil fuel corporations, transitioning to 100% renewable energy as fast as possible, investing in sustainable transport and energy savings, and restoring our countryside, forests and oceans."
Government leaders are attempting to agree a target to reduce the bloc's emissions to net-zero by 2050. Only Poland, the Czech Republic and Hungary opposed the 2050 climate neutrality target going into the summit. To alleviate concerns over decarbonisation in regions highly dependent on fossil fuels, the Commission has promised a €100 billion Just Transition Mechanism.
Greenpeace warned that without emergency measures and an agreement to strengthen the EU's current emissions reduction target for 2030 in line with science, it will be much harder to reach climate neutrality. This could jeopardise the Paris climate agreement that the EU is so proud of, said Greenpeace.
Under the Paris Agreement, governments must submit new or updated 2030 climate plans before the global climate summit in November 2020 in Glasgow. These plans must commit governments to take measures to limit global heating to under 2°C, and as close as possible to 1.5°C, in order to avoid full-blown climate breakdown. A new UN report shows that current global climate pledges will lead to 3.2°C of global heating, while the EU's current targets would lead to up to 3°C of heating. In order to increase the chances of limiting global heating to 1.5°C, Greenpeace is calling on the EU to upgrade its 2030 target to cut emissions by at least 65% (compared to 1990).
Average world temperatures have already increased by over 1°C. From mega-hurricanes to monster fires, this has caused widespread destruction, killing people, impacting food production and destroying the livelihoods of millions. In Europe, major heatwaves and droughts are now being followed by record rainfall and devastating floods.
*** For more information about the political timeline and context, please refer to our media briefing.
*** Action photos and videos will be uploaded here.
Contacts:
Jorgo Riss – Greenpeace EU director: +32 (0)496 122109, [email protected]
Sebastian Mang – Greenpeace EU climate policy adviser: +32 (0)479 601289, [email protected]
Greenpeace EU press desk: +32 (0)2 274 1911, [email protected]
For breaking news and comment on EU affairs: www.twitter.com/GreenpeaceEU
Greenpeace is an independent global campaigning organisation that acts to change attitudes and behaviour, to protect and conserve the environment and to promote peace. Greenpeace does not accept donations from governments, the EU, businesses or political parties.