As part of the European Green Deal, the European Commission promised to adopt a strategy for smart and sustainable mobility that "will address the challenge of climate neutrality and tackle all emission sources of transport." New research, published by Climact and NewClimate Institute and commissioned by Greenpeace Belgium, offers a roadmap for decision-makers to decarbonise the European transport sector by 2040, powering it with renewable energy, without relying on biofuels. The analysis describes how Europe can swiftly revolutionise the way people and goods move and deliver a fair EU contribution to limiting global warming to 1.5°C. [1]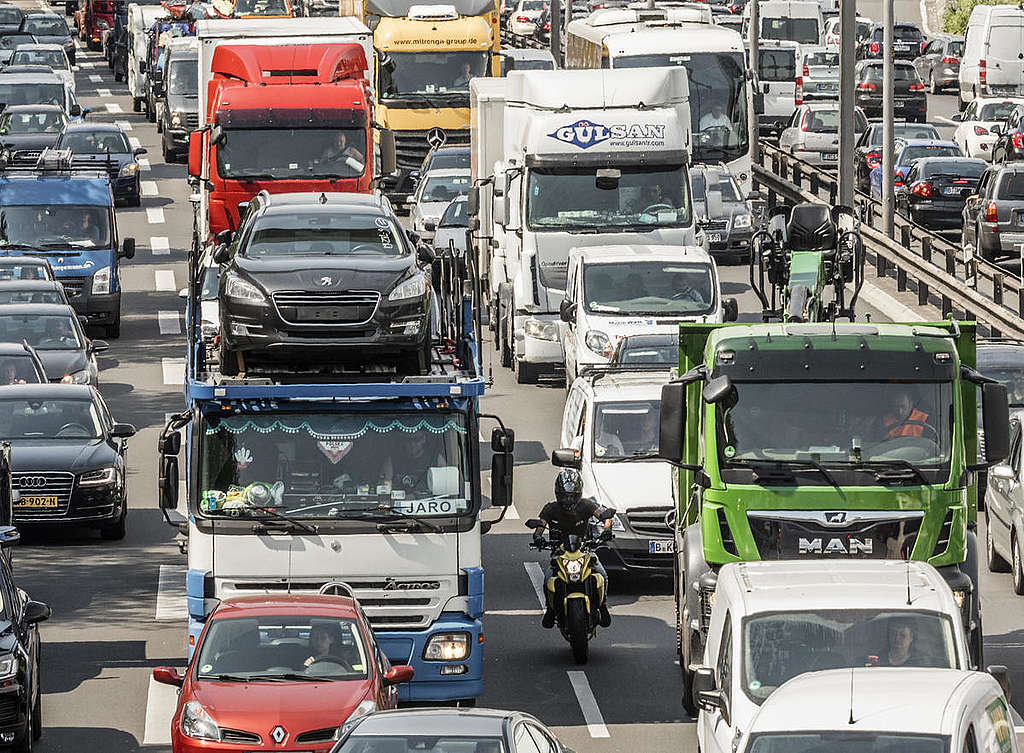 Greenpeace EU climate campaigner Lorelei Limousin said: "Investing public money in the middle of Covid recovery efforts to keep yesterday's transport system alive is a travesty. Aviation, shipping and road transport are among Europe's most polluting industries. Many of the major players have no shame laying off thousands of workers during the Covid crisis while lining their pockets with government bailouts. It is time to transform the way we move, shift to cleaner transport alternatives like trains, significantly reduce emissions, create good jobs, and make mobility equitable, resilient and sustainable for all."
Despite its climate commitments and the adoption of specific regulations such as CO2 standards for cars and vans, the EU has failed to cut the transport sector's emissions so far. While greenhouse gas emissions (GHG) from other sources have been slowing or dropping, emissions from transport have continued to climb in the EU, with a 28% increase in 2017 compared to 1990 levels. Transport alone is responsible for 27% of the overall EU GHG emissions in 2017. International aviation, shipping and road transport have been the fastest growing emissions sources in the sector.
While the European Commission calls for a green recovery, it has consented to the injection of tens of billions of euro into airlines and carmakers without meaningful, legally-binding climate conditions by national governments.
What we have to do
The EU is now at a crossroads: going back to pre-COVID mobility patterns will exacerbate inequalities and the climate crisis. Instead, the transport sector needs a fundamental transformation that must start now and be implemented within this decade.
The decarbonisation of the transport sector can happen only if decision makers adopt measures to reduce transport needs, while simultaneously shifting mobility patterns to more climate-friendly, equitable and renewable modes — like cycling, walking, public transport, trains and shared vehicles — and swiftly deploying more efficient technology.
The report's modelling shows that 53% of the emissions reductions can be achieved through technology efficiency and cleaner fuels, while the other 47% can be obtained reducing transport demand and switching to cleaner transport options.
It identifies the measures necessary to decarbonise transport by 2040:
End sales of new diesel and petrol vehicles, including hybrids, by 2028 at the latest, and phase out all internal combustion engines (ICE) vehicles across Europe.
Reduce the light vehicle fleet size by 27% by 2030 and by 47% by 2040, compared to 2015 levels.
Increase the occupancy and utilisation rate for all remaining passenger transport by 25% and 20% for light-duty vehicles (LDVs) between 2020 and 2050.
Reduce the use of private vehicles from 62% of transport in large urban areas to 42% (with urban centres cutting it down even more significantly) and from 79% to 68% in non-urban areas.
Decrease mobility demand by 12% by 2040 compared to pre-COVID levels (excluding aviation).
Cut the number of lorries on European roads from 6 to 3.6 million, while doubling the use of inland waterways and rail transport from 29% to 58%.
Limit the use of so-called E-fuels, produced with renewable power, to transport modes that do not have an alternative — such as aviation.
Assuming sufficient production of renewable-based synthetic aircraft fuel at commercial scale, decrease total passenger kilometers flown by at least 33%. However, such "E-fuels" are far from being available at scale, meaning passenger air travel would very likely need to decrease much further.
Cut energy consumption in surface transport, freight and aviation by 63 % compared to 2015.
What is next on the European agenda
The European Council and the European Parliament are expected to agree on the next EU budget and the EU Recovery and Resilience Facility by the end of 2020, so implementation can start on 1 January 2021.
From 15 October 2020 to 30 April 2021: The European Commission has proposed this period for European governments to submit their national resilience and recovery plans. According to the proposal, countries should include both reforms and investments planned at national level to access the EU funds.
By 31 December 2020: Adoption by the European Commission of a comprehensive European strategy for smart and sustainable mobility, currently being drafted by the European Commission, ahead of the "European Year of Rail" in 2021.
Also by 31 December 2020: The European Investment Bank, which invested almost €15 billion in roads and airports expansion between 2016 and 2019, will adopt a new climate roadmap.
Immediate policy recommendations from Greenpeace
The upcoming recovery plans and the European Commission's strategy for smart and sustainable mobility should include a number of regulations and funding decisions, to kick start the transformation of the transport sector in Europe.
Green and just transition for workers, no money for polluters
EU recovery money is public money and EU decision-makers should ensure it does not fund polluters like the aviation industry and carmakers, or conventional car purchases. They should adopt an environmental exclusionary list that defines what activities recovery plans must not subsidise.
The bailout of airlines and polluters should be conditional on the respect of regulatory measures to align the EU with the Paris Agreement goal to limit global warming to 1.5°C.
Additional EU and national investment in the reskilling/training of workers employed in fossil fuel heavy transport sectors is necessary.
More and better trains for all
To match their wish to see railways play a much greater role in the future of European mobility and achieve this ambitious shift, the European Commission and EU governments must invest significantly in a strengthened network of affordable and accessible new day and night trains across Europe.
The EU must improve cross-borders trains by removing network bottlenecks and harmonising the railway systems, tickets and timetables while protecting passengers' rights across borders.
Fewer planes in the European skies
The European Commission has already planned a review of the kerosene tax exemption as part of the Energy Tax Directive planned in 2021. It must also facilitate a fair implementation of the "polluter pays principle" through flight and fuel taxes to induce a cut in aviation demand.
The European Commission and EU countries must ban short-haul flights where there is a cleaner alternative that takes under 6-8 hours, and stop exempting flights from taxes borne by other modes of transport.
The end of vehicles running on fossil fuels
The European Commission plans to review the CO2 emission performance standards for cars and vans by June 2021. However, it should go further and propose a European ban on diesel and petrol car and van sales, including hybrids, as soon as possible and by 2028 at the latest, with all remaining sales shifting to new light battery-electric vehicles.
National governments should take all new conventional vehicles, including hybrids, off the market by 2028 at the latest.
Fewer cars, more walking, cycling and public transport
Local authorities and national governments must redesign urban mobility to prioritise walking, cycling and public transport and invest in their development.
To help speed up the transition, the European Commission should adopt appropriate measures such as linking access to EU funds to the implementation of mobility plans which are compliant with the Paris climate agreement.
The EU should increase funding and investment for interconnected, cleaner mobility solutions that are accessible to everyone.
No new airports or highways
National and local governments must cancel highway and airport expansion projects and the EU budget should not encourage their expansion in Europe, in order to avoid further lock-in of carbon intensive transport modes.
Between 2016 and 2019, the European Investment Bank (EIB) invested € 14,65 billion in roads and airports expansion. As part of its climate roadmap due by the end of 2020, the EIB should ban any investment in capacity increase for highways or airports.
Note to the editors:
[1] The analysis uses the year 2020 as a benchmark, with estimates based on the latest data available. It does not include any post-covid data as they were not available at the time the modeling was developed.
Contacts:
Lorelei Limousin, Greenpeace EU climate campaigner : +32 (0)477 79 04 15 [email protected]
Greenpeace EU press desk: +32 (0)2 274 1911, [email protected]
For breaking news and comment on EU affairs: www.twitter.com/GreenpeaceEU