Brussels, 8 December 2020 – Tomorrow, on 9 December, the European Commission is due to publish a new strategy for smart and sustainable mobility to align the transport sector with the European Green Deal. Meanwhile, in the wake of the Covid crisis, more than 30 billion euro have already been channeled to polluting airlines without any social or green strings attached. As well, national governments are submitting their plans to access EU recovery and resilience funds, drafts of which show that aviation, car manufacturing and road construction are set to receive even more taxpayer money (1).
At the meeting of European transport ministers today, Luxembourg's minister will call for investments in rail and, on the sidelines of the meeting, EU transport commissioner Adina Valean will join transport ministers and national rail representatives from Austria, France, Germany and Switzerland to present plans for international night trains.
"Only dramatic cuts in emissions over the next decade can prevent us from flying into the climate crisis. Aspirational targets and a few new train lines or 'green' standards are not enough. It's time to ensure all transport investments fund a just transition towards climate-proof, equitable mobility for all."
Greenpeace EU climate campaigner Lorelei Limousin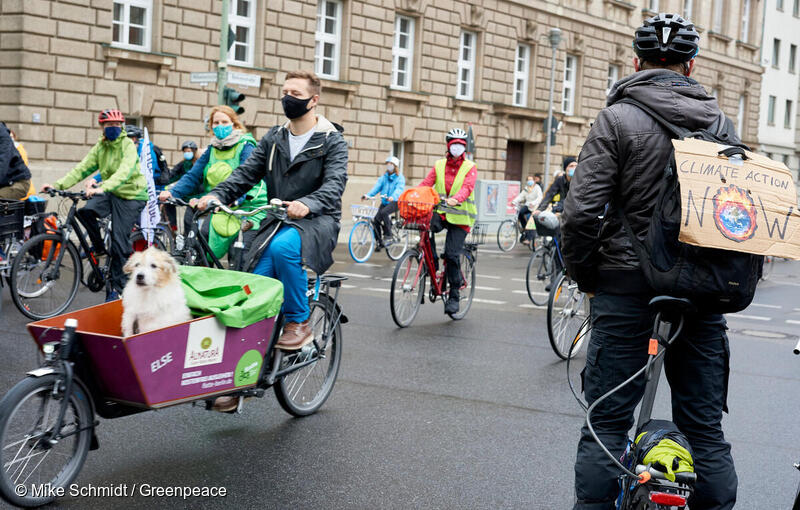 Getting off the road to more transport emissions
The transport sector accounts for more than one quarter of emissions in the EU. Even more worryingly, emissions from transport have continued to climb in the EU — up to 28% compared to 1990 levels — while other sources of greenhouse gas emissions have been plateauing or dropping off.
Greenpeace recently published a pathway to decarbonising transport by 2040. To achieve this goal, the study shows the sale of petrol, diesel and hybrid vehicles must end by 2028 at the latest, and the number of flights and privately owned cars must fall by at least 33% and 47% respectively. At the same time, significant investments must be made in cleaner transport modes such as trains, other public transport and cycling. Not only would this decrease emissions, it would set us on the path to alleviating the transport poverty and inequality which affects the daily lives of millions of people in Europe while a small minority enjoy hypermobility.
Here are four tests to help measure whether the European Commission's mobility strategy delivers real climate action and makes transport accessible for all, or whether it entrenches the current fossil-fuel- and private-profit-driven transport system:
Four tests for the EU mobility strategy
1. Does it end public funding for fossil-dominant transport and infrastructure?
Exclude polluters like the aviation industry and car-makers, as well as new highway projects and conventional and hybrid car purchase incentives, from receiving any public money (EU budget, recovery packages, subsidies, state aid, etc.)
Make COVID-related bailouts of airlines, airports and car-makers conditional on the respect of regulatory measures to align the EU with the Paris climate agreement goal to limit global warming to 1.5°C, and on worker protection, such as job security and reskilling
Scrap subsidies for polluting transport modes, such as VAT and fuel tax exemptions
It's time to stop privatising the profits and socialising the losses. Alone, the airline fuel tax exemption costs €27 billion every year. What's more, a study commissioned by the European Commission found that, per year, there are €987 billion in external costs for transport (e.g., habitat damage, climate, air pollution, accidents, noise and fuel production).
2. Does it shift public transport investment to sustainable, affordable and accessible mobility solutions such as trains, other public transport and cycling?
Protect public services and increase funding to ensure public transport serves the needs of all communities and cycling infrastructure provides safe paths in all neighbourhoods
Ensure all communities are served by accessible and affordable connections to essential services and employment opportunities, as well as connections between rural and urban environments
Invest massively and in a concerted way in a Europe-wide network of affordable and accessible new day and night trains, including a new fund for rolling stock
Remove network bottlenecks and harmonise railway systems, tickets and timetables, while protecting passengers' rights across borders
Set binding targets for national governments to increase the share of walking, cycling, public transport and trains and the share of freight transported by rail and ship, and make access to EU funds conditional on meeting the targets
Proper infrastructure is essential to the transformation. Better, affordable train connections are necessary in order to shift passengers and freight from air and road to rail for both domestic and cross-border trips. Passengers also need a simple booking system to compare trips and purchase tickets.
3. Does it hold polluters responsible and reduce emissions?
Introduce a phase-out of short haul flights, starting with a ban on trips where there is a train or bus taking under 8 hours and/or a night train and ensure these slots are not allocated to "new" flights
End the sales of new cars and vans with internal combustion engines by 2028 at the very latest
Every reduction is important. While the majority of aviation-related emissions are linked to long-haul flights, 40% of internal EU aviation-related emissions are for trips under 1,000 kilometers. The busiest airport pairs can all be travelled in less than 6 hours on the train, excluding island connections (2). According to a 2020 survey, 65% of Europeans support a ban on short-haul flights where there is an alternative under 12 hours.
The European Commission revealed in September that it is looking into proposing a date to ban the sale of petrol and diesel cars in the EU. With escalating health and climate crises, we cannot afford to wait to take polluting vehicles off the road.
4. Does it start a just transition for the workers?
Channel bailout money to workers to secure their income and protect their wages, health and livelihoods
Establish a substantial just transition fund to support the reskilling of workers and to organise the scaling down of fossil-fuel-heavy transport sectors alongside trade unions, in a just manner
Condition all bailout and other public support on a three-year ban on cash flows to shareholders, such as dividends and own-share buybacks, as well as increases in CEO salaries and bonuses
What's fair is fair. European airlines are set to cut more than 50,000 jobs in 2020 despite accepting tens of billions in public money. As air travel scales down, workers must be cared for and given training to succeed in sustainable, green jobs. A green and just recovery can create many future-proof jobs: investing in cycling creates more jobs than car manufacturing and investing in public transport and trains beats road construction.
Notes to editors
1) The German national recovery plan allocates 2.2 billion euro to incentives for the purchase of electric and hybrid cars. The French plan allocates 1.9 billion euro to such incentives, and is even more favourable to car-makers in that it also includes cars with conventional internal combustion engines. It also provides support for road infrastructure. Both plans invest in aviation.
2) Train journey duration calculated using https://www.thetrainline.com/journey-planner.
Contacts:
Lorelei Limousin, Greenpeace EU climate campaigner : +32 (0)477 79 04 15 [email protected]
Greenpeace EU press desk: +32 (0)2 274 1911, [email protected]
For breaking news and comment on EU affairs: www.twitter.com/GreenpeaceEU
Greenpeace is an independent global campaigning organisation that acts to change attitudes and behaviour, to protect and conserve the environment and to promote peace. Greenpeace does not accept donations from governments, the EU, businesses or political parties.