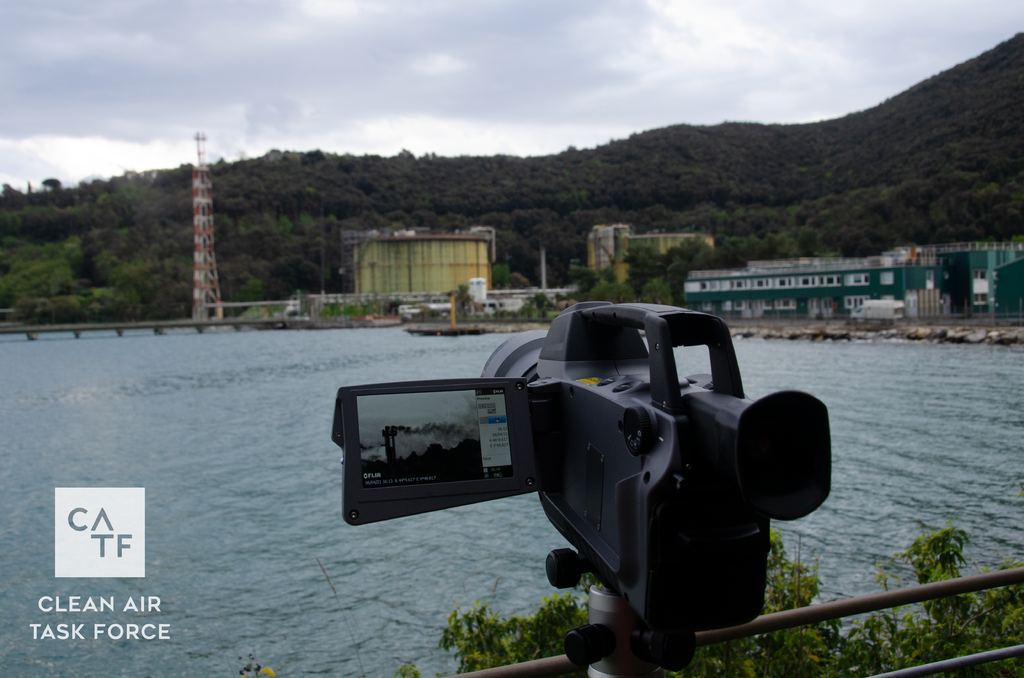 We humans are, despite all, still driven by the senses which nature and evolution have given to us. We respond powerfully when we see or hear a threat that is sudden, close and immediate. We have a bigger problem when it comes to responding to a threat that we don't sense quite so directly – like the climate crisis.
If I walk into a kitchen and smell leaking gas, for example, it triggers a danger reflex. I am suddenly and urgently aware that I may be at risk, that not everything is as it should be.
The new images of methane leakages from oil and gas industry facilities, taken at sixty locations in seven European countries by the Clean Air Task Force, have had the same effect on me as if I had walked into a room and been hit with the stench of gas.
We cannot see methane with our eyes, just as we can't smell fossil gas. In the case of gas, we add an odour to the mix, to alert people to dangerous leaks. And for methane, we can now use special cameras to do the same thing.
The images are shocking. To the naked eye, and with an ordinary camera, it looks as if there's not much to see: just a few chimneys poking out of drab industrial buildings.
But with a special gas imaging camera, we see the dirty secret that fossil fuel companies don't want us to see. Hiding in plain sight, massive clouds of methane are pouring out of the stacks, no longer invisible, no longer possible to deny or ignore.
One set of images, taken less than five kilometres from Cinque Terre national park in Italy, shows an unlit flare vent at a gas terminal owned by Panigaglia. At first glance it appears to be idle, but the purpose-built camera reveals a significant methane leak. The crew revisited the Panigaglia terminal over a two week period, confirming that the leak was continuing unaddressed.
In virtually every location the Clean Air Task Force chose to look, they captured alarming footage like this, all telling the same story.
Suddenly, the threat is close and immediate. My danger reflex kicks in.
Methane is a potent contributor to the climate emergency. Over twenty years, methane has eighty-six times more potential to trap heat in the atmosphere than carbon dioxide.
Climate scientists are at pains to tell us that the next decade is crucial for limiting the damage of climate breakdown. And a recent landmark report by UNEP and the Climate and Clean Air Coalition found that cutting methane is far more urgent for the climate than previously thought.
The new images add to a growing body of evidence which suggests that the problem of methane leakages may be much, much more widespread than reported by the oil and gas industry. Yet again, the fossil fuel industry is exposed for its recklessness and disregard for the climate as long as there's money to be made. Greenpeace is calling on the EU to phase out this industry – oil, coal, and gas – as quickly as possible.
On 15 July, it's the European Parliament's turn to stand up for the climate when its energy committee will vote for the first time on the revision of the rules for European networks for energy, the so-called TEN-E regulation.
Since fossil gas is made of about 80% methane, the Clean Air Task Force images provide a powerful argument against the expansion of gas infrastructure. The normally-conservative International Energy Agency provides another, with recent analysis showing that to limit global heating to 1.5 C, developed countries should stop investing in all new fossil fuels infrastructure right now, and completely phase out fossil gas by 2035.
To meet our climate obligations, we can't afford more of this leaky fossil gas infrastructure in Europe, and we clearly should not be subsidising such projects with fast-tracked EU money.
It's now up to MEPs to show more courage than Europe's badly divided energy ministers, who failed an important test this month by making a number of favourable decisions for the fossil fuel industry on TEN-E.
Even the smallest-projected rise in global temperatures will have irreversible effects. We are at a crucial moment in the fight against climate change, and every fraction of a degree counts. That's why these pictures matter.
They matter, too, because they prove yet again that the oil and gas industry will try to get away with wrecking the climate as long as possible, even right under our noses.
The companies responsible for these leaks shouldn't be benefiting from favourable treatment and massive public investments. Yet that's exactly what they're getting from Europe's politicians.
It's time for that to end. It's time for a fossil-free TEN-E.