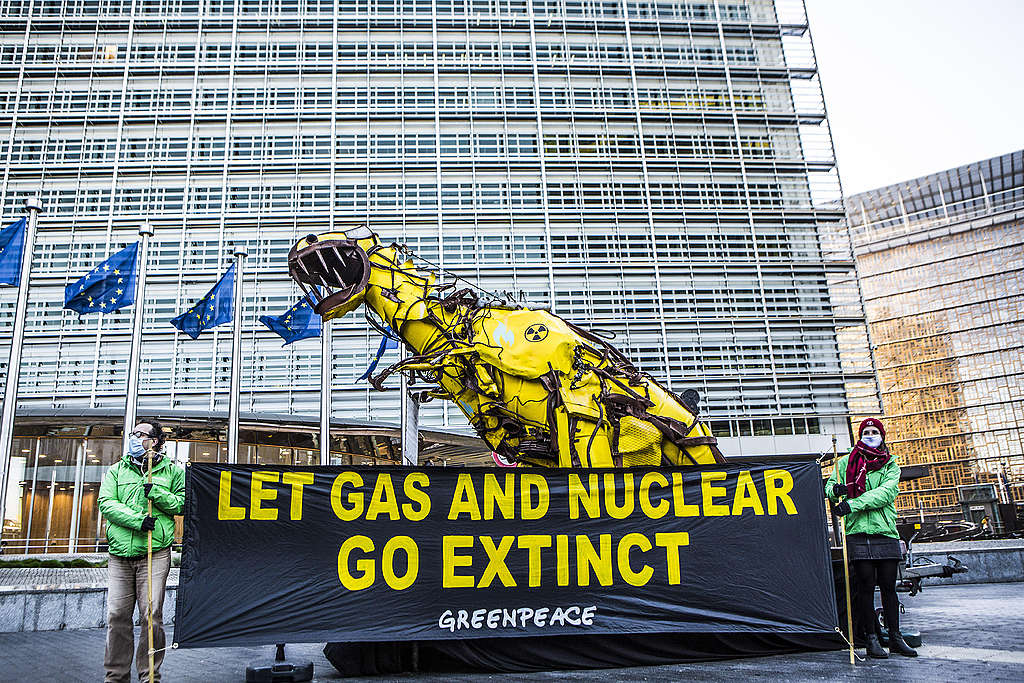 Brussels, 7 December 2021 – Greenpeace Belgium activists have installed a giant dinosaur outside the headquarters of the European Commission and European Council in Brussels, to protest against the possible inclusion of fossil gas and nuclear energy in the EU's taxonomy, or guidelines for sustainable investments.
"Taxonosaurus" is four metres tall, made of scrap metal, and painted with radioactive warning symbols and blue gas flames. Activists stood in front of Taxonosaurus with banners reading "LET GAS AND NUCLEAR GO EXTINCT" and "STOP FAKE GREEN."
High-quality photo and video will be available for media here
EU spokesdinosaur Taxonosaurus Rex said: "Even a dinosaur like me can see that extending the life of fossil gas and nuclear energy by giving them a green label is like crashing a meteorite into the European Green Deal."
Greenpeace EU campaigner Ariadna Rodrigo said: "The EU's taxonomy could have been useful to stamp out greenwashing, but instead it's turning into a monster. Nuclear and gas are not green. Gas is now responsible for more of Europe's carbon emissions than coal, while after seventy years the nuclear industry still has no solution for the ever-growing mountain of radioactive waste. The European Commission should fully exclude these technologies from the EU's sustainable investment guidelines."
The European Commission's plans to include fossil gas, nuclear energy and intensive livestock farming in the taxonomy have each faced severe criticism, including from national governments, asset managers, UN bodies, environmental groups, and even the Commission's own Technical Expert Group, which drafted the original technical recommendations on taxonomy. But a group of pro-gas and pro-nuclear countries led by France appears to have convinced Commission President Ursula von der Leyen to include gas and nuclear energy in the taxonomy.
Next steps
Taxonosaurus's appearance in Brussels comes ahead of a proposal to be published by the European Commission later this month, and possibly as soon as tomorrow, 8 December.
The Commission is widely expected to propose criteria that will allow the labelling of some nuclear and fossil gas activities as "environmentally-friendly." National governments and the European Parliament generally have four months to object to the Commission's proposal, otherwise it is adopted.
The first set of Taxonomy delegated acts, which include chopping and burning trees and crops for energy as well as the use of hybrid cars that depend on diesel and petrol, will enter into force on 8 December.
Contacts:
Ariadna Rodrigo – Greenpeace EU campaigner: +32 (0)479 99 69 22, [email protected]
Greenpeace EU press desk: +32 (0)2 274 1911, [email protected]
For breaking news and comment on EU affairs: www.twitter.com/GreenpeaceEU
Greenpeace is an independent global campaigning network that acts to change attitudes and behaviour, to protect and conserve the environment and to promote peace. We do not accept donations from governments, the EU, businesses or political parties. Greenpeace has over three million supporters, and 26 independent national and regional organisations with offices in more than 55 countries.
EU Transparency Register: 9832909575-41