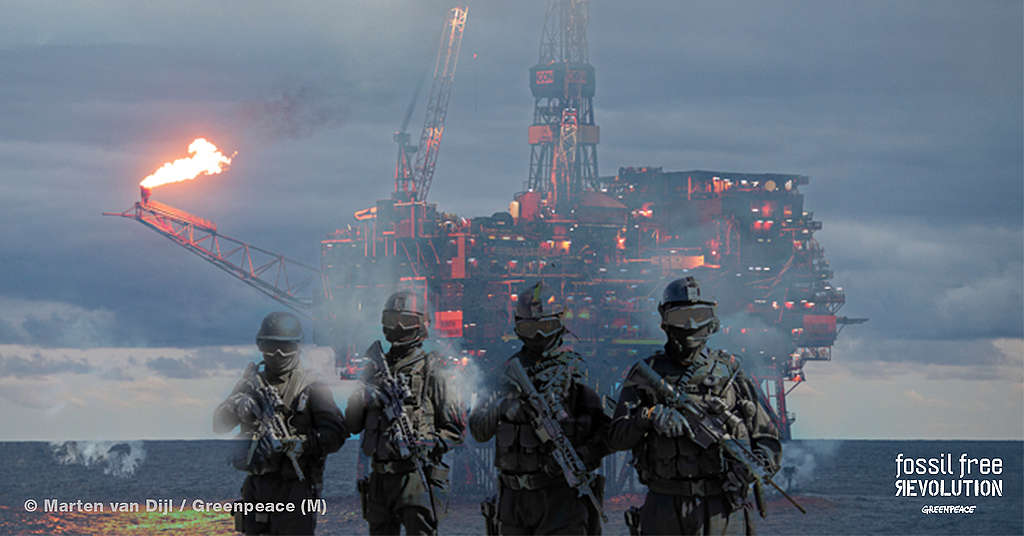 Brussels, 9 December 2021 – Almost two-thirds of all EU military missions monitor and secure the production and transport of oil and gas to Europe. Italy, Spain and Germany have invested more than €4 billion to protect climate-damaging fossil fuels since 2018, according to research by Greenpeace Italy, Greenpeace Spain and Greenpeace Germany.
This is the first time an investigation looks into EU and NATO military missions for the period 2018-2021, using public documents and statements from political leaders, and listing costs for Germany, Italy and Spain.
"Only this summer, EU governments deployed soldiers, military equipment and funding in response to floods and fires that impacted the region. This report shows that at the same time more soldiers and millions of euro are being spent to provide security for ships loaded with oil and gas that will later be burnt, contributing to future devastation. Governments and the EU need to put an end to this vicious circle and redirect the money into the expansion of renewable energies", said Anna von Gall, disarmament expert at Greenpeace Germany and lead of the Greenpeace "Climate for Peace" campaign.
The biggest spender for fossil fuel military investments is Italy, with more than €797 million in 2021 alone. Spain spent €274 million on military protection for oil and gas imports this year, and Germany invested €161 million.
"Our report shows how the greed for oil and gas has led Europe to develop a weaponised system at the expense of people and the planet. The harm caused by fossil fuel companies is not limited to their catastrophic emissions, they have historically driven conflict. They get away with it by pumping millions into manipulative propaganda to present themselves as socially and environmentally responsible . This is the ugly reality they don't want you to see, and our goal is to ban fossil fuel advertising and sponsorship to unmask this deadly industry", said Silvia Pastorelli, Greenpeace EU climate and energy campaigner and lead organiser of the European Citizens' Initiative calling for a ban of fossil fuel advertising and sponsorship in the EU. If one million EU citizens sign the petition, the European Commission will have to consider tabling a new law.
The countries of the European Union are highly dependent on fossil energy imports. The EU imports almost 90 percent of the oil and 70 percent of the natural gas it needs from often politically unstable regions. With the help of military missions, the EU secures critical trade routes in supplier countries.
For example, the EU "Irini" mission off the Libyan coast monitors compliance with the UN arms embargo against Libya. In addition, however, "Irini" has the secondary mandate of "controlling and monitoring illegal oil exports from Libya, including crude oil and refined oil products" (EU press release, March 2020), while providing security for legal oil shipments. Operation "Atalanta", in the Horn of Africa, protects the numerous oil and gas transports in the region. NATO itself made clear in June 2021 that this mission also contributes "to energy security by protecting key sea lanes".
Consumers pay a triple bill for fossil energy imports: the costs of securing imports militarily are added to already high energy prices, and, paradoxically, the financial damage of a worsening climate crisis.
NATO military missions also secure fossil energies
NATO has also invested large sums in securing oil and gas imports to the EU: more than €33 billion from 2018-2020. For the coming decade, NATO expects more competition for dwindling energy resources and wants to further expand the protection of critical infrastructure.
-ends-
Note to editors:
Please read the report at: https://www.greenpeace.org/italy/?p=15346.
Contacts:
Anna von Gall, lead of the Greenpeace "Climate for Peace" campaign: +49 (0)151-72934768, [email protected].
Cornelia Deppe-Burghardt, Greenpeace Germany press officer: +49 (0) 15114533087, [email protected].
This press release is also available on: www.greenpeace.eu
For breaking news and comment on EU affairs: www.twitter.com/GreenpeaceEU
Greenpeace is an independent global campaigning network that acts to change attitudes and behaviour, to protect and conserve the environment and to promote peace. We do not accept donations from governments, the EU, businesses or political parties. Greenpeace has over three million supporters, and 26 independent national and regional organisations with offices in more than 55 countries.
EU Transparency Register: 9832909575-41