79 Russian oil and gas tankers currently bound for Europe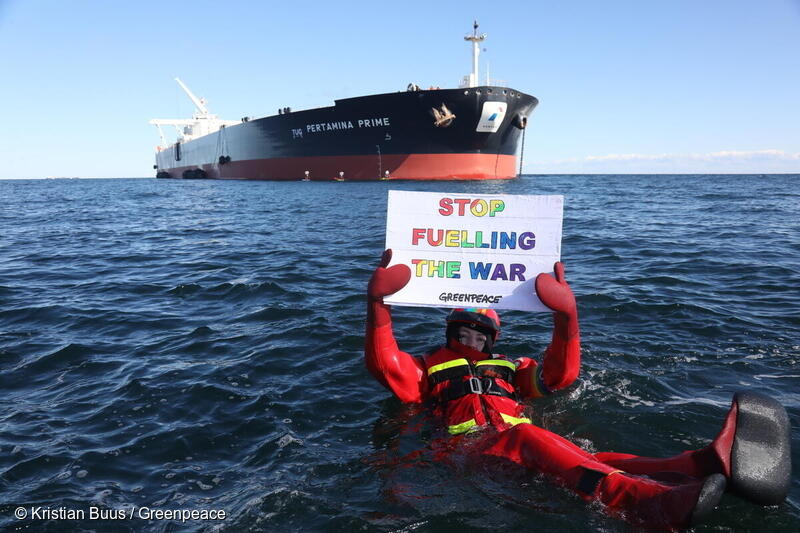 Brussels, 7 April 2022 – A fifth package of EU sanctions on Russia, gradually banning coal imports but omitting oil, gas and nuclear fuel, exposes a reluctance by several governments to accelerate an energy transition built on energy savings and renewables, said Greenpeace.
There are 79 oil and gas tankers currently bound for Europe from Russia. Nine of these left Russia in the last 24 hours, untouched by EU sanctions.* Since the beginning of the invasion of Ukraine, at least four special flights also delivered nuclear fuel from Russia to nuclear plants in Slovakia, the Czech Republic and Hungary, despite an EU flight ban. State-owned Rosatom is also allowed to continue its involvement in the maintenance and construction of nuclear power plants in the EU, including in Finland and Hungary.
Greenpeace EU climate and energy campaigner Silvia Pastorelli said: "The reluctance by governments to hit imports of Russian oil, gas and nuclear fuel is proof that they're desperately trying to keep a broken energy system alive. Diversifying dirty energy sources will also only increase exposure to future wars and environmental destruction. Whether it's oil from Saudi Arabia, fracked gas from the US or uranium from Kazakhstan, these are blood fuels, which accelerate the climate and nature crisis. To support peace and security, the EU must unlock energy savings in our homes and industries, run our cities on public transport and cycling infrastructure, and roll out renewables to supply all the energy we need."
Earlier on Thursday, an overwhelming majority in the European Parliament called on governments to back a full embargo on Russian gas, oil, coal & nuclear fuel.
EU coal imports from Russia are worth around €4 billion, while oil and gas imports together are worth about €100 billion.
For every 1% improvement in energy efficiency, EU gas imports would fall by 2.6%, lifting 7 million people out of energy poverty. The International Energy Agency also recently said that a limited set of short-term measures in the transport sector could cut 2.7 million barrels of oil a day within the next four months. In Germany, short-term measures could cut Russian oil imports by about a third.
While oil and gas prices skyrocket, solar energy is now the cheapest form of energy in most parts of the world, with wind energy prices also continuing to fall to record lows.
Note: * Numbers updated at 21.45 CEST on 7 April 2022.
Contacts:
Silvia Pastorelli – Greenpeace EU climate and energy campaigner: +32 478 523 383, [email protected]
Greenpeace EU press desk: +32 (0)2 274 1911, [email protected]
For breaking news and comment on EU affairs: www.twitter.com/GreenpeaceEU
Greenpeace is an independent global campaigning network that acts to change attitudes and behaviour, to protect and conserve the environment and to promote peace. We do not accept donations from governments, the EU, businesses or political parties. Greenpeace has over three million supporters, and 26 independent national and regional organisations with offices in more than 55 countries.
EU Transparency Register: 9832909575-41