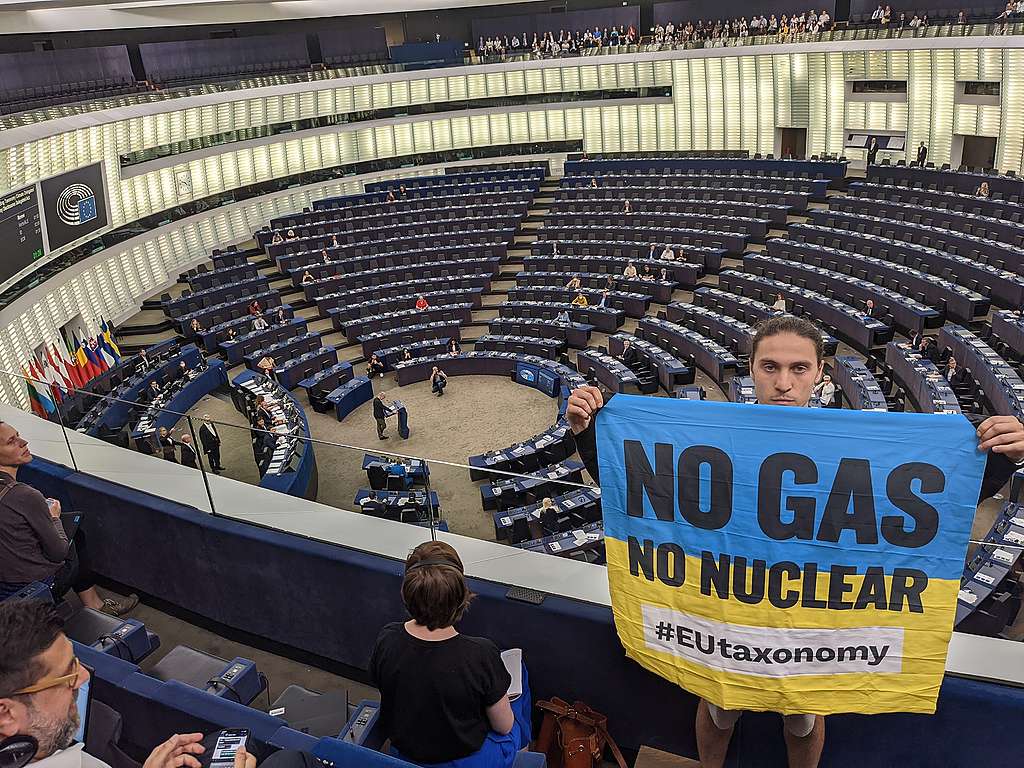 Brussels – Greenpeace has announced it will take legal action against the European Commission over the inclusion of fossil gas and nuclear energy in the EU's list of sustainable investments, the taxonomy, after the European Parliament today failed to muster enough votes to block the Commission's controversial plan.
278 MEPs voted against the sustainable label for gas and nuclear, 75 short of the 353 votes needed. 
Greenpeace EU sustainable finance campaigner Ariadna Rodrigo said: "It's dirty politics and it's an outrageous outcome to label gas and nuclear as green and keep more money flowing to Putin's war chest, but now we will fight this in the courts. The EU Commission's shameful backroom dealing on behalf of the fossil fuel and nuclear industries won't help them there. We're inspired by the climate activists here in Strasbourg this week and are confident that the courts will strike down this politically motivated greenwashing as clearly in breach of EU law."
Next steps
Before the lawsuit can take place, Greenpeace will submit a formal request for internal review to the Commission. Once this is finished and if its result is negative, Greenpeace will submit its suit to the European Court of Justice.
Contacts:
Ariadna Rodrigo, Greenpeace EU sustainable finance campaigner: +32 (0)479 99 69 22, [email protected]
Greenpeace EU press desk: +32 (0)2 274 1911, [email protected]
For breaking news and comment on EU affairs: www.twitter.com/GreenpeaceEU
Greenpeace is an independent global campaigning network that acts to change attitudes and behaviour, to protect and conserve the environment and to promote peace. We do not accept donations from governments, the EU, businesses or political parties. Greenpeace has over three million supporters, and 26 independent national and regional organisations with offices in more than 55 countries.
EU Transparency Register: 9832909575-41