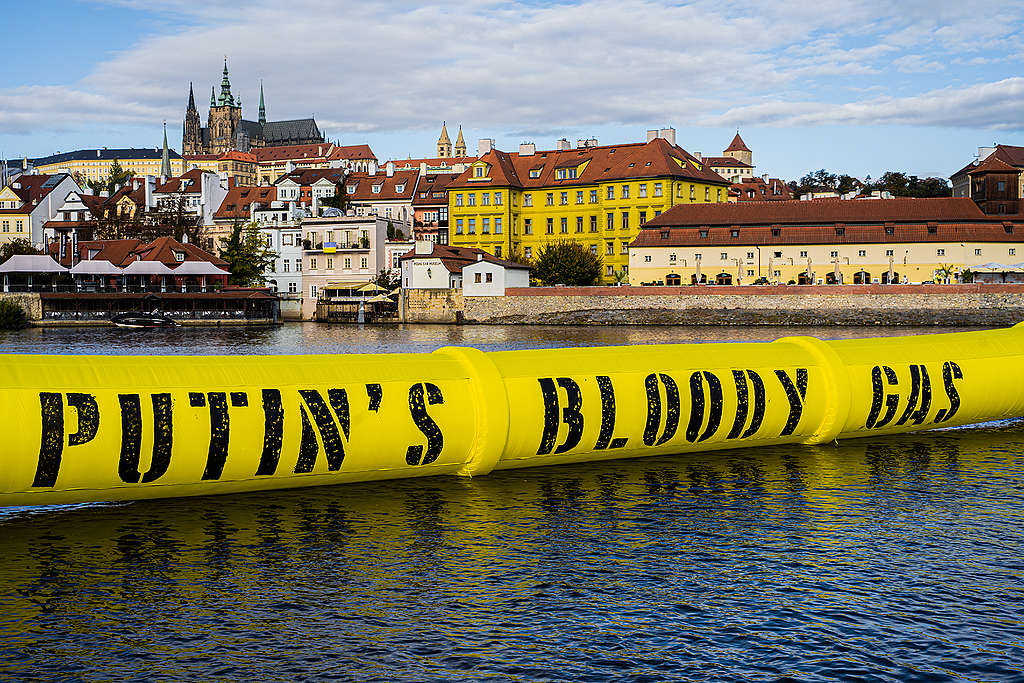 *** Photo and video footage of the protest will be uploaded here
Prague/Brussels, 6 October 2022 – European government leaders arriving in Prague for a double summit of the European Political Community on Thursday and the European Union on Friday were reminded of the vulnerability of fossil fuel infrastructure by a 30-metre-long mock gas pipeline erected by activists.
A week after an apparent sabotage of Nord Stream pipelines in the Baltic Sea and as reliance on fossil fuels drives a worsening energy and climate crisis, over 20 Greenpeace activists from the Czech Republic, Germany and the Netherlands protested on the Vltava River, below Prague Castle, where the summit will take place. The activists called for a rapid shift to break Europe's dependence on fossil fuels, wherever they come from, and instead invest in long-term energy security, with energy savings and renewables.
As EU governments continue to search for new supplies of fossil fuels through alternative pipelines and new infrastructure like liquified fossil gas terminals, the Friday summit in Prague will discuss the introduction of a cap on the price of gas.
Greenpeace EU climate and energy campaigner Thomas Gelin said: "As bad as this winter will be, next winter could be worse if governments do nothing to rapidly reduce Europe's exposure to vulnerable oil and gas supplies. It's revealing that the measure at the top of the EU summit agenda is a cap on gas prices – it may offer some temporary relief to vulnerable households, but it's a blunt tool that does nothing to tackle reliance on gas or long-term energy poverty. It's a disgrace that almost eight months since Putin's invasion of Ukraine, there has been no large-scale rollout of home insulation programmes, no EU-wide drive to replace gas boilers with heat pumps, and no major schemes to put solar panels on every available rooftop."
Despite plans announced under the RePower EU package and the potential repurposing of national EU Covid recovery funds to support energy savings and renewables, research commissioned by the Financial Times found that European governments will spend at least €50 billion this winter on new and expanded fossil fuel infrastructure and supplies, including gas imports and coal.
Last week, EU energy ministers agreed to impose a minimum level of taxation (described as a "solidarity contribution") on the windfall profits from gas, oil and coal operations. Companies will have to pay at least 33% of their above-normal profits for 2022 and/or 2023, but individual governments can set higher levels of taxation if they wish.
Greenpeace criticised the policy and is calling for fossil fuel companies to hand over 100% of their excess profits, starting in 2022, and for governments to use these revenues to help vulnerable people with targeted support and to invest in measures like home insulation and affordable public transport.
Contacts:
Thomas Gelin, Greenpeace EU climate and energy campaigner: + 32 (0)473 570446 [email protected]
Greenpeace EU press desk: +32 (0)2 274 1911, [email protected]
Lukas Hrabek, Greenpeace Czechia press officer on the ground in Prague: +420 603 443 140, [email protected]
For breaking news and comment on EU affairs: www.twitter.com/GreenpeaceEU
Greenpeace is an independent global campaigning network that acts to change attitudes and behaviour, to protect and conserve the environment and to promote peace. We do not accept donations from governments, the EU, businesses or political parties. Greenpeace has over three million supporters, and 26 independent national and regional organisations with offices in more than 55 countries.
EU Transparency Register: 9832909575-41