Brussels – A year after Russia's full-scale invasion of Ukraine, Russian nuclear weapons and energy company, Rosatom, and its leading employees have escaped the EU's list of sanctions, according to the latest update released today.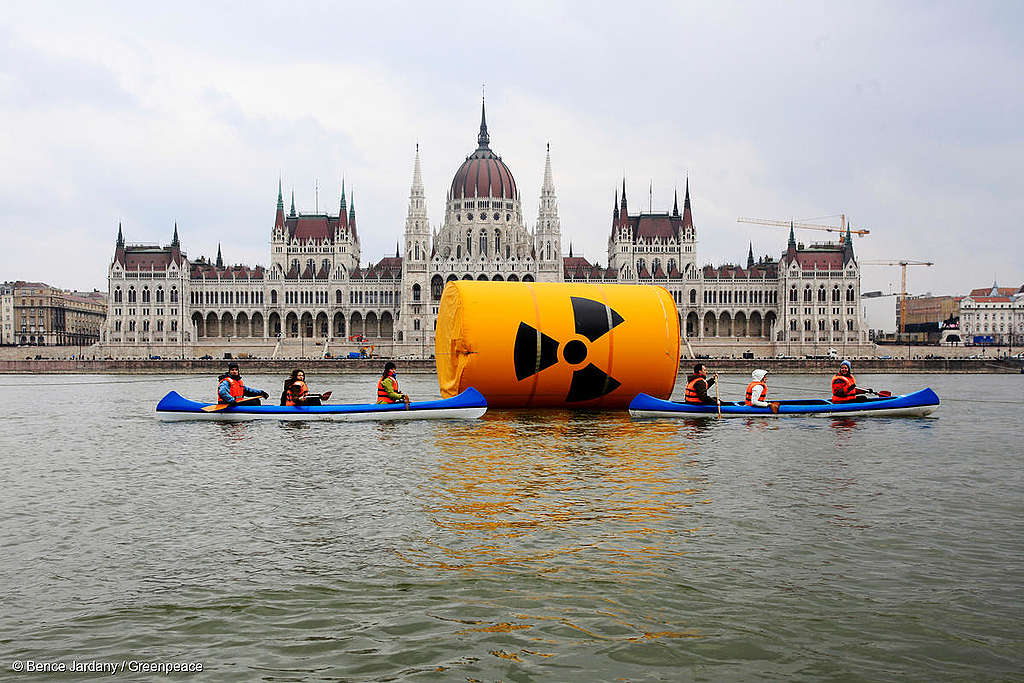 Greenpeace EU sustainable finance campaigner Ariadna Rodrigo said: "Politicians like Macron love to fly the Ukrainian flag and pose for photos with Zelenskyy, but then look the other way when Ukraine asks them to cut the European nuclear industry's ties to the Kremlin. At a time when so much effort is going into supporting Ukraine, why is the nuclear industry left free to funnel money into Russia's war chest?"
Rosatom oversees Russia's nuclear weapons programme, in addition to selling nuclear fuel and services globally, including to many European countries, from Hungary to France. Hungary is the most vocal government blocking the sanctions as the government is dependent on Rosatom to build its new Paks II plant, but other countries that depend on Rosatom for their nuclear industry have opposed the sanctions in the past, including France, Bulgaria and Slovakia.
Russia's president Vladimir Putin has asked Rosatom to be ready to test a nuclear weapon, in a speech where he announced Russia's exit from a nuclear weapons non-proliferation treaty.
Ukrainian president Volodymyr Zelenskyy has urged several times for the EU to sanction the Russian nuclear industry and most recently the heads of Rosatom. The European Commission ruled this out after resistance from several EU governments with domestic nuclear industries.
Contacts:
Ariadna rodrigo, Greenpeace EU sustainable finance campaigner: +32 (0)479 99 69 22, [email protected]
Greenpeace EU press desk: +32 (0)2 274 1911, [email protected]
For breaking news and comment on EU affairs: www.twitter.com/GreenpeaceEU
Greenpeace is an independent global campaigning network that acts to change attitudes and behaviour, to protect and conserve the environment and to promote peace. We do not accept donations from governments, the EU, businesses or political parties. Greenpeace has over three million supporters, and 26 independent national and regional organisations with offices in more than 55 countries.
EU Transparency Register: 9832909575-41