Giant squealing pig in cage as MEPs vote on EU farming reform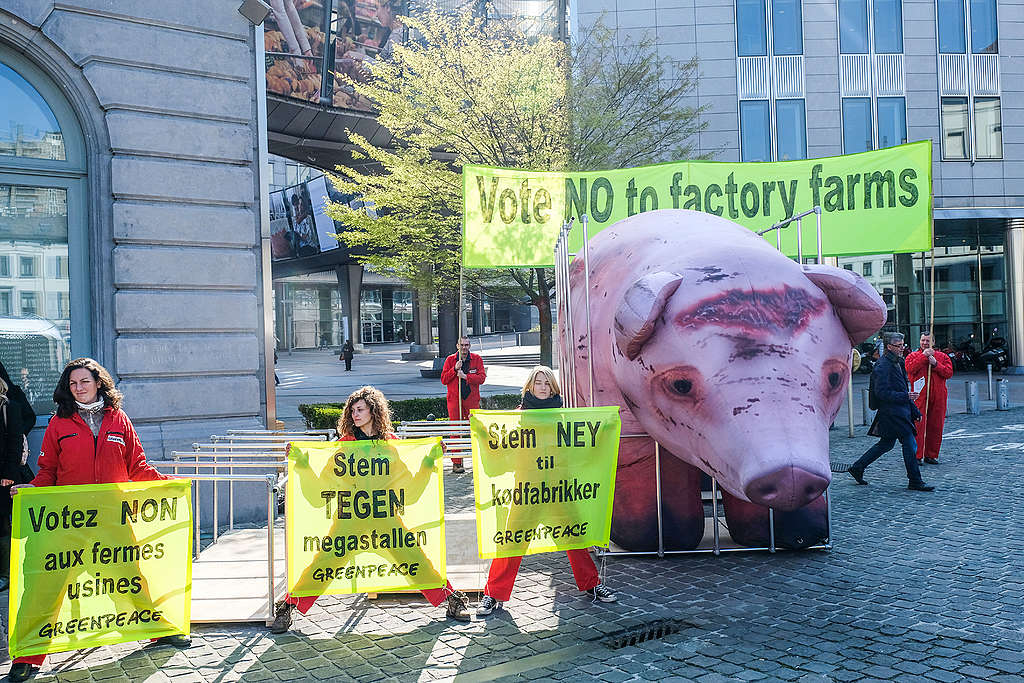 High-quality photo and video available here
Brussels – A giant squealing pig in a cage greeted members of the European Parliament today in Brussels, ahead of a crucial vote on the future of farming in Europe.
Activists called on members of the Parliament's agriculture committee to choose family farms over factory farms, with climbers hanging a banner reading: "Vote NO to factory farms".
On 2 April, the agriculture committee will vote on a plan to reform the EU's common agricultural policy, including the rules governing public subsidies for factory farms. Greenpeace is calling on members of the committee to cut public funding for factory farms, and to support farmers transitioning to ecological and climate-friendly agriculture.
Read our media briefing on Tuesday's agriculture committee vote for all the details
Greenpeace EU agriculture policy director Marco Contiero said: "The EU has a clear choice – family farms or factory farms. Factory farming pollutes the environment, warms the climate, destroys rural communities and puts small farms out of business. Public money should help farmers transition to ecological agriculture, and stop funding factory farms ruining the countryside."
Small farms disappearing, big farms growing
Between 2005 and 2013 the EU lost 3.7 million farms – a drop of 26%. When looking just at the livestock sector, the drop was even more pronounced, with a loss of 32%, from 9 to 6.1 million farms.
Over the same period, livestock production increased, and between 2005 and 2013 the amount of livestock units reared on very large farms reached record levels. Three quarters of all livestock units in Europe are reared on the largest category of farm. At the same time, the numbers of livestock units reared on farms of all other sizes has decreased substantially. The number of units reared on very small farms has halved.
Read our media briefing on Tuesday's agriculture committee vote for all the details
Contacts:
Marco Contiero – Greenpeace EU agriculture policy director: +32 47 777 7034, [email protected]
Greenpeace EU press desk:  +32 (0)2 274 19 11, [email protected]
For breaking news and comment on EU affairs: www.twitter.com/GreenpeaceEU
Greenpeace is an independent global campaigning organisation that acts to change attitudes and behaviour, to protect and conserve the environment and to promote peace. Greenpeace does not accept donations from governments, the EU, businesses or political parties.