Brussels – Virginijus Sinkevičius's near silence on an EU plan to tackle deforestation is disgraceful, said Greenpeace.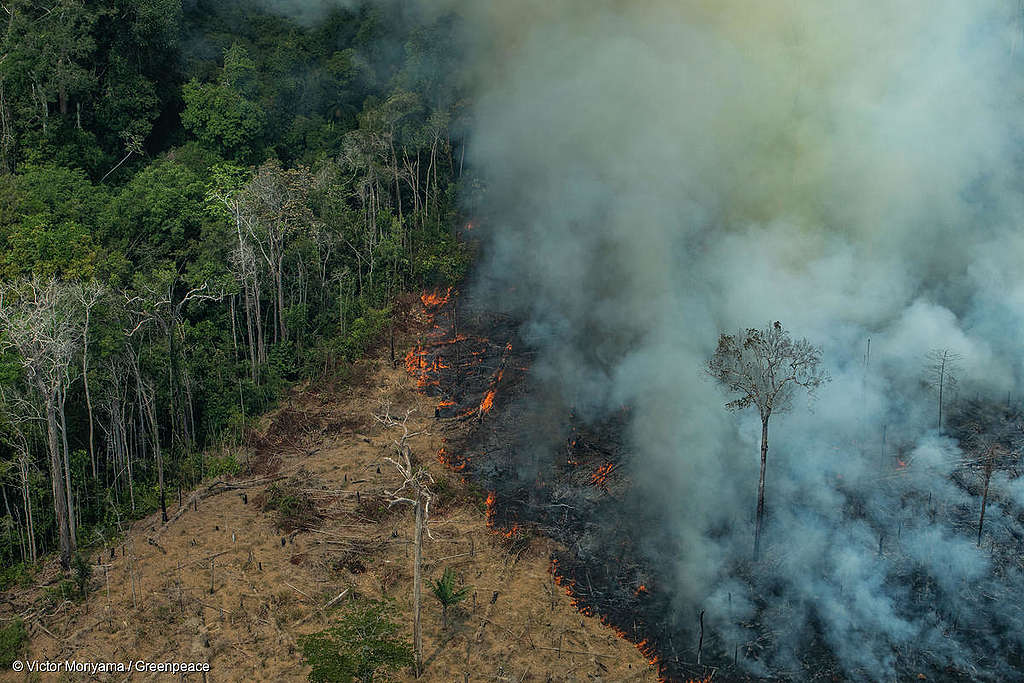 The nominee to be the next European commissioner on environment and oceans, answered questions from members of the European Parliament's environment and fisheries committees, but said little about a pending action plan to tackle the EU's contribution to global deforestation.
Greenpeace EU legal strategist Andrea Carta said: "That Mr Sinkevičius said next to nothing about tackling the EU's contribution to global deforestation is an absolute disgrace. Around the world, from the Amazon to Borneo, our best line of defence against climate breakdown is in flames – flames fanned by Europe's insatiable hunger for land. The EU must urgently clean up its markets: the incoming Commissioner must propose new laws to ensure that no soy, meat, palm oil or other products sold in the EU drive forest destruction or human rights violations any longer." 
In July, the outgoing European Commission published a statement which acknowledged the EU's role in global deforestation due to consumption and investment, but fell short of proposing concrete policies to address the problem, leaving that to the next Commission. 
According to the European Commission, 1.3 million square kilometres of forest was lost between 1990 and 2016, the equivalent of a football field every 4.5 seconds. Forest destruction is a major environmental problem, accelerating biodiversity loss and climate change, and often associated with human rights violations against indigenous peoples and local communities. Agricultural expansion is responsible for 80% of global deforestation.
Greenpeace is calling on the EU to introduce new laws that would ban products from the European market if they are linked to forest destruction, and prevent European companies or financial institutions from investing in projects that drive deforestation or leading to violations of the rights of Indigenous Peoples. 
In addition, action is needed to change EU farming policies to reduce Europe's production and consumption of meat and dairy, and to ensure that the meat and dairy produced and consumed is ecological and not linked to deforestation or human rights abuses.
On 23 October, the European Parliament's plenary session is expected to vote on whether to accept or reject the incoming European Commission team.
Contacts:
Andrea Carta, Greenpeace EU legal strategist: +32 (0)499 27 78 54, [email protected]
Greenpeace EU press desk: +32 (0)2 274 19 11, [email protected]
For breaking news and comment on EU affairs: www.twitter.com/GreenpeaceEU 
Greenpeace is an independent global campaigning organisation that acts to change attitudes and behaviour, to protect and conserve the environment and to promote peace. We do not accept donations from governments, the EU, businesses or political parties. We have over three million supporters, and offices in more than 55 countries.