Brussels – The European Parliament has backed new protections for bees, thwarting a move by the EU Commission and national governments to maintain outdated guidelines for how to evaluate the dangers of pesticides.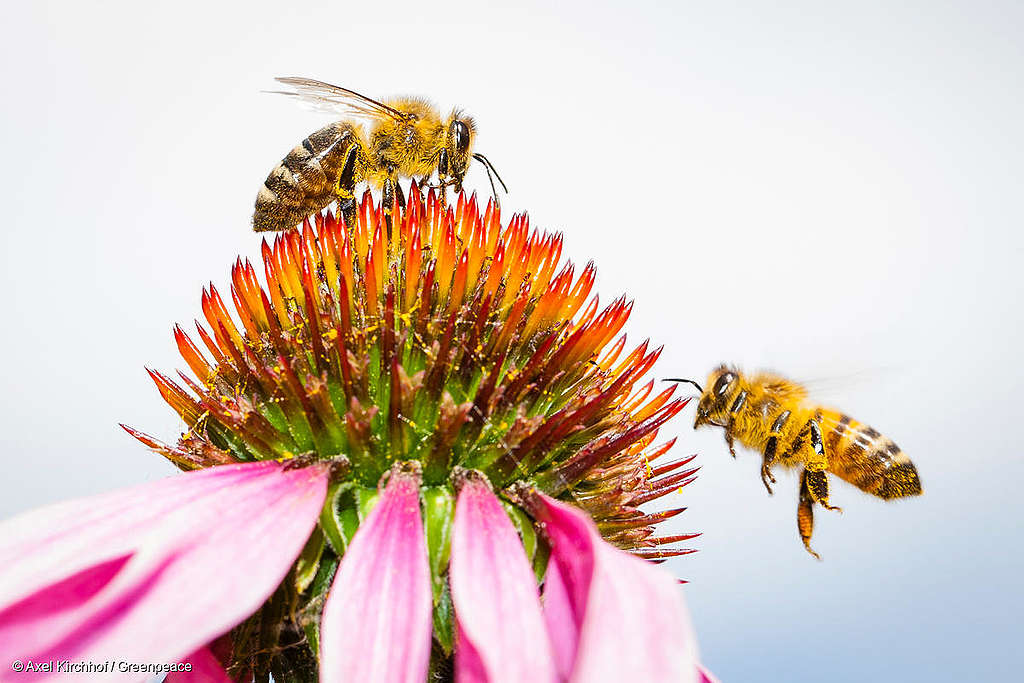 The vote at the Parliament's plenary session in Strasbourg aims to ensure that more rigorous safeguards for bees and other pollinators, proposed by the European Food Safety Authority (EFSA) in 2013, be applied.  
Franziska Achterberg, Greenpeace EU food policy director, said: "The new Parliament has shown that it's serious about protecting Europe's threatened pollinators. The Parliament has passed its first green test, it's now for von der Leyen and her team to show that the Commission can do the same and protect bees from dangerous pesticides."
In 2018, the EU banned three neonicotinoid pesticides based on a thorough evaluation of their risks to bees, using an evaluation mechanism that EFSA put forward in 2013. With this vote, the Parliament rejected the proposal, introduced by the Commission, which would turn only a very small part of that mechanism into legislation, without improving the overall protection of bees.  
Incoming EU commissioner for health Stella Kyriakides said there would be "no lowering of the bar on the protection of bees and other pollinators" in her hearing before the Parliament's environment committee on 1 October. Parliament has made it clear that this is not good enough.
On Tuesday 22 October, the Commission and national governments decided to ban a fourth neonicotinoid, thiacloprid, on the basis of serious concerns for people's health. EFSA had not completed a full evaluation of its potential risks to bees.
Read: Greenpeace background document on new protections for bees
Contact: 
Franziska Achterberg, Greenpeace EU food policy director: +32 (0)498 36 24 03, [email protected] 
Greenpeace EU press desk: +32 (0)2 274 1911, [email protected]  
For breaking news and comment on EU affairs: www.twitter.com/GreenpeaceEU