Reductions in meat and dairy will make or break European Commission's 'Farm to Fork' and 'Biodiversity 2030' plans 
On Wednesday 20 May the European Commission will publish its new strategies on food policy and biodiversity – 'Farm to Fork' and 'Biodiversity 2030'. Despite calls from the agriculture industry lobby and allied MEPs to delay their launch, the Commission has promised to publish the strategies as part of the European Green Deal. These strategies are intended to take a broader look at EU food policies, going beyond the narrower focus of the common agricultural policy (CAP), and set out the EU's aims for global and European biodiversity protection.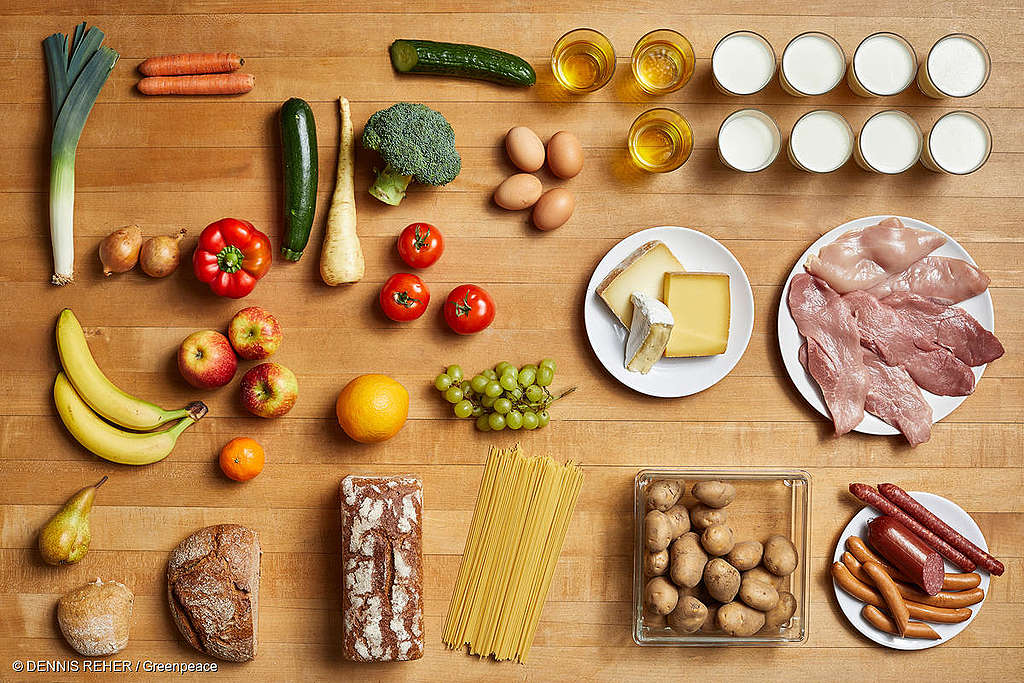 Tense internal discussions in the European Commission have centred on whether or not to address Europe's over consumption and over production of meat and dairy in the Farm to Fork plan. On 13 January a leaked draft of the plan showed no mention of meat or dairy. A leaked internal Commission presentation argued against efforts to reduce livestock numbers. On 28 February a new leak of the strategy recognised the need to "reduce the environmental impact of animal production" but only mentioned "innovative feed additives" as a solution. On 13 March an updated leak of the strategy showed stronger language on the impacts of animal farming on nature and the climate, and recognised that 71% of EU farmland is used to feed livestock, but proposed no new action to address this. 
Including or excluding an aim to reduce meat and dairy will make or break the Commission's food policy, said Greenpeace.
Sini Eräjää, Greenpeace EU agriculture and forest campaigner, said: "Public money drives overproduction and overconsumption of meat and dairy, at a time when scientists tell us we need to cut both to prevent future pandemics, to protect nature, and to deal with the climate emergency. The Farm to Fork plan is supposed to build a food system for the future – unless it aims to reduce meat and dairy, it's destined for failure. Lofty goals to protect nature are all well and good, but without tackling the root causes of the destruction they're not worth much."
On the same day, the Commission's Directorate General for Agriculture will also publish an evaluation of the CAP reform proposed by the previous Commission, investigating whether it is aligned with the current Commission's European Green Deal. Despite broad criticism of the CAP proposal, especially on its environmental credentials, the current Commission has so far been reluctant to touch it. Greenpeace has called on the Commission to scrap the CAP and start over.
What to look out for in the announcements:
Seeing beyond the ongoing health crisis to prevent the next one
Ecosystem destruction, expansion of agriculture, intensive factory farming and exploitation of wild species have created what leading scientists describe as a 'perfect storm' for diseases similar to COVID-19 to spill over from wildlife to people. Animal farming and feed production in particular are among the main drivers of global forest and ecosystem loss. Scientists estimate that 31% of outbreaks of emerging diseases are linked to land use change and human encroachment on tropical rainforests.
Responding to the multiple crises we face requires addressing the underlying issues that make our societies vulnerable and unsustainable – not just treating the symptoms. To really do this, both strategies need to put forward measures to lower the EU's consumption of products that drive global destruction of ecosystems including meat, dairy products, soy fed to animals and palm oil. At the same time, the biodiversity strategy needs to set ambitious targets for the EU to champion globally for the protection and restoration of ecosystems as well as put forward a set of regulatory and financial measures to achieve these targets.
Less and better meat and dairy
This COVID-19 has made the overproduction of many meat and dairy products in Europe increasingly clear, while showing how the production is also heavily export oriented. As earlier outcries and demonstrations by farmers over unfair pricing and income have shown, these sectors were in crisis well before COVID-19 hit. The ongoing crisis has also put a spotlight on the appalling working conditions in some European slaughterhouses where the pandemic is accentuating well-known problems in the 'cheap meat' industry.
The Commission has so far been in outright denial about the problems the sector is causing. The Farm to Fork strategy is an essential opportunity for the Commission to finally recognise the need to reduce the amounts of livestock in Europe and move to ecological, less intensive livestock farming. To start with, the EU's farming policy should stop public subsidies for factory farms.
Diets: more than just individual choice
The Commission has so far been shy to admit any political responsibility for European diets and has preferred to point to responsibilities of individuals. The Farm to Fork strategy is likely to broadly acknowledge the need to transition towards "healthier and more sustainable" diets but it remains to be seen whether it will take up concrete policies to do so, such as public procurement and marketing rules, or even taxes.
Toxic targets
Greenpeace together with many farmer and environmental groups has called for binding targets to reduce the quantity of synthetic pesticides used by 50% by 2025 and by 80% by 2030, in order to achieve a full phase-out by 2035.
The pesticide industry has been trying to focus the debate on a reduction of risk of pesticides as calculated by an opaque EU metric called the 'Harmonised Risk Indicator'. This indicator has gone down by 20% over five years without any reduction in the quantities of pesticides used, reflecting decisions by the EU and pesticide manufacturers to withdraw some high-risk products from the EU market. The Commission is likely to present one target for both quantities and risk. This could be a meagre 30% or 50% cut in "use and risk" of pesticides,, which would not bring about real change but maintain Europe's "dependency on pesticides" for years to come.
What happens next?
After their publication, both the European Parliament and Council are expected to respond to the strategies and indicate their level of commitment and priorities.
The European Parliament is already set to respond to both strategies swiftly. The Parliament's environment committee has appointed rapporteurs for resolutions on both strategies, with Anja Hazekamp (GUE) leading on the Farm to Fork strategy and César Luena (S&D) on the Biodiversity plan. However, a fight is already brewing over which committee should have what responsibilities for the Farm to Fork plan, as the agriculture committee wants to get shared competence over the file with the environment committee.
The councils of agriculture and environmental ministers have not yet indicated their next steps.
Contact:
Sini Eräjää, Greenpeace EU agriculture and forest campaigner: +32 (0)476 97 59 60, [email protected]
Marco Contiero, Greenpeace EU agriculture policy director: +32 (0)477 77 70 34, [email protected]
Greenpeace EU press desk: +32 (0)2 274 1911, [email protected]
For breaking news and comment on EU affairs: www.twitter.com/GreenpeaceEU
Greenpeace is an independent global campaigning organisation that acts to change attitudes and behaviour, to protect and conserve the environment and to promote peace. We do not accept donations from governments, the EU, businesses or political parties. We have over three million supporters, and offices in more than 55 countries.
EU Transparency Register: 9832909575-41