Brussels – The European Parliament has voted to accept proposals to ban the use of words like 'yoghurt substitute' or 'imitation cheese' for alternative products that contain no dairy. But MEPs voted to reject proposed bans on terms like 'veggie burger' or 'veggie sausage' for plant-based alternatives to meat. The decisions come amid mounting pressure from NGOs and youth climate activists for MEPs to vote down the EU's common agricultural policy later on Friday, after the Parliament rejected any meaningful reform on Tuesday.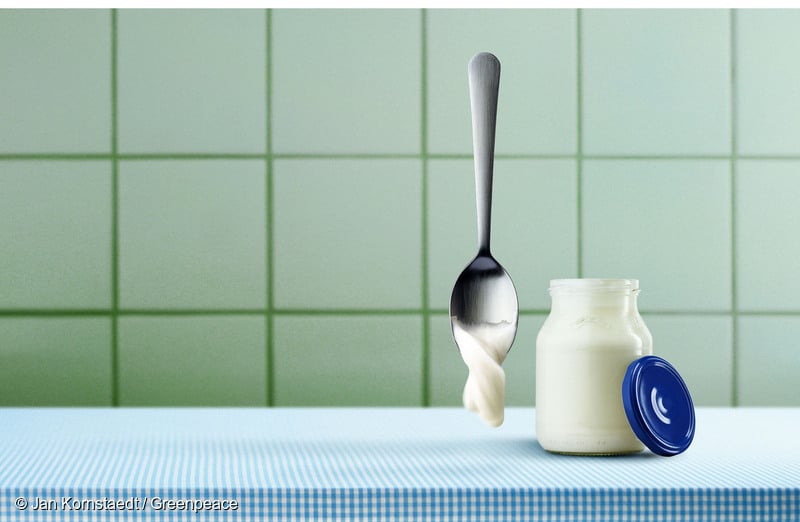 Greenpeace EU agriculture policy director Marco Contiero said: "It's disgraceful that the industrial farming lobby isn't content with cornering billions in subsidies for destructive factory farming. They're now muddying the debate on farming reform with a pointless vote on food names – it's pathetic that the Parliament wouldn't even stand up to the industrial agriculture lobbyists on this. The votes won't change the fact that more and more people are eating more vegetables and switching to meat and dairy alternatives, for the sake of their health and the environment, and will continue to call dairy-free products 'yoghurt' and 'cheese' anyway."
The votes on food names come after the European Parliament voted against any meaningful reform of the EU's common agricultural policy, in a move that Greenpeace described as "a death sentence for small farms and nature". The Parliament will vote this afternoon to approve or reject the entire common agricultural policy proposal.
Contacts:
Marco Contiero – Greenpeace EU agriculture policy director: +32 (0)477 777 034, [email protected]
Greenpeace EU press desk: +32 (0)2 274 19 11, [email protected] 
For breaking news and comment on EU affairs: www.twitter.com/GreenpeaceEU
Greenpeace is an independent global campaigning organisation that acts to change attitudes and behaviour, to protect and conserve the environment and to promote peace. We do not accept donations from governments, the EU, businesses or political parties. We have over three million supporters, and offices in more than 55 countries.
EU Transparency Register: 9832909575-41