Brussels – Today the European Parliament voted to rubber-stamp plans for the EU's common agricultural policy, following a deal earlier this week between the Parliament's three largest groups, with no improvements to environmental or climate protections. MEPs ignored mounting pressure from NGOs and youth climate activists for them to vote down the policy, which Greenpeace described as "a death sentence for small farms and nature", and ask the European Commission to start over.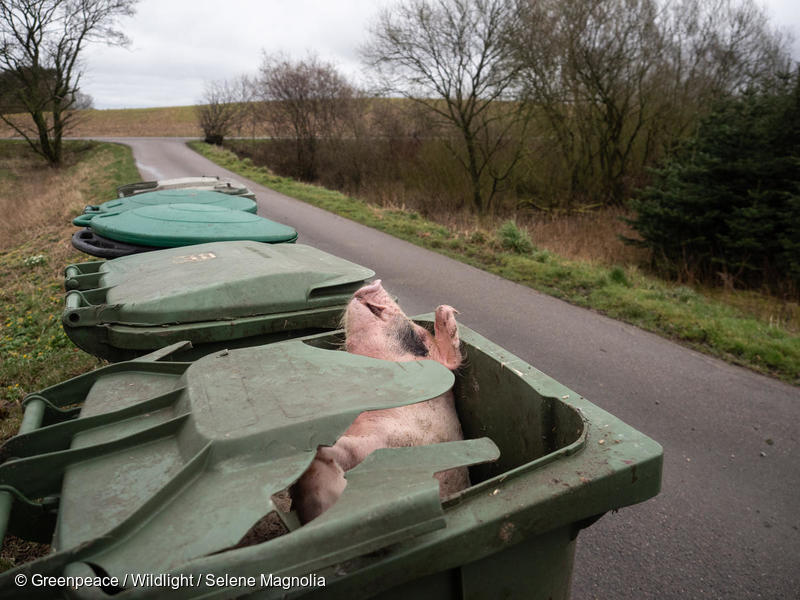 Greenpeace EU agriculture policy director Marco Contiero said: "The EU farm plan, as it stands, represents only the interests of the biggest industrial producers and the richest land-owners. Ordinary farmers and nature have been cast aside by a handful of powerful MEPs with conflicts of interest, and the EU's climate goals jeopardised. Billions of euro of public money will drive farming further into climate catastrophe, unless the European Commission scraps this plan and starts fresh."
The farming policy approved by the European Parliament is not in line with the goals of the European Green Deal, nor the EU's 'farm to fork' food plan and biodiversity strategy published earlier this year, said Greenpeace. The EU agriculture commissioner said that some of the amendments agreed "do not share our ambition for a greener and fairer CAP".
The proposed common agricultural policy makes no effort to limit spending on industrial animal farming and would prohibit national governments from introducing higher environmental standards that farmers in their country would have to meet to get public subsidies. The plan would scale down current requirements to leave space for nature on land farmed or to protect carbon rich peatlands and grasslands. The proposal would also set maximum national spending limits on some environmental programmes.
'Scrap the CAP'
Greenpeace is calling on the European Commission to withdraw its proposal for the common agricultural policy, restarting the legislative process. Under EU rules, the European Commission can alter proposals during the legislative process, up until national governments reach a formal agreement at the end of the 'first reading' of a draft law.
Contacts:
Marco Contiero – Greenpeace EU agriculture policy director: +32 (0)477 777 034, [email protected]
Greenpeace EU press desk: +32 (0)2 274 19 11, [email protected] 
For breaking news and comment on EU affairs: www.twitter.com/GreenpeaceEU
Greenpeace is an independent global campaigning organisation that acts to change attitudes and behaviour, to protect and conserve the environment and to promote peace. We do not accept donations from governments, the EU, businesses or political parties. We have over three million supporters, and offices in more than 55 countries.
EU Transparency Register: 9832909575-41