Brussels – European retailers are selling beef and leather linked to the record destruction of one of the world's largest wetlands, in Brazil's Pantanal region, a new investigation has revealed. Greenpeace's six-month investigation, detailed in Making Mincemeat of the Pantanal, identified 15 cattle ranchers linked to the 2020 fires in the Pantanal that are recent suppliers to meat processors JBS, Marfrig or Minerva – all of which export to the EU and UK.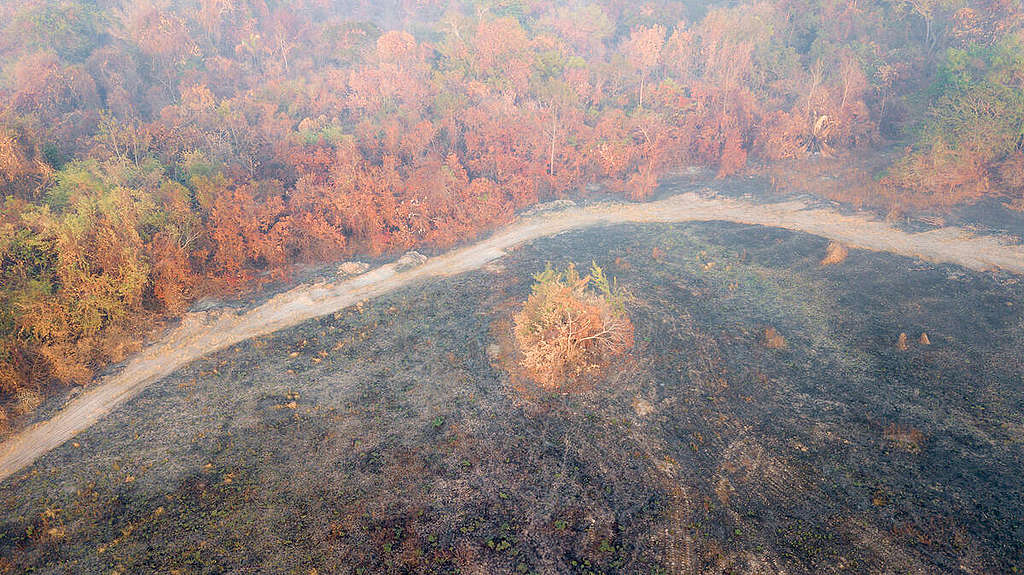 Greenpeace is calling on the EU to end the sale of products linked to ecosystem destruction, like the Pantanal fires. Greenpeace is also calling on European governments to reject the EU-Mercosur trade deal that would increase trade in these kinds of products.
Greenpeace EU agriculture and forest campaigner Sini Eräjää said: "The world's largest wetland – a critical habitat for jaguars – is going up in smoke, and people in Europe can't know if the burger they're eating or the shoes they're wearing make them complicit. The EU must make sure that companies selling products in Europe show that they don't come at the cost of the destruction of nature or human rights abuse."
In August 2019, ranchers set the Amazon alight in a massive coordinated 'Day of Fire' in support of Brazilian President Bolsonaro's plan to open up the rainforest to development. In 2020, the fires that destroyed one-third of the Pantanal were widely reported to be linked to the cattle sector, despite the practice of starting fires to clear land having been officially banned from July onwards.
The Pantanal is the world's largest inland tropical wetland, a vast landlocked river delta covering some 20 million hectares of central South America, mainly in Brazil, but extending into Paraguay and Bolivia and covering unique seasonal flooded savannahs, lakes and forests (helping to make the Pantanal one of the most biodiverse areas in the Americas).
Brazil's beef exports hit a record high in 2020, with volumes reported to have reached 2 million tonnes, with revenue of $8.4 billion (€7 billion). Shipping data shows that exports from JBS's Pantanal-linked facilities alone accounted for almost $2 billion (€1.6 billion) between January 2019 and October 2020. While the EU and the UK accounted for less than 10% of the volume of exports from those JBS facilities, they accounted for 13% of its value.
The 15 ranchers Greenpeace investigated operate on properties where at least 73,000 hectares of the wetlands burned in 2020 – an area larger than Madrid.
The European Commission is currently preparing a new law to tackle the impact EU consumption has on forests, but its plans do not yet cover other important ecosystems like wetlands, grasslands and peatlands. Greenpeace is calling on the EU to make sure that supply chains of products sold in Europe are free not only from forest destruction, but also free from human rights abuses and the destruction of other ecosystems like the Pantanal wetlands. In October 2020, the European Parliament asked the Commission to include other ecosystems in its draft law, and over 1.1 million people responding to the Commission's public consultation demanded the same.
Between January 2019 and October 2020, beef from JBS's Campo Grande facilities, which are supplied by some of the ranchers identified in the investigation, was exported at least to France, Germany, Greece, Italy, the Netherlands, Portugal, Spain and Sweden, and the United Kingdom. Leather from the Campo Grande tannery was exported at least to Italy and Portugal.
Contacts:
Sini Eräjää, Greenpeace EU agriculture and forest campaigner: +32 476 975 960, [email protected]
Greenpeace EU press desk: +32 (0)2 274 19 11, [email protected]
For breaking news and comment on EU affairs: www.twitter.com/GreenpeaceEU
Greenpeace is an independent global campaigning organisation that acts to change attitudes and behaviour, to protect and conserve the environment and to promote peace. We do not accept donations from governments, the EU, businesses or political parties. We have over three million supporters, and offices in more than 55 countries.
EU Transparency Register: 9832909575-41