Brussels – The promised green reform of the EU's common agricultural policy has amounted to nothing but greenwashing, and is a disaster for the climate, nature and small farms, said Greenpeace as the EU institutions reached a deal today. 
Representatives of the European Parliament, European commission and national governments reached an agreement on the main rules that govern the allocation of subsidies in the EU's farm policy, CAP, after long negotiations. To expose the greenwashing of the reform, Greenpeace activists coloured the European Parliament green just before talks on the farm policy broke down in May.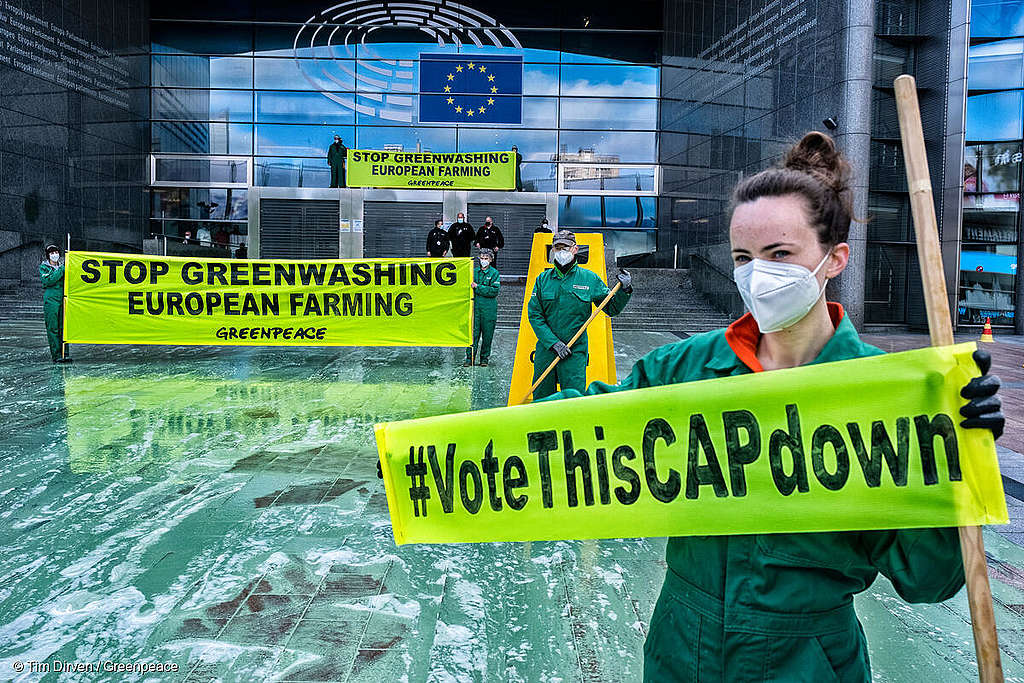 High-quality photo and video of the protest at the European Parliament available free to use here
Greenpeace EU agriculture policy director Marco Contiero said: "When it comes to farming, the EU doesn't listen to science, to small farmers or even to its own auditors, and has delivered a policy that only benefits land barons and the biggest agricultural players. This CAP deal largely keeps things as they are. It continues the disastrous bankrolling of industrial meat and dairy that wrecks our environment and puts small farms out of business at the rate of a thousand per day. EU leaders will try to sell the reform as an environmental success but we're not fooled by the greenwashing, and the Parliament mustn't be either – MEPs must vote this CAP down."
This week the European Court of Auditors, the EU's financial watchdog, published a report revealing that there was no drop in greenhouse gas emissions from farming under the current CAP, despite the earmarking of €100 billion of its budget to fight climate change. The Court of Auditors had previously criticised the CAP reform proposal for maintaining the payment of most subsidies based on the area of land farmed as being unfit for a more environmentally friendly and performance-based policy.
Recent evaluations by the European Commission have shown that, when implementing CAP rules, many national governments have very poor track records in delivering environmental benefits. The increased flexibility given to national governments by this new CAP plan will make it exceptionally difficult for the Commission to ensure that national plans are implemented, Greenpeace warns.
Greenpeace is calling on members of the European Parliament to vote against the common agricultural policy deal when it is presented to them in their plenary session.
High-quality photo and video of the protest at the European Parliament available free to use here
Contacts:
Marco Contiero, Greenpeace EU agriculture policy director: +32 (0)477 77 70 34, [email protected]
Greenpeace EU press desk: +32 (0)2 274 19 11, [email protected]
For breaking news and comment on EU affairs: www.twitter.com/GreenpeaceEU
Greenpeace is an independent global campaigning organisation that acts to change attitudes and behaviour, to protect and conserve the environment and to promote peace. We do not accept donations from governments, the EU, businesses or political parties. We have over three million supporters, and offices in more than 55 countries.
EU Transparency Register: 9832909575-41