Brussels – An 8% reduction in the use of cereals for animal feed in the EU would save enough wheat to make up for the expected deficit in Ukraine as a result of Russia's invasion, according to new calculations by Greenpeace. Ukraine's wheat production, upon which many lower-income countries outside the EU rely for food, is expected to be severely reduced due to the war. The main impacts of the war on EU farmers are a limited reduction in animal feed imports and a disruption in the supply chains of synthetic fertilisers, the majority of which is used to grow animal feed for industrial meat production.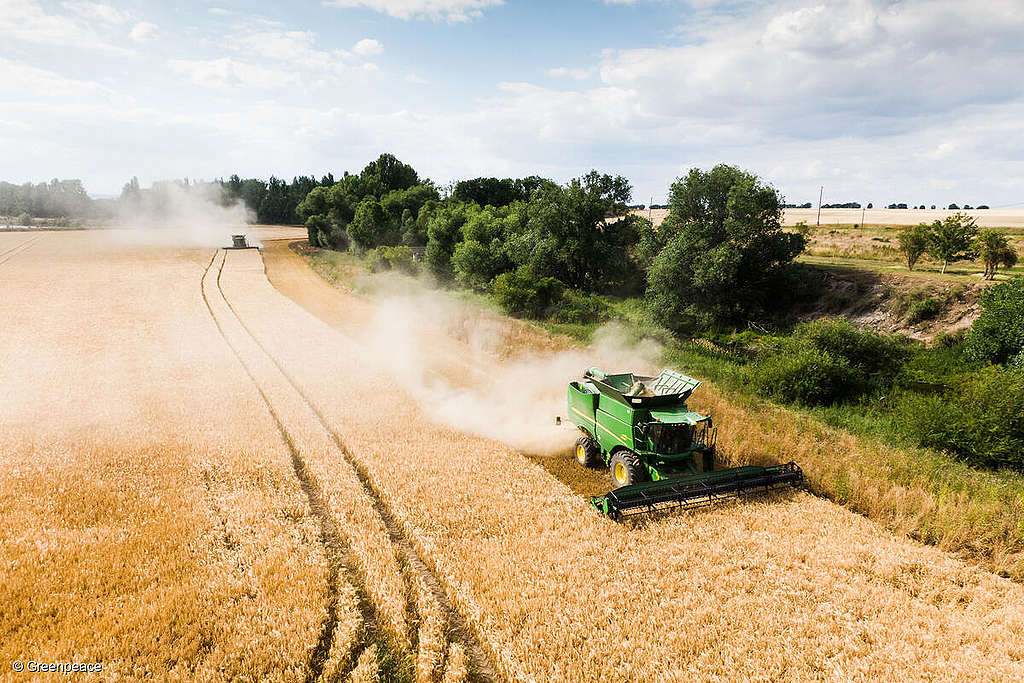 Greenpeace is calling on the EU to reduce factory farming of animals to free up enough cereals to make up for the wheat shortfall, and cut the EU's reliance on increasingly expensive and polluting synthetic fertilisers.
Today, the European Commission is expected to announce €500 million in financial aid to farmers facing disruption due to the war, and specific assistance for the pork sector to keep prices high. The Commission, backed by several governments, has also said it wants to loosen environmental protections in the EU's common agricultural policy and seems inclined to delay the implementation of key elements of the Green Deal and the Farm to Fork Strategy – which farm industry lobbyists and allied policy-makers have been pushing for.
Greenpeace EU agriculture policy director Marco Contiero said: "The industrial agriculture lobby asking taxpayers to pay the bill for more feed and fertiliser and looser environmental protection is like someone digging themself into a hole and demanding that we buy them a bigger shovel. Factory farming's hunger for animal feed, and the synthetic fertilisers used to grow it, make it very vulnerable to disruption, and the solution is helping farmers reduce the number of animals instead of bankrolling this unsustainable production. Less meat and dairy, and more ecological production, would make European farming more resilient to shocks, whether unforeseen like this conflict, or predictable like the climate and nature crisis. Instead the EU risks doubling down on a broken model."
Meat of the matter
Ukraine produces on average 26 million tonnes of wheat per year, most of which is exported. The FAO estimates that, due to the war, cereal production in Ukraine is likely to be reduced by between 20% and 30%. A more extreme scenario of a 50% reduction in Ukrainian wheat production would mean a global deficit of 13 million tonnes of wheat available to feed the world's poorest.
In the EU, a total of 162.5 million tonnes of cereals of all sorts are fed to farm animals, mainly to pigs and poultry, out of a total 303 million tonnes used (food, feed and industrial uses combined). Wheat makes up 38.2 million tonnes of the cereals used in the EU for animal feed. As different cereals are, to a certain extent, interchangeable in animal feed, a reduction of just 8%, from 162.5 to 149.5 million tonnes of cereals, would be necessary to make 13 million tonnes of wheat available.
Greenpeace is calling on the EU and national governments to immediately reduce meat production commensurate with an 8% reduction in cereal use to make up this wheat shortfall. This as part of a set of measures Greenpeace is calling for to ensure the most vulnerable do not bear the brunt of grain shortages, and that Europe's food and farming system becomes more resilient and less of a burden on the food markets of other countries by competing for land and resources to import.
Contacts:
Marco Contiero, Greenpeace EU agriculture policy director: +32 (0)477 77 70 34, [email protected]
Greenpeace EU press desk: +32 (0)2 274 1911, [email protected]
For breaking news and comment on EU affairs: www.twitter.com/GreenpeaceEU
Greenpeace is an independent global campaigning network that acts to change attitudes and behaviour, to protect and conserve the environment and to promote peace. We do not accept donations from governments, the EU, businesses or political parties. Greenpeace has over three million supporters, and 26 independent national and regional organisations with offices in more than 55 countries.
EU Transparency Register: 9832909575-41