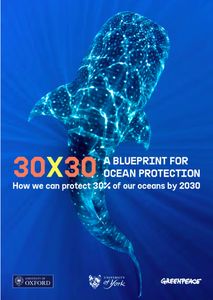 As governments meet at the UN to negotiate towards an historic Global Ocean Treaty, a groundbreaking study by leading marine biologists has mapped out how to protect over a third of the world's oceans by 2030, a target that scientists say is crucial in order to safeguard wildlife and to help mitigate the impacts of climate change.
The report, 30×30: A Blueprint For Ocean Protection (see executive summary and full report), is the result of a year-long collaboration between leading academics at the University of York, University of Oxford and Greenpeace. [1] In one of the largest ever studies of its kind, researchers broke down the global oceans – which cover almost half the planet – into 25,000 squares of 100×100 km, and then mapped the distribution of 458 different conservation features, including wildlife, habitats and key oceanographic features, generating hundreds of scenarios for what a planet-wide network of ocean sanctuaries, free from harmful human activity, could look like.
Executive Summary: www.greenpeace.org/30x30brief
Full report: Download by clicking on the cover, using the link here or web link www.greenpeace.org/30x30blueprint
Interactive Map:
Global Ocean Treaty briefings:
For more information, see: Protect the Global Oceans: Why We Need a Global Ocean Treaty
For a detailed policy briefing see here.