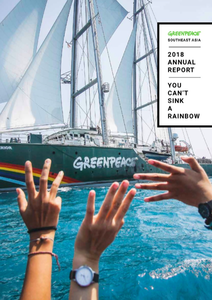 The past year saw many a heartbreaking event. Typhoon Mangkhut hit us hard. The rise of global temperatures is unambiguous and irrefutable. Studies by five separate organisations have revealed, that since 2014, we have survived the five warmest years ever recorded – with 2018 the fourth hottest on record.
We at GPSEA recognise that the natural world does not exist separately from us humans. Hand-in-hand with the devastation of nature; bad governance, corporate greed, terror attacks and human rights abuses continued to escalate, while wildlife populations plummeted by 60%. It's enough to make anyone succumb to ignorant paralysis. But we haven't, and neither have you.
The collective resilience of Greenpeace communities around the world is astounding. Tragedy hasn't buried us, it has only made us stronger and more creative.
In 2018, you used the incredible power of your voice and imagination to make a difference. Your efforts to push the world's largest tuna fishing company to commit to sustainable seafood were a success. You used artistic activism to raise awareness of the region's vulnerable ecosystem through vibrant murals and performative dance. You campaigned to #breakfree from fossil fuels and single-use plastic, and to #DietForClimate.
You demonstrated that people-powered impact is real. Following Greenpeace campaigns, the world's largest palm oil trader, Wilmar International, agreed to finally clean up its supply chain, and governments in Southeast Asia committed to plastic reduction, renewable energy and clean air.
Our victories in 2018 reassert our vision: the uproar of colourful, creative activism cannot be drowned out. Indeed, you cannot sink a rainbow.
It seems the perfect time to take a retrospective moment of silence for Greenpeace's original flagship, the Rainbow Warrior, which met her untimely fate in 1985 after a bombing by the French secret service. The tragedy did not stop Greenpeace – the Rainbow Warrior was reborn in 1989, and then again in 2011.
In 2018, our beloved Rainbow Warrior completed her first official Southeast Asian tour. During her five-month journey, the ship docked in solidarity with the people of Indonesia, Malaysia, Thailand, Singapore and the Philippines who are confronting governments and corporations to fight for a healthy environment.
Some forty years after the Rainbow Warrior's first voyage in 1978, we remain buoyant with hope. Our aspirations are bold, and perhaps daunting, but they are not impossible, and we are not discouraged. Your support and your everyday actions have driven the momentum for change. Yes, there is still much work to be done. That being so, we look forward to fighting the good fight alongside you, our dear warriors, in the coming years.
May the spirit of the Rainbow live on in all of us.
Yeb Sano
Executive Director
Greenpeace Southeast Asia
Download the full Annual Report 2018.