The plastic crisis's connection to the climate emergency and environmental justice impacts are undeniable. The cost of the continued dependence by corporations on single-use plastics and planned expansion of plastic production are too high to be ignored.
To ensure the safety of Filipinos and our environment from such impacts, the undersigned environmental, public health and civil society organizations are calling on consumer goods companies such as Nestle, Coca-Cola and Unilever and the plastic industry to urgently phase out single-use plastics packaging and adopt reuse systems.
Plastic is Fueling the Climate Crisis
Almost all plastics are made from fossil fuels.[1] Data from the Greenpeace report, the Climate Emergency Unpacked, and Break Free from Plastic's 2021 brand audit report, Branded IV, shows that plastic poses a significant threat to the planet and contributes significantly to the climate crisis. Petrochemical corporations have known this connection since the 1980s, but have largely played it down. Every stage of plastic's life cycle produces greenhouse gas (GHG) emissions from fossil fuel exploration and extraction from the ground to its end of life. Plastic production and use was responsible for over 850 million metric tons of GHG emissions in 2019[2].
2021-2030 is a decisive decade for the climate. The world has less than 10 years to deliver on drastic decarbonization and climate goals, yet the petrochemical and consumer goods industries remain on a trajectory to increase carbon-intensive plastic production and use. As fossil fuel demand declines, major fossil fuel corporations are investing billions in the expansion of plastic production[3]. The continuing significant investments in plastics signal the lack of commitment of the consumer goods, petrochemical, and fossil fuel industries to take significant action to address the climate emergency.
Plastic Harms Wildlife and Disrupts Ecosystems
Plastic pollution threatens wildlife, and disrupts ecosystems. According to the United Nations, plastic pollution has affected an estimated 800 marine and coastal species through ingestion, entanglement, and habitat change[4]. A Department of Environment and Natural Resources study confirming the presence of microplastics in Philippine waters escalates the urgent need for action. Researchers studying the impacts of plastics on terrestrial ecosystems have equally concerning findings[5]. Plastic surfaces or particles can carry disease-causing organisms, cause inflammation, and traverse highly-selective membranes in animals. Plastics also threaten soil fauna functions and can leach toxic additives into the soil and groundwater, some of which can disrupt the hormone systems of vertebrates and invertebrates.
Combined with the stress of climate change and other pollution on our ecosystems, plastics create grievous environmental conditions in ecosystems that support our food, water, and livelihoods. Thus, plastic's impact on nature has disturbing consequences for people.
The Public Health Threats of Plastic
From production to disposal, the plastic industry exposes people to various health risks. People are exposed to hazardous chemicals during extraction, toxic emissions during production, and pollutant contamination.
Plastic pollution adversely affects vulnerable and marginalized communities. In the Global North, petrochemical refineries which produce components of plastics, and incinerators which burn them, are usually near communities of color and low-income areas. These communities suffer immediate health impacts such as asthma, cancer, and mental health disorders.[6] Meanwhile, in the Global South, poor communities residing in the vicinity of landfills are faced with increasing plastic pollution because of illegal imports from high-income countries; these people are vulnerable to various health risks such as air pollution that is harmful to the respiratory system and a wide host of infectious diseases[7]. Furthermore, microplastics from degraded plastic and primary sources pose equally serious risks to human health, and can cause tissue inflammation, damage, and toxicity[8] when accumulated.
Lastly, awareness of plastic pollution may also significantly contribute to mental distress and negatively affect the overall well-being of people. The global rise in youth-led activism related to both plastic pollution and the climate crisis may be a signal of their growing anxiety and anger towards these ecological problems.
False Solutions Cannot Resolve the Plastic Crisis
"Plastic neutrality" – For decades, the plastic industry has worked alongside fossil fuel corporations to present false solutions that allow both to continue with business-as-usual and produce more and more plastic while largely evading their responsibility to prevent this problem. The industry's most recent strategy is called "plastic neutrality", a term adopted by companies such as Nestle and Nutri Asia. "Plastic neutrality" does not mean companies produce zero or less plastics, but that they will collect the same amount of plastic they produced themselves or via offsets, a strategy that does nothing to address plastic pollution. Instead of addressing the problem at root by reducing plastic production, companies continue producing more plastics, justifying increased production by saying they will collect the amount they produced. Following collection, some plastics end up in incinerators, which release carcinogens that harm nearby communities, while the rest are supposedly recycled. However, the 2020 Philippine Brand Audit Report found that 91% of the plastic waste collected from the country's top three polluting brands were non-recyclable.[9] Even if the proportion of recyclable plastic was higher, recycling alone, while necessary to manage current waste, is not enough. Recycling actually shifts the attention to "waste management" and the burden to consumers while companies continue their unregulated, massive manufacturing of single-use plastics. Thus, "plastic neutrality" schemes fail to address the problem's root cause. Put simply, there is no such thing as plastic neutrality. It is merely the latest avenue for greenwashing.
Waste-to-Energy – Plastics are used as fuel for so-called "waste-to-energy" (WTE) plants, which are being passed off as renewable energy sources. However, these waste burning plants are not only inefficient and non-renewable, but are also highly polluting and harmful to human health. The US Environmental Protection Agency (EPA) listed WTE facilities as major sources of mercury and dioxin emissions[10]. These chemicals are carcinogenic substances that also result in developmental issues, immune system dysfunction, and internal organ damage. WTE also requires a huge volume of waste in order to operate, encouraging a society to produce more waste, and its dependence on plastic waste as fuel means less incentive for governments and manufacturers to reduce plastic production. WTE is a quick fix that does not address the plastic pollution at its source. Since 99% of plastics are made from fossil fuels, burning plastics will contribute more GHG emissions.
"Bioplastics" – Bioplastics only give industries license to continue using disposable plastic products and do not resolve issues related to the throwaway culture. Designed to be disposable, bioplastics' mass disposability is as wasteful, resource-intensive, and unsustainable as regular plastic. Relying on bioplastics may also lead to exploitation of regulatory loopholes for biodegradables, false marketing or improper labeling, and unintentional pollution. They may also lead to deforestation due to land conversion for crops to turn into plastic, and worsen food insecurity as it competes with crops for food production[11]. Without a standard definition, "bioplastics" from organic matter or fossil fuels can be biodegradable, compostable or neither. If compostable, they usually require specialized industrial composting facilities[12] only available in very few cities globally[13]. Otherwise, bioplastics remain in the environment[14] indefinitely or end up in landfills or incinerators.
Youth and Communities
Many people still see the plastic crisis as a problem about waste and individual responsibility. However, the gravity of their impacts extends not only across boundaries, but also across generations. Without drastic interventions, its adverse impacts on environmental health and subsequent economic and social effects would be felt from the global to the local level for decades. This makes the plastics crisis an impediment to intergenerational justice, hindering the ability of the current youth and future generations to achieve sustainable development in an individual or collective capacity.
The linkage between the plastics crisis and social injustices is also manifested in how communities experience losses and damages from its impacts. Social and economic inequalities from the global to the local level result in poorer communities bearing the brunt of both direct and indirect impacts that can compound already existing vulnerabilities[15][16]. Marginalized sectors such as women and fisherfolk are at higher short and long-term risk to plastic pollution, in terms of health and livelihoods[17][18].
Consumer Goods Companies Must Take Action to Phase Out Plastic and Adopt Reuse Systems
The intensifying effects of the plastic crisis—both in exacerbating the climate emergency and inflicting harms to human and planetary health—necessitate urgent action from consumer goods companies to phase out single-use plastics. The undersigned organizations and individuals are calling on consumer goods companies to:
Urgently begin the phaseout of all single-use plastic packaging and products in their operations;
Implement a just transition to affordable and sustainable plastic-free systems, including prioritizing the adoption of reuse and refill systems; and
Promote accountability by showing full transparency about their plastic footprint, and the environmental, public health and climate impact of their packaging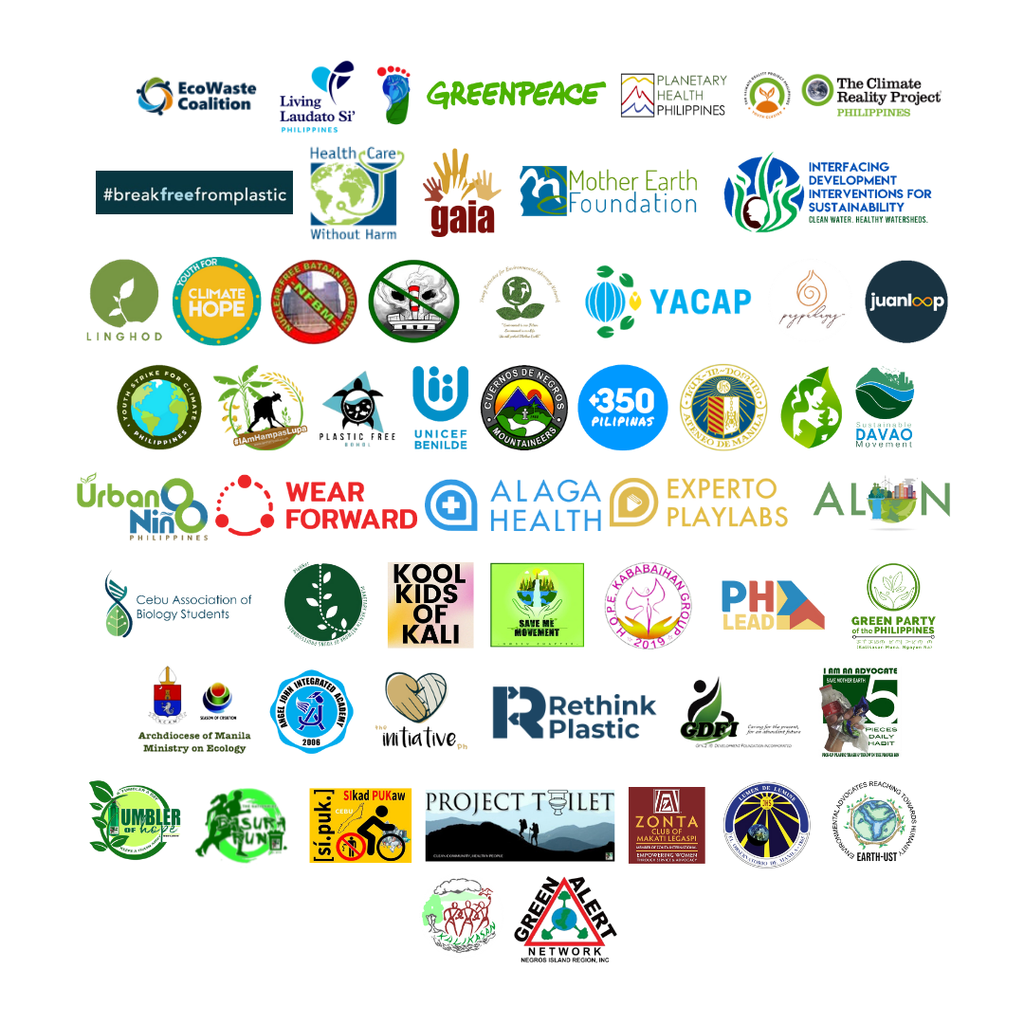 Signed:
Greenpeace Southeast Asia – Philippines 
Living Laudato Si' Philippines
STEP Philippines
Planetary Health Philippines
The Climate Reality Project Philippines
EcoWaste Coalition
Health Care Without Harm SE Asia
Break Free From Plastic
Mother Earth Foundation
Global Alliance for Incinerator Alternatives 
Office of Deputy Speaker Loren Legarda
Coal-Free Bataan Movement
Nuclear-Free Bataan Movement
Young Bataenos Environmental Advocates 
Gen2:15 Development Foundation, Inc.
Youth For Climate Hope 
Linghod
Urbano Niño PH
Wear Forward
JuanLoop
Pagpadayag
UNICEF Benilde
Plastic Free Bohol
Cuernos De Negros Mountaineers Club, Inc.
350 Pilipinas
Ateneo School of Medicine and Public Health – Center for Research and Innovation
E-kwento PH
IAmHampasLupa Inc.
Alaga Health
Experto PlayLabs International Consultancy
Cebu Association of Biology Students, Inc. (CABS)
Kool Kids of Kali
SAVE ME Movement- NwSSU Chapter
PlaHNet of Young Professionals
Youth Strike 4 Climate PH
H.umanitarian O.rganization For P.eace E.ngagements KABABAIHAN Group 
Youth Advocates for Climate Action Philippines
The Association for the Land and Ocean's Necessities (ALON) 
Philippine Leadership and Empowerment Alliance for Development, Inc. (PH-LEAD, Inc) 
Interfacing Development Interventions for Sustainability
Sustainable Davao Movement
Archdiocese of Manila Ministry on Ecology
The Initiative PH 
GPP Kalikasan Muna – Green Party of the Philippines
Angel John Integrated Academy
Rethink Plastic
5pcsDailyHabit
Tumbler of Hope
Basura Run
Sikad Pukaw
Project Toilet
Manila Observatory
Environmental Advocates Reaching Towards Humanity-University of Santo Tomas (EARTH-UST)
Zonta Club of Makati Legaspi
Kalikasan People's Network for the Environment
Green Alert
UP Resilience Institute
Asian Medical Students' Association (AMSA) – Philippines
---
References:
[1] CIEL. (n.d.). Fossils, Plastics, & Petrochemical Feedstocks. Retrieved October 13, 2021, from https://www.ciel.org/wp-content/uploads/2017/09/Fueling-Plastics-Fossils-Plastics-Petrochemical-Feedstocks.pdf
[2] CIEL (2019) Plastic & Climate: The Hidden Costs of a Plastic Planet. https://www.ciel.org/wp-content/uploads/2019/05/Plastic-and-Climate-FINAL-2019.pdf 
[3] Greenpeace (2021), The Climate Emergency Unpacked. https://www.greenpeace.org/philippines/publication/10918/the-climate-emergency-unpacked/
[4] United Nations Environment Program (2019) Plastics and shallow water coral reefs. Synthesis of the science for policy-makers. Sweet, M; Stelfox, M. Lamb, J. (Authors)
[5] Forschungsverbund Berlin. (2018, February 5). An underestimated threat: Land-based pollution with microplastics. ScienceDaily. Retrieved October 11, 2021 from www.sciencedaily.com/releases/2018/02/180205125728.htm
[6] Smith, K. R., Frumkin, H., Balakrishnan, K., Butler, C. D., Chafe, Z. A., Fairlie, I., Kinney, P., Kjellstrom, T., Mauzerall, D. L., McKone, T. E., McMichael, A. J., & Schneider, M. (2013). Energy and Human Health. Annual Review of Public Health, 1, 159–188. https://doi.org/10.1146/annurev-publhealth-031912-114404
[7] Tomita, A., Cuadros, D., Burns, J., Tanser, F., & Slotow, R. (2020). Exposure to waste sites and their impact on health: a panel and geospatial analysis of nationally representative data from South Africa, 2008–2015. The Lancet Planetary Health, 6, e223–e234. https://doi.org/10.1016/s2542-5196(20)30101-7
[8] Prata, J. C., da Costa, J., Lopes, I., Duarte, A., & Rocha-Santos, T. (2020). Environmental exposure to microplastics: An overview on possible human health effects. Science of The Total Environment, 134455. https://doi.org/10.1016/j.scitotenv.2019.134455
[9] #breakfreefromplastic Philippines. (2020). PH Brand Audit Report. https://drive.google.com/file/d/19NUwtc4RH7aK-xz_tJslvj4qYR-IfPo5/view
[10] Themelis, N. J. (2003). An overview of the global waste-to-energy industry. Waste Management World, 40-48.
[11] Greenpeace USA. (n.d.). THROWING AWAY THE FUTURE: HOW COMPANIES STILL HAVE IT WRONG ON PLASTIC POLLUTION "SOLUTIONS." Greenpeace. Retrieved October 14, 2021, from https://www.greenpeace.org/usa/wp-content/uploads/2019/09/report-throwing-away-the-future-false-solutions-plastic-pollution-2019.pdf
[12] Favoino, E., Kriipsalu, M., & Kalle, K. (2018). What are biodegradable plastics?. https://letsdoitfoundation.org/wp-content/uploads/2020/09/Biodegrable-plastic-infosheet_LDIF_Feb2018_updated.pdf
[13] Cho, R. (2017, December 13). The Truth About Bioplastics. State of the Planet; https://www.facebook.com/earthinstitute. https://news.climate.columbia.edu/2017/12/13/the-truth-about-bioplastics/
[14] Robbins, J. (2020, August 31). Why Bioplastics Will Not Solve the World's Plastics Problem – Yale E360. Yale E360; Yale School of the Environment. https://e360.yale.edu/features/why-bioplastics-will-not-solve-the-worlds-plastics-problem
[15] Philippine Trash Trawlers Struggle with Virus-Led Plastic Surge' (Al Jazeera, 10 August 2020) https://www.aljazeera.com/economy/2020/8/10/philippine-trash-trawlers-struggle-with-virus-led-plastic-surge, accessed 18 November 2020.
[16] Global Alliance for Incineration Alternatives (2018). Facts about "waste-to-energy" incinerators [PDF document]. Retrieved from https://www.no-burn.org/wp-content/uploads/GAIA-Facts-about-WTE-incinerators-Jan2018-1.pdf
[17] United Nations Environment Programme (2021). Neglected: Environmental Justice Impacts of Marine Litter and Plastic Pollution. Nairobi.
[18] Yang, A. (2021, March 24). PHL loses up to $890M a year due to plastics recycling 'failure' — WB. Business Mirror. Retrieved from https://www.bworldonline.com/phl-loses-up-to-890m-a-year-due-to-plastics-recycling-failure-wb/