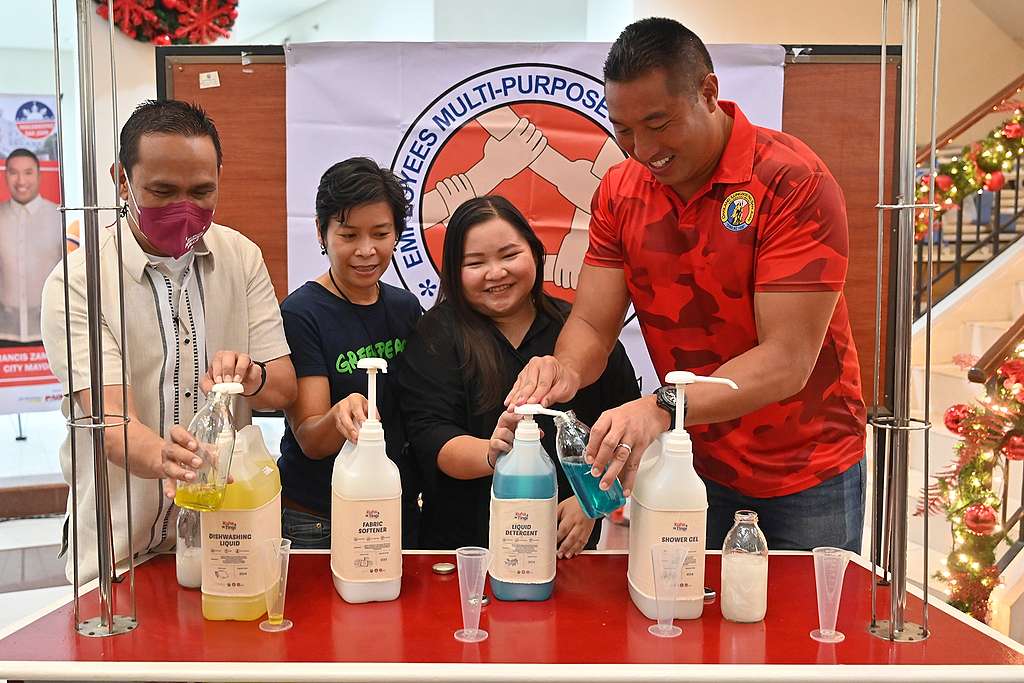 SAN JUAN CITY, Philippines (04 November 2022) — Sustainable sari-sari stores may soon be the norm in San Juan City with the pilot launch of community-based refill hubs developed to help address the plastic pollution crisis. The initiative is part of the project called "Kuha sa Tingi," which was officially launched today by the City of San Juan, Greenpeace Philippines, and Impact Hub Manila who have teamed up to establish refilling stations in sari-sari stores across the city.
"San Juan City is committed to addressing the problem of plastic pollution in the country. We have already launched several projects that aim to reuse or recycle plastics. We believe that communities can lead the way to show that we can reduce, if not totally eliminate, single-use plastics," said San Juan City Mayor Francis Zamora. "Kuha Sa Tingi does just that by doing away with the sachets and other single use plastics and promoting reuse and refill systems. Not only does this project protect the environment and reduce plastic waste, it also creates livelihood and supports a zero waste circular economy."
Co-developed with communities, the project aims to provide people with alternatives to products in sachets and other plastic-packaged goods through affordable and accessible reuse and refill systems. The project installed refilling stations in multiple barangays in San Juan City. Instead of establishing new zero waste stores, the project works with existing sari-sari stores. The store owners have undergone orientation and will have technical and business development support. A refilling station will also be available at the city hall to be hosted by the city employees' cooperative.
Given the scale of the problem and the uptick in plastic production in recent years, there is a need for effective and impactful solutions that will reduce production and dependence on single-use plastic. The project does so by developing a sustainable business model built on concepts of reuse and refill. One key consideration is to give consumers affordable, simple, and convenient access to zero waste alternatives for their daily needs.
"Kuha sa Tingi is an example of how we can solve our plastic problem and shift away from single-use plastic by rethinking business models and utilizing reusables. By installing refilling stations in sari-sari stores and designing the model to consider the needs of the community, we can make plastic-free goods available for Filipinos from all socioeconomic sectors," said Marian Ledesma, Zero Waste Campaigner at Greenpeace Philippines.
"Kuha sa Tingi also reclaims our tingi culture, which was once defined by practical and sustainable practices like refilling reusable containers and purchasing only what you need. It's about reimagining small volume retail into a zero waste model once more. We didn't need the sachets introduced by corporations back then, and we certainly have ways to do away with disposable plastics now," Ledesma added.
At the end of the project, the team aims to have a replicable model, which companies can implement in their operations to lessen plastic production, and which other cities and institutions can apply in businesses, environmental initiatives, and livelihood programs.
"We aimed to develop an acceptable and sustainable reuse project, one which will consider its adaptability across all of the City of San Juan's socio-economically diverse urban community. The viable implementation of Kuha sa Tingi is now seen to be replicable nationwide as an alternative to plastic packaging while at the same time addressing the people's needs," said Ces Rondario, CEO of Impact Hub Manila.
"The collaboration between the City of San Juan, Impact Hub, and Greenpeace shows us how cities, communities, and local businesses are taking the lead in tackling plastic pollution by advancing business models based on reuse and refill systems. It's time corporations do their part, too. Not only should companies reduce plastic production and phase out single-use plastics, they have to invest resources to transition to and adopt reuse and refill systems in their businesses," Ledesma shared.
"We are hoping that Kuha Sa Tingi will be adopted by more sari-sari stores after the pilot launch. I am also encouraging San Juaneños to patronize this effort so we can scale it to more stores in the future," said Mayor Zamora.