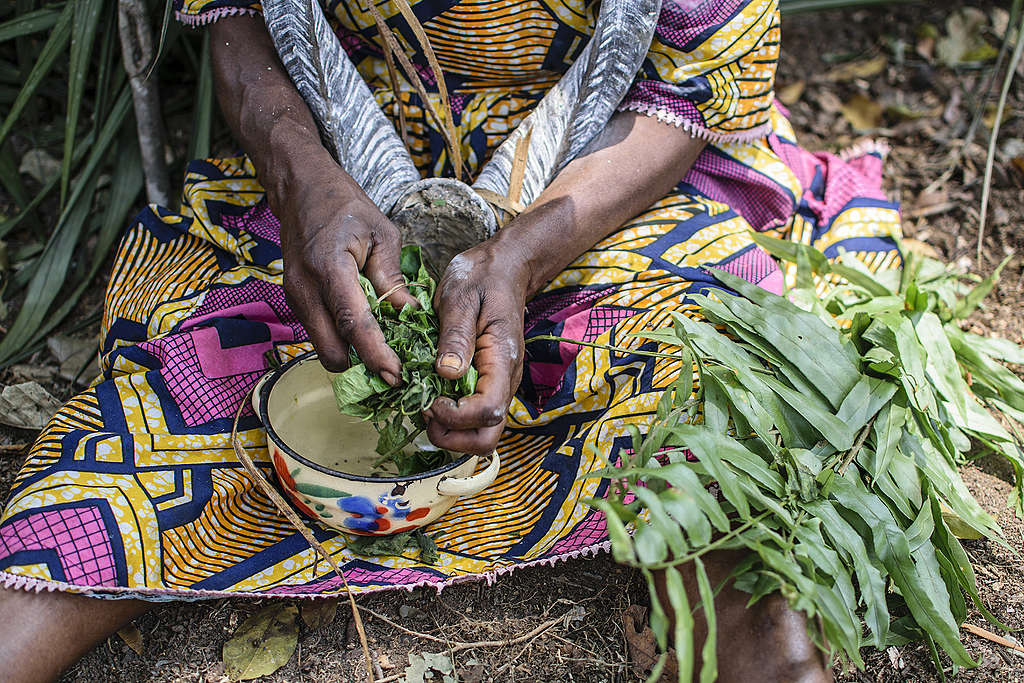 As the world celebrates International Women's Day, women living in forest areas in the Congo Basin struggle against deforestation, which is a real obstacle to their development. But digital technology can and should be used to promote indigenous peoples' rights.
Yaoundé/ Kinshasa, March 8, 2023: In Campo, Cameroon, and North Kivu, DRC, indigenous women are struggling to celebrate International Women's Day like many other women around the world. In Cameroon, just a few months before this day dedicated to women's rights, their plantations were savagely devastated by elephants, leaving them in total disarray. This phenomenon has increased in this area, especially since Camvert began its deforestation operations.
"When you clear and plant, the elephants don't come. But since Camvert appeared, we have lost everything. The living conditions that are imposed on us by the abusive cutting of trees in our forests make life difficult. Many women like me sell products from the forest or make a living from traditional medicine. It's hard to have to go and buy frozen fish, whereas in the past we used to catch it in the river," says Marie Thérèse, an indigenous Bagyeli woman.
In DRC, the threat remains constant with calls for tenders for 27 oil blocks and three gas blocks straddling sensitive areas such as peatlands and protected areas.
"We are scared here since our Minister of Hydrocarbons decided to launch a call for tenders for 27 oil blocks. The exploitation will result in the cutting down of our forests. We will lose everything if nothing is done to stop this. The Congolese government must think of our interests as well," says an anonymous source from North Kivu.
Indigenous women enjoy and practice fishing, hunting, and the gathering and collection of non-timber forest products. These activities allow them to support themselves and their families. Because there are few hospitals in their communities, they often resort to using tree bark to treat themselves in case of illness.
"The indigenous women are asking the Minister for the Promotion of Women and the Family and the Minister of Social Affairs to advocate on their behalf, so that this deforestation is stopped. In some of our villages, there is not even shade to rest in… and we can't do it in the plantations. But if we have access to and are trained in the use of digital technology, for example, we will be able to use it to denounce the injustices that we have sometimes been powerless to address," adds Marie Thérèse.
"This year International Women's Day must be an opportunity for our governments to focus on the problems faced by women in forest communities, who often seem to be forgotten when all the celebrations are concentrated in large metropolitan areas. As digital technology becomes more popular, we hope that it will also be used to enable indigenous women to speak out against the injustices they face and to expose the impact of deforestation on their lives," says Irene Wabiwa Betoko, International Project Manager for the Congo Basin for Greenpeace Africa.
CTA: Support the indigenous women of the Congo Basin in their fight to protect their forests.
Luchelle Feukeng
Communications Officer, Greenpeace Africa
Email: [email protected] 
Phone: +237 656 46 35 45 (WhatsApp)
Raphael Mavambu 
Media and Communication Consultant, Greenpeace Africa, 
Email: [email protected]  
Irene Wabiwa Bekoto, 
International Congo Basin Project Manager, Greenpeace Africa.
Email: [email protected]