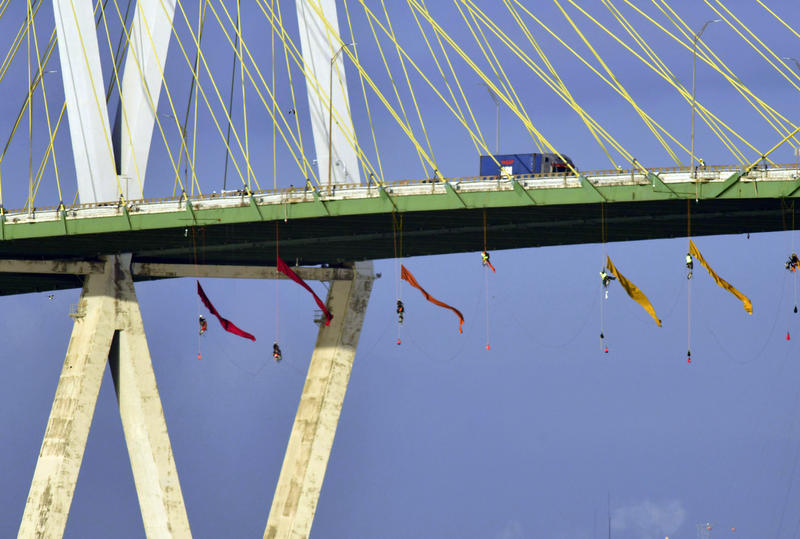 Toronto – Contradicting Alberta Premier Jason Kenney's claim that Greenpeace only targets Alberta oil production, 22 Greenpeace U.S.A climbers have formed a blockade on the Fred Hartman Bridge in Baytown, Texas, United States. This action effectively shuts down the single-largest fossil fuel thoroughfare in the United States. The climbers intend to remain secured in place for 24 hours, preventing the transport of all oil and gas through the channel.
This blockade is part of a global call for world leaders to imagine a world beyond fossil fuels and embrace a just transition to a renewable energy economy. It comes as U.S. presidential candidates gather in nearby Houston for the third Democratic primary debate and as Canadian candidates gather for tonight's leaders' debate after yesterday's dropping of the writ. Climate change and the Green New Deal are top issues in both campaigns.
Greenpeace Canada Senior Energy Strategist Keith Stewart said:
"Greenpeace is taking action against fossil fuel expansion all around the world because we're in a climate emergency created by fossil fuel CEOs and made worse by politicians who act on their behalf. We can either take the bold actions necessary to prevent the climate crisis today or suffer the radical consequences of climate-fueled disasters — more floods, more mega-storms, and more fires — for years to come. If we phase out fossils and ensure a just transition to renewable energy starting today, we can create millions of high-paying, union jobs in the renewable energy economy. Other countries are already beginning to transition. Politicians should be helping to prepare Canadian oil workers to do the same."
Greenpeace USA activist Mike Herbert, one of the 22 climbers occupying the Houston Ship Channel, said:
"I grew up in the East Texas Oil Field, a place where the oil industry touches everything. I know how much power oil executives have over our democracy. That's why I'm taking action to shut down the Houston Ship Channel, the largest fossil fuel thoroughfare in the country. The oil industry has spent millions of dollars to convince the American people — including the community I grew up in — that we can't thrive without them. This just isn't true. We are here because we believe a world beyond oil is possible, we just have to fight for it."
The shores of the 52-mile Houston Ship Channel are home to the second-largest petrochemical complex in the world. On an average day, 700,000 barrels of oil pass through the location the climbers have blocked, more than any other export channel in the United States. Industry expansion plans could increase that amount to 2 million barrels in a matter of years [1].
The action also sets the stage for next week's youth climate strike. On September 20th and 27th, millions of people across the world will participate in youth-led strikes to demand transformative action to address the climate crisis. Youth leaders are calling on elected officials to say "yes" to a Green New Deal and "no" to fossil fuel expansion.
-30-
For more information, please contact:
For interviews with the activists:
Ryan Schleeter, Senior Communications Specialist, Greenpeace USA: +1 (415) 342-2386, ryan.schleeter@greenpeace.org (in Baytown)
Valentina Stackl, Senior Communications Specialist, Greenpeace USA: +1 (734) 276-6260, valentina.stackl@greenpeace.org
Comment from Canada:
Jesse Firempong, Communications Officer, 778-996-6549, jesse.firempong@greenpeace.org
General updates and visuals requests:
Travis Nichols, Media Director, Greenpeace USA: +1 (206) 802-8498, travis.nichols@greenpeace.org
Photo and video will be available here: https://media.greenpeace.org/collection/27MZIFJ886WM5
Live updates: www.facebook.com/greenpeaceusa and www.twitter.com/greenpeaceusa
 Notes:
[1] https://www.chron.com/business/energy/article/Houston-leads-as-Texas-ships-out-80-of-nation-s-13696641.php