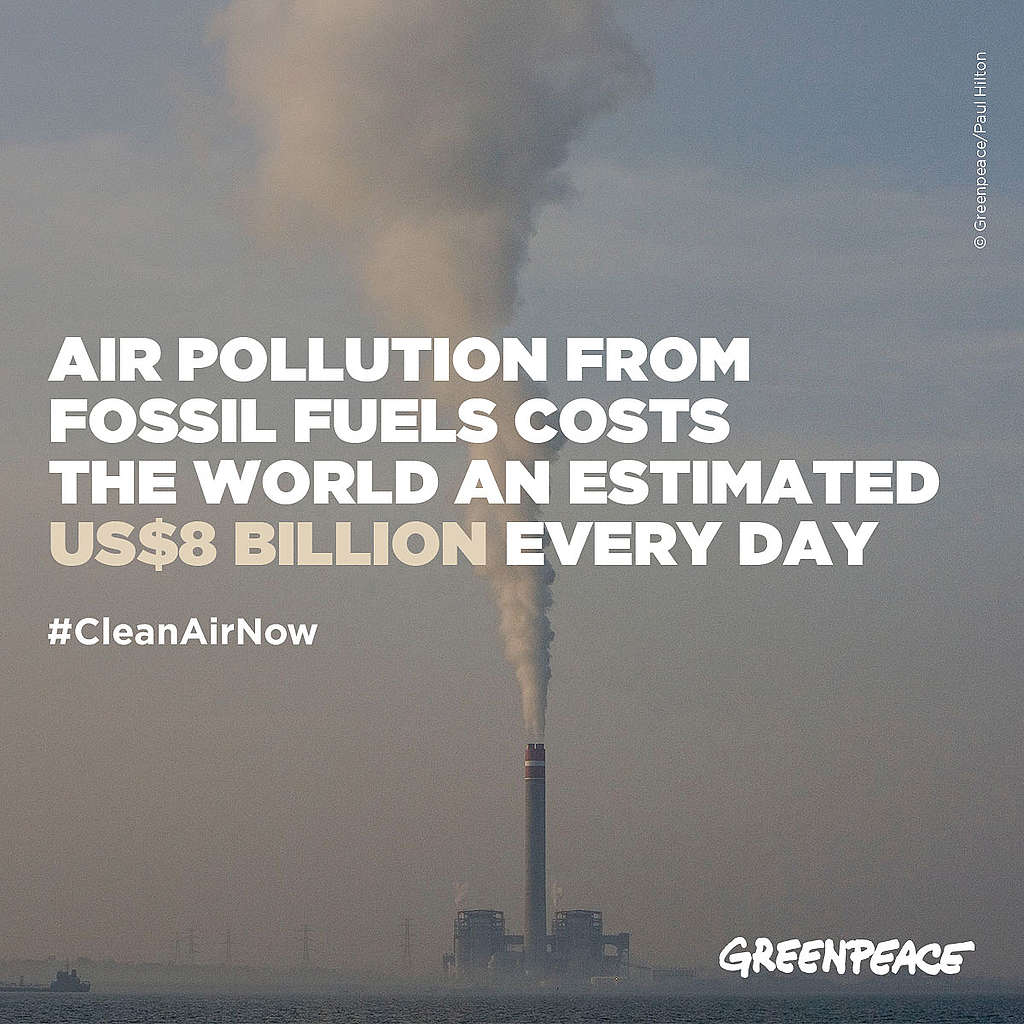 FOR IMMEDIATE RELEASE
12 February 2020

JAKARTA / TORONTO – A new Greenpeace report shows that air pollution from burning fossil fuels is attributed to an estimated 21,000 premature deaths in Canada (4.5 million worldwide) and estimated national economic losses of US$38 billion (US$2.9 trillion worldwide, or 3.3% of global gross domestic product).
According to the report, Canada had the 11th-highest economic losses from fossil fuel-related air pollution and 25th-highest attributed premature deaths.
"Not only is the burning of fossil fuel cooking our climate, it's impacting our health and economy. Many in Canada's oil patch fear the transition to renewable energy, but switching to cleaner energy will literally make it easier to breathe, while creating jobs and helping solve the climate crisis," said Keith Stewart, senior energy strategist at Greenpeace Canada.
The report, Toxic Air: The Costs of Fossil Fuels, is based on new research from Greenpeace Southeast Asia and the Centre for Research on Energy and Clean Air (CREA). It's the first of its kind to assess the global cost of air pollution from fossil fuels.
"Air pollution is a threat to our health and our economies. Every year, air pollution from fossil fuels takes millions of lives, increases our risk of stroke, lung cancer and asthma, and costs us trillions of dollars. But this is a problem that we know how to solve, by transitioning to renewable energy sources, phasing out diesel and petrol cars, and building public transport. We need to take into account the real cost of fossil fuels, not just for our rapidly heating planet, but also for our health," said Minwoo Son, clean air campaigner at Greenpeace East Asia.
Key findings:
An estimated 40,000 children die before their fifth birthday because of exposure to PM2.5 pollution from fossil fuels, primarily in low-income countries.
NO2, a byproduct of fossil fuel combustion in vehicles, power plants and factories, is linked to roughly 4 million new cases of asthma in children each year, with approximately 16 million children worldwide living with asthma due to exposure to NO2 pollution from fossil fuels.
PM2.5 air pollution from fossil fuels is attributed to roughly 1.8 billion days of work absence due to illness each year worldwide, equating to approximate annual economic losses of US$101 billion.
ENDS
Notes:
Media briefing available here
Full report available here
Contacts:
Jesse Firempong, Communications Officer, Greenpeace Canada
[email protected]; +1 778-996-6549
Greenpeace International Press Desk (available 24 hours)
[email protected]; + 31 (0) 20 718 2470