Greenpeace investigations reveal how krill-fishing companies are expanding operations in the fragile Antarctic ocean, putting an entire food web at risk. What's more, they are often involved in fishing practices that could damage wildlife and protected ocean areas.
Penguins, whales, seals and more all depend on krill for their survival. But these small, shrimp-like crustaceans are threatened by both climate change and the growth in krill fishing, which has been driven in part by an increased demand for the krill oil found in some health supplements.
Despite the industry's attempts to portray itself as one of the world's most sustainable fisheries, evidence collected by Greenpeace demonstrates a pattern of fishing activity increasingly close to shore and in the immediate vicinity of penguin colonies and whale feeding grounds.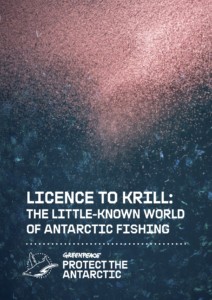 For these reasons, Greenpeace is calling for krill-fishing companies to restrict all fishing activity in areas under consideration as ocean sanctuaries. We are also calling on krill-buying companies to stop sourcing from vessels that continue to fish in these same areas. And ultimately, we are calling for international collaboration between governments, companies and civil society to create a large-scale network of ocean sanctuaries, including in the Antarctic Ocean, to protect at least 30% of the world's oceans by 2030.